Love's late three-pointer nails down Kadena boys' eighth Far East crown
---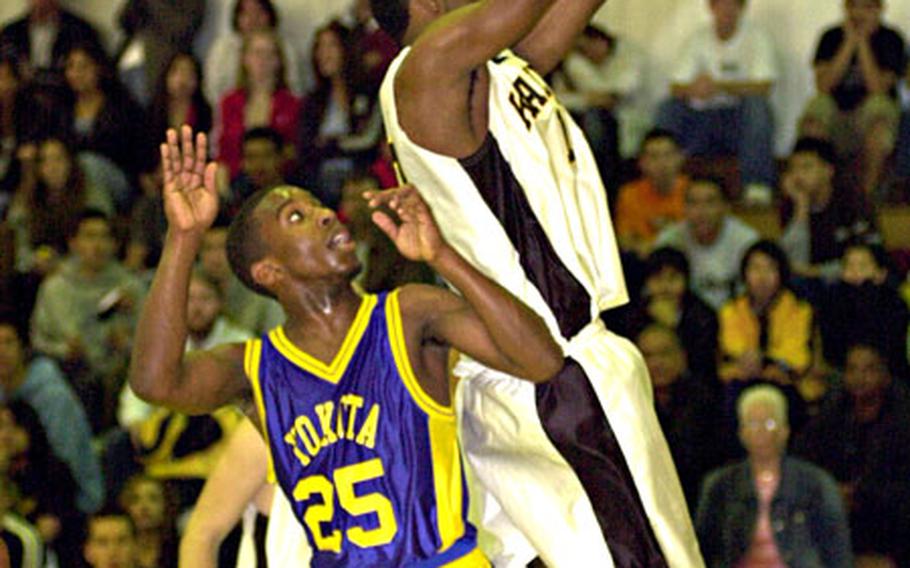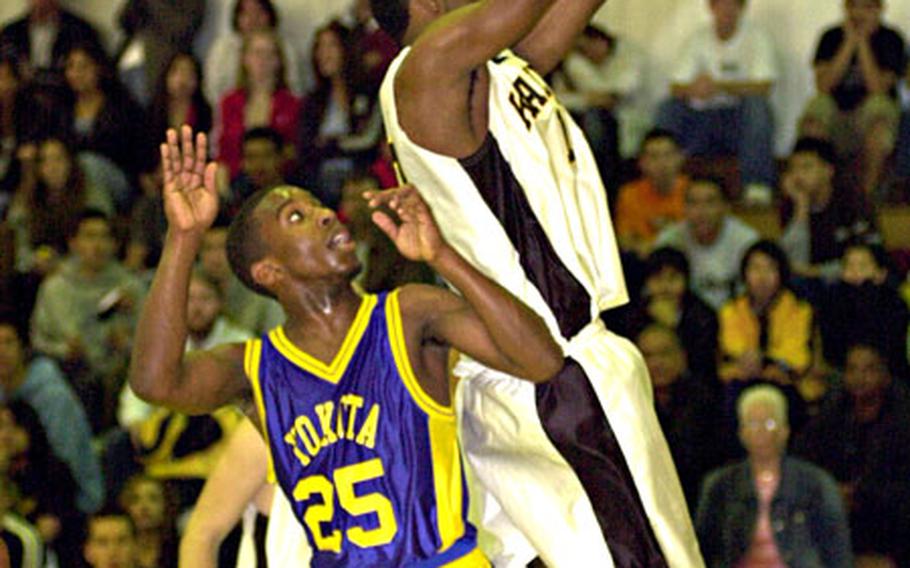 (Click here for tournament standings and summaries)
KADENA AIR BASE, Okinawa — Jacob Love launched the ball just as if it were "a regular shot." But to the Kadena Panthers, the three-point goal was worth its weight in gold.
Love's basket with 45 seconds left gave Kadena the lead for good and boosted the Panthers to a 66-62 victory in Saturday's championship game of the Far East High School Boys Class AA Basketball Tournament before a packed house of more than 1,000 at the Panther Pit.
"I'm ecstatic," Love said after a 12-point performance, all coming on three-pointers. "I'm still shaking from the excitement."
Excitement overflowed the last two days of the tournament for Kadena, which won its eighth Class AA crown by capping a run of nerve-wracking finishes. Gary Wright's putback with 1.6 seconds left pushed Kadena past island-rival Kubasaki 85-83 in the semifinals on Friday.
"Two fantastic games," coach Robert Bliss said.
His team had trouble finishing games at the start of the season, Bliss said.
The semifinal and championship victories "were the nice finishes we were looking for," Bliss said.
Neither side led by more than six points in a close battle from start to finish. Senior guard Shawn Novak hit four of his five three-pointers in a first quarter that Yokota, with just seven players dressed, led 21-15.
Bliss said "perseverance and composure" helped Kadena get back into the contest and offset the 21 points scored by 6-foot-3 junior center and tournament MVP Z'aire Jackson, who ran into foul trouble.
Bliss credited Novak's shooting and center Caiveon Thomas' defense on Jackson for keeping it close.
"Novak got hot in the first half. Thomas is the best big man Z has played this season, an intelligent player. And we struggled offensively," Bliss said. "Yokota played a magnificent tournament through adversity. They're well coached and they play good team defense."
It stayed nip and tuck, with the teams tied 50-50 after three quarters. Yokota led 62-61 with a minute left, when Kadena began one last push, sparked by Love's game-winning three-pointer.
"I just had to relax, stay focused and treat it just like any other shot," he said.
"That three was a big one," Yokota coach Paul Ettl said. "They hit the big shot, played defense and that was the difference."
Kadena defense followed Love's game-breaker by stopping Yokota's offense on its last two possessions.
Jackson finished with 21 points, while Tyler Schmidt, with 12 points, "played his best offensive game of the year," Bliss said.
Cameron Cooper paced Yokota with 16 points, Novak finished with 15 — all on threes — Thomas added 14 points and Shamarr Howell 10.
Despite the disappointment of the title game loss, Ettl said he was pleased with the effort his players gave during the regular Japan campaign.
"I feel good about the season," Ettl said. "We still have disappointment. In a couple of days, I'm sure we'll feel better about it, but in all, we had a great season and a great finish."
Notes: Kadena also won Class AA titles in 1984, '86, '87, '91, '92, '95 and '99. … Kadena's last five titles were each won on their home court. Three of them, in 1991, '92 and '95, came against the Panthers' Okinawa island-rival Kubasaki Dragons, by scores of 64-55, 70-69 in double overtime and 69-44. … The Panthers' first and last titles each came at the expense of Yokota; Kadena edged Yokota 85-83 in the 1984 championship at Kubasaki High School. … Kadena also continued the trend of home-cooked title meals. Since 1982, the host team has reached the championship contest 17 times and won 11 of them. … Bliss now counts five Department of Defense Dependents Schools tournament titles on his ledger. He won three DODDS-Europe Division III championships for Giessen High in Germany in 1994, '97 and '98 and an all-Europe inter-division crown in 1994.
---
---
---
---