Lots to love about Heidelberg's latest title
by
Rusty Bryan
February 25, 2007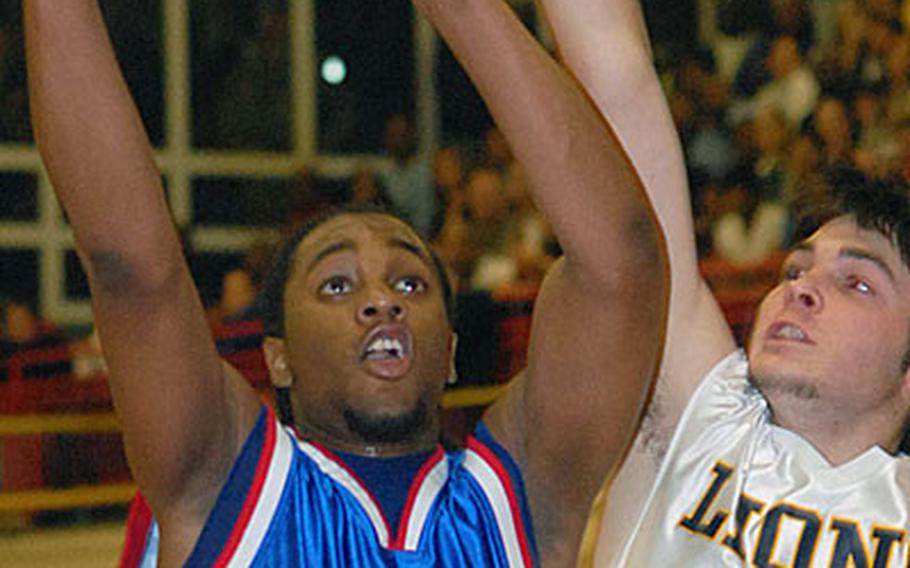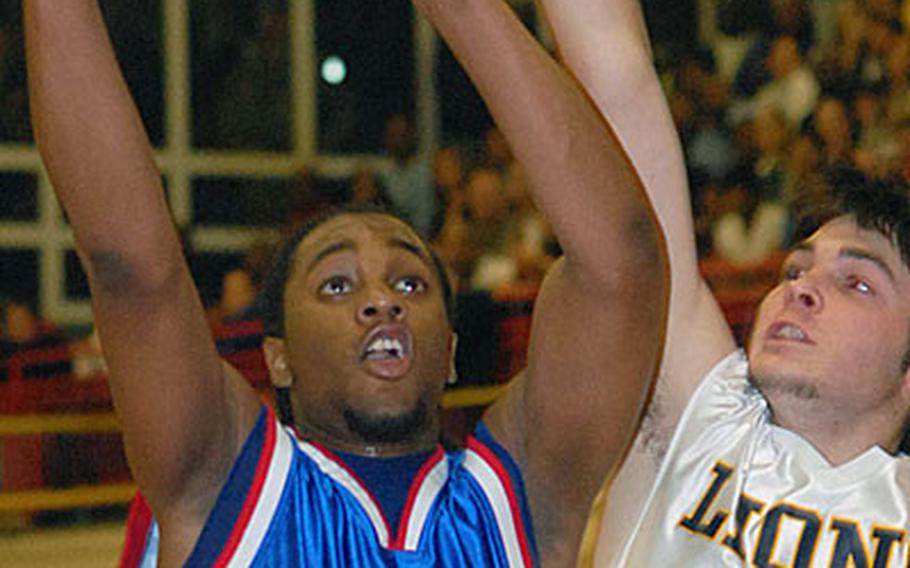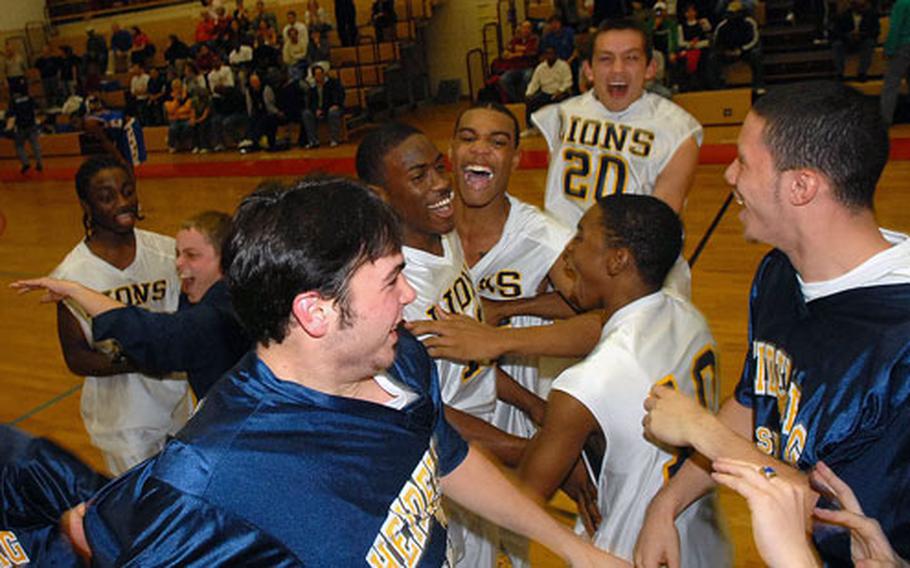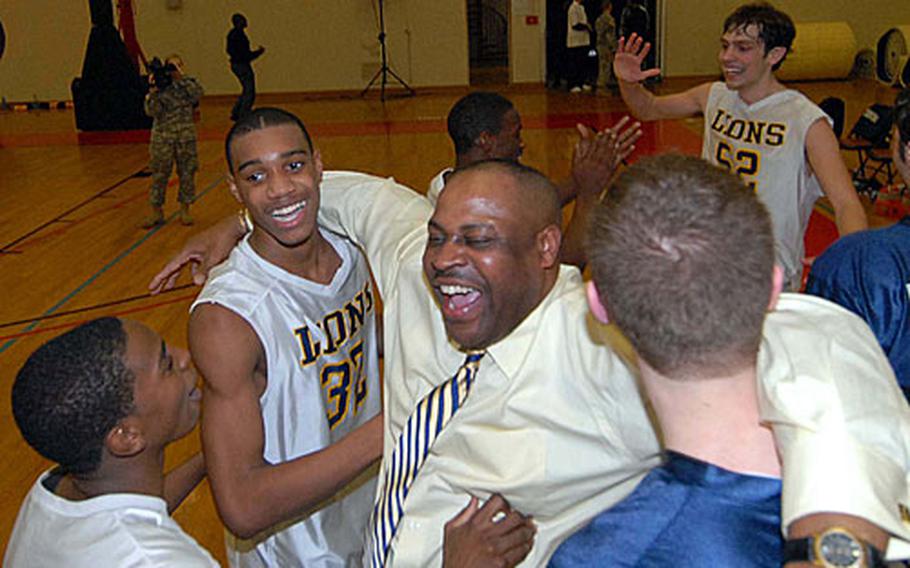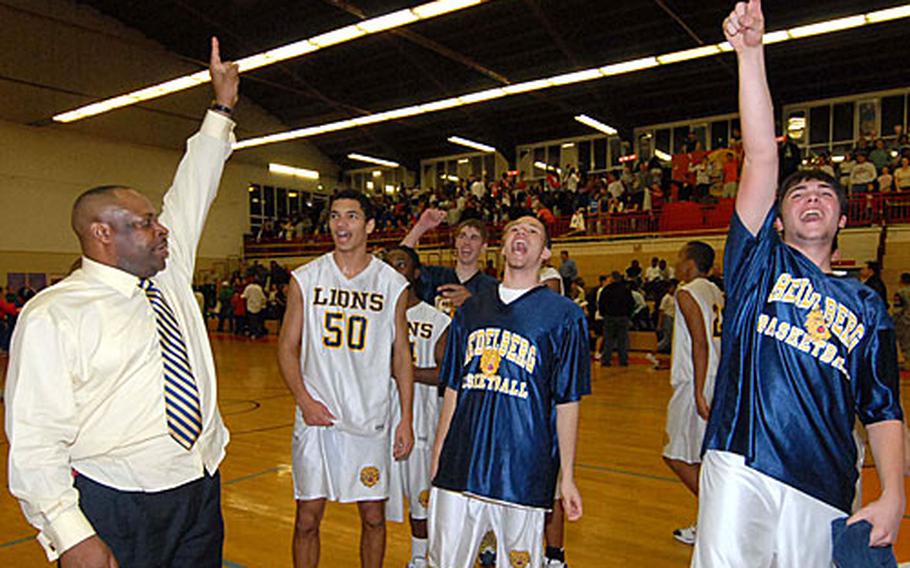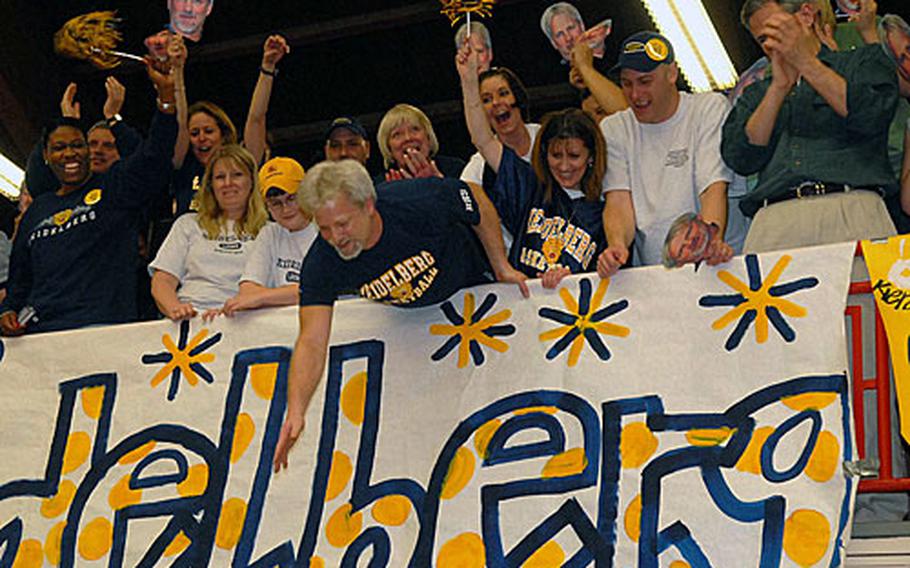 See photo gallery.
MANNHEIM, Germany — Heidelberg rode Chris Frazier's three-point shooting, tournament MVP Shon Fisher's ballhandling and J.C. Sharer's key conversion of a one-and-one opportunity to a 43-40 victory over Ramstein in the DODDS-Europe Division I boys title game Friday night.
"I love these kids," said Heidelberg's volunteer coach, Claude Wesley, who guided the Lions to eight straight victories after taking over for coach Brad Shahan, who was suspended Feb. 8 for imposing what the school system deemed excessive physical punishment at an August football practice.
What's not to like about the Lions?
Certainly not Frazier's 6-for-9 shooting from behind the three-point arc. His 21 points included four straight three-pointers in the second quarter that helped turn a three-point deficit after one quarter into a 24-21 halftime lead.
"He's been shooting it like that all year long," Wesley said.
Nor could Wesley dislike Fisher's seven assists, five of them in the second half to help Heidelberg build an eight-point lead with four minutes to go.
And why shouldn't he love the effort by Sharer? Heidelberg's 6-foot-5 sophomore center battled underneath throughout a game that seemed to adopt Ultimate Fighting Championship rules every time the ball came off the rim. He also scored all four of his points in the final quarter with the game on the line.
"The refs let us play," Sharer said with a smile afterward as chants of "Sha-han, Sha-han" from fans waving images of the banned coach reverberated through the Benjamin Franklin Village Sports Arena.
"I like banging inside."
Just as brutal as the contact underneath was Sharer's first shot on the one-and-one with Heidelberg up 41-40 with three seconds to play. Much too flat and much too hard, the shot looked off when it left his hand.
"Luckily," Sharer said, "it hit the backboard and went in."
Sharer's second shot hit nothing but net, and Heidelberg was home free, European champs for the seventh time in Shahan's 16 years at the helm and for the sixth time since 2000.
To celebrate, Heidelberg's players gathered at the wall underneath Shahan's bleacher seat 10 feet above the floor and slapped hands with their coach as he leaned over the railing.
"This was big," Sharer said. "He was in our hearts every step of the way."
For Ramstein coach Len Tarnowski, it was another title-game near-miss. His last three squads, in 2004, 2005 and 2007, have lost the final game — twice to Heidelberg — by a total of eight points.
Ste'phan James led Ramstein with 14 points. A.J. Hawkins added 11, including five straight in a 41-second span that cut Heidelberg's lead to 41-40 with 30 seconds to play. John Myrick scored 10.
"They fought hard," Fisher said. "It was a great game."
---
---
---
---