Boys soccer roundup
Lots of one-sided matches on opening day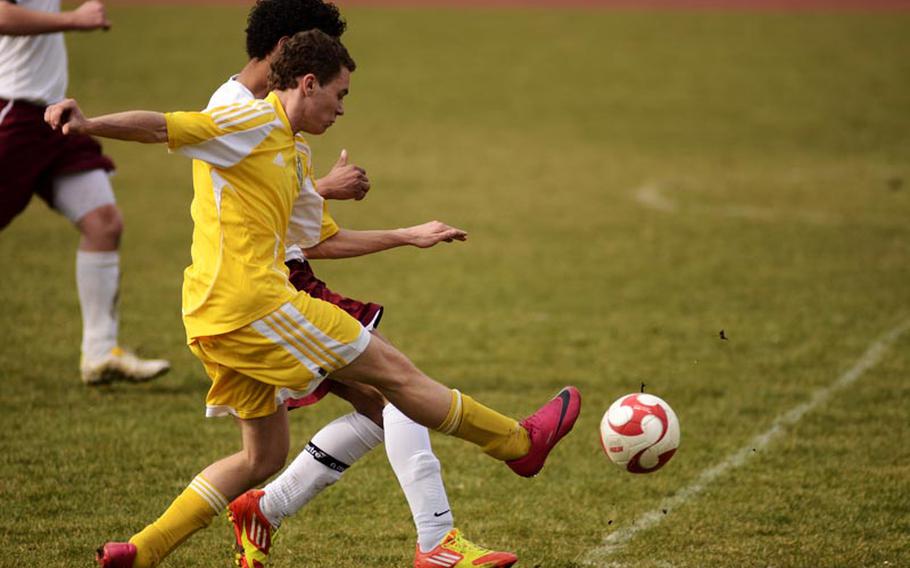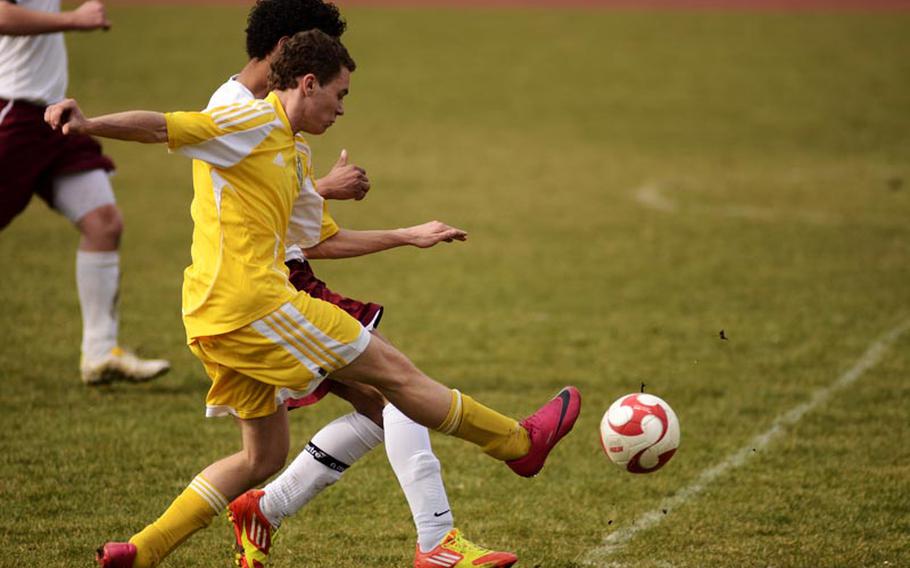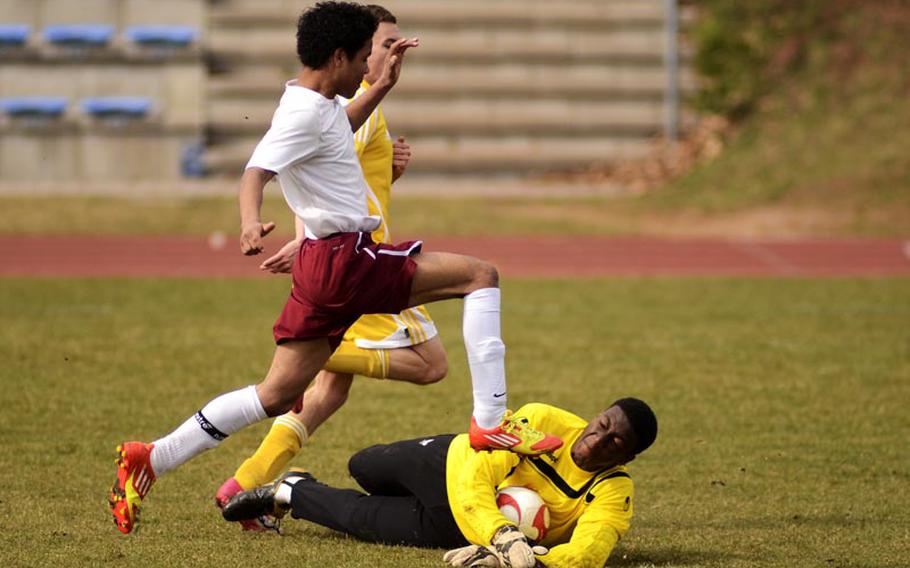 The Hohenfels Tigers filled the void left by a thin opening-week schedule with seven goals Saturday in a 7-1 romp over the visiting Bamberg Barons.
Lucas Heath, Alex Lange and Jacob Witty each scored twice for Hohenfels, a Division II school that led 2-0 at halftime over their guests, who'll compete in the Division III tournament at May's Europeans at Ramstein-Kaiserslautern. Both teams play in Region III during the regular-season, but this game doesn't count in the regional standings. The two schools are scheduled to play their regional contest May 12 at Bamberg.
Jordan Akalaonu also tallied for Hohenfels, which benefited from two assists from Lange and one from Witty.
Ashton Buchanan punched home Bamberg's lone tally against a Hohenfels defense that called on its goalkeeper, Lance Howard, to make just one save.
In other action Saturday:
SHAPE 8, Baumholder 0: Kristan Harsanji scored four goals and assisted on a fifth at Baumholder as the perennially powerful Spartans ran roughshod over a 10-man Bucs' squad.
All-European Eduardo Ibarra joined Harsanji, European wrestling champion Matt Lengyel, Adrian Domijan and Garrett Watson in scoring for SHAPE, which has returned to Division II for this season's campaign. The Spartans were classified as a Division I team in 2010, when they walked away with a European title, and 2011.
Beleaguered Baumholder goalkeeper Desante' Brown turned aside 13 SHAPE shots.
Marymount 8, Aviano 1: Giovanni Formilli and Marco Ludovichetti each scored twice at Aviano to help the defending European D-II champs to the big-margin victory.
Marymount led just 2-0 at the half, but broke the game open thereafter as Aviano's lack of conditioning showed, according to Saints' coach Lou Lucidi.
Next up for Aviano, which got its lone goal from Phil Ozgul, is a trip to D-II runner-up American Overseas School of Rome on Saturday. Marymount is scheduled to host International School of Florence the same day.
Black Forest Academy 6, Wiesbaden 3: Austin Troxel found the net four times at Wiesbaden to lift the Falcons.
Keith Min and Kenneth Katande, who also posted an assist, scored the other two goals for BFA, which Wiesbaden coach Ben Arcila characterized as "a skilled team with sound fundamentals" in his email report of the contest.
European cross-country champion Ryan Fisico scored twice for Wiesbaden, which trailed just 2-1 at halftime in spite of missing several starters, according to Arcila. John Arnold also tallied for Wiesbaden. The Warriors are scheduled to travel to Ramstein for a regional game on Saturday. BFA next hosts Heidelberg on Saturday in a non-regional game.
AOSR 9, Sigonella 0: Francesco Dinmore scored two goals at Rome as 2011 European Division II runner-up American Overseas School of Rome blitzed the visiting defending European D-III champions.
AOSR (1-0 overall and in Region IV is to host Aviano on Saturday; Sigonella is to travel again on Saturday, this time to Naples.
Alconbury 2, Menwith Hill 1: All-Europe striker Jeff Black struck for two first-half goals Saturday at Menwith Hill.
According to Menwith Hill coach hank Hurren, Schuylar Backlar got one of those back for the Mustangs in the 55th minute, but Menwith Hill saw a Kyle Gornall shot bounce off the cross bar and a shot from Christian Burdick rip across the front of the goal mouth to preserve Alconbury's victory.