Boys tennis AOY
Loss re-doubled Inahara's desire for victory
---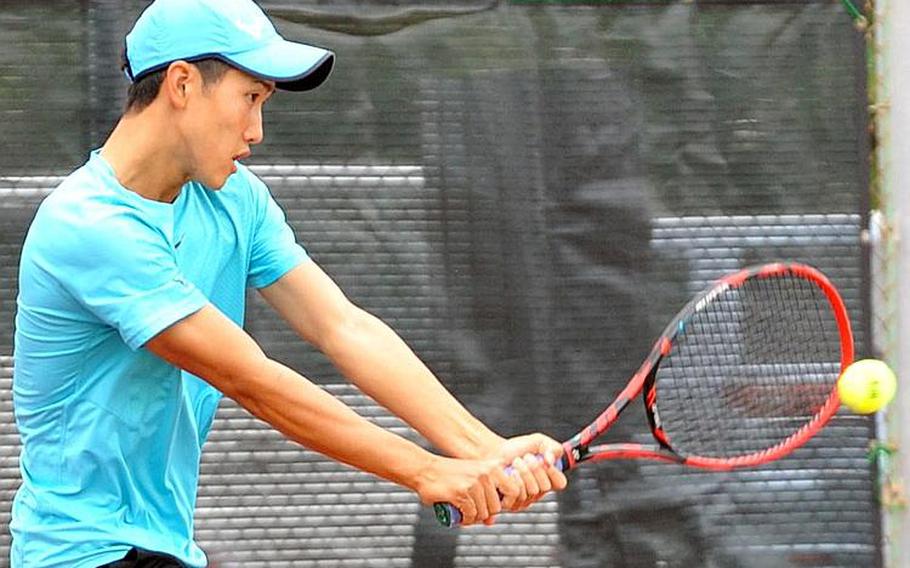 KADENA AIR BASE, Okinawa – Sometimes, a mid-season defeat at the hands of a premier opponent can be just the thing to light the inner fire that eventually leads to a championship.
For Noah Inahara, an American School In Japan junior, that moment came on Oct. 22, when he suffered his lone regular-season loss on the tennis courts, 6-2, 5-7, 6-2 to St. Mary's Raymond Maejima.
"It made me motivated to beat him next time and to work so much harder in practice," Inahara said. "Every practice meant so much more after that match."
"He had a goal and a mission after that match, that he was going to make sure it went his way the next time, whether it was at Kanto or Far East," Mustangs coach Jen Brown said.
There were two next times, and Inahara made the most of them, avenging that mid-season loss 6-3, 6-2 in the Kanto finals on Nov. 2, and again 6-3, 6-0 in the Far East singles final on Nov. 10. And Inahara teamed with Leon Hoy to capture the Far East doubles as well.
As a result, Inahara has been named Stars and Stripes' Pacific high school boys tennis Athlete of the Year.
And it was largely Oct. 22 that became the basis for everything Inahara did as the season went on. He went back to basics, tuning every aspect of his game and working on tactics to break down Maejima's, player and coach said.
"I thought back to the match I lost to Raymond and worked on consistency, every shot, getting it back, putting extra oomph on the ball, attack his weaknesses," Inahara said.
He did not lose the rest of the season, in fact did not drop a set in either the singles or together with Hoy during Far East doubles. As a team, ASIJ repeated its overall Division I school title and won the boys team title as well.
"He practiced, focused every day, he would work on something that could help him … to kind of break down Raymond's game," Brown said. "And the last two wins against Raymond definitely showed that, that he was successful."
Rather than try to match Maejima's powerful game, "he was patient and played his game," Brown said. "He didn't allow Raymond to force him to go for too much, too soon, and force him to make an unforced error. He played his patient, but strong, dominant game that he can play."
Twitter: @ornauer_stripes
Stars and Stripes' Pacific All-Far East boys tennis team Noah Inahara, Leon Hoy and Ren Niikura, American School In Japan. Inahara won Far East singles and doubles, Hoy doubles and Niikura mixed doubles. Shaun Freeman, Kadena, Okinawa district singles and doubles champion. Akira Goodman, E.J. King, DODEA-Japan district singles and doubles champion. Tawan Banyatpiyaphod, Seoul Foreign School, Korea Blue regular-season and tournament MVP.
---
---
---
---