Longtime voice of DODDS-Europe sports signing off
by
Rusty Bryan
June 11, 2010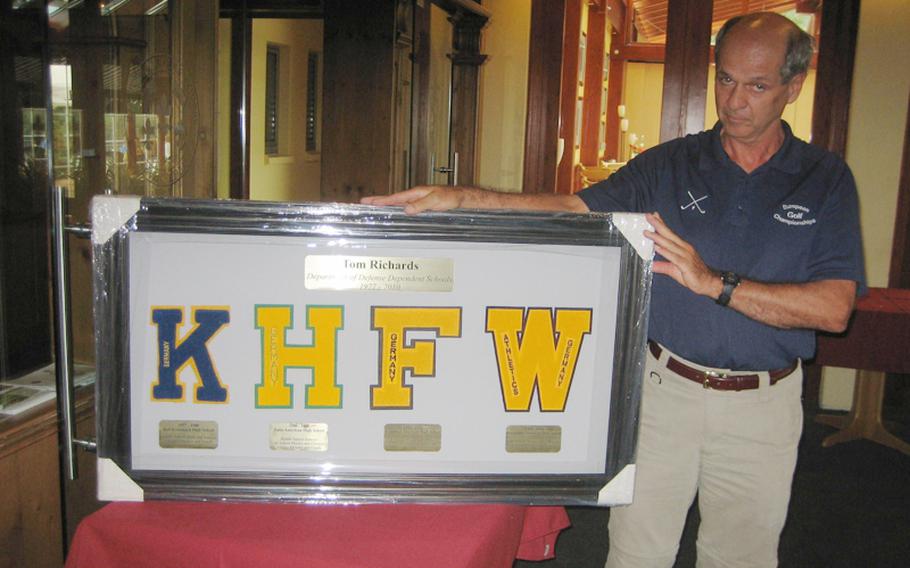 WIESBADEN, Germany — In the minds of many, high school sports in Europe will be losing its public voice when Tom Richards retires this month.
Among his many administrative and coaching duties, for the past 15 years or so Richards has handled the public-address chores at the DODDS-Europe basketball, wrestling, volleyball, track and cheerleading tournaments. Last November, he added announcing the Super Six football championship games to his résumé, huddling in a makeshift lean-to of plastic sheeting in a chilly drizzle to keep the crowd informed.
In addition to testing his resourcefulness, Richards' al fresco performance was an indication of how the landscape of high school sports in Europe has changed since 1977, when he began his first job with DODDS-Europe. Richards was working outside because the American Forces Network had commandeered all the indoor press-box space for the television and radio equipment required to broadcast the games live worldwide.
Richards wasn't complaining.
"It's neat that AFN aired the games," Richards said on Tuesday. "We're a media event now."
DODDS sports were something less than that when Richards began his teaching career at Bad Kreuznach, a time when there were far more schools than now. In addition to Bad Kreuznach, for example, Richards was a teacher and coach at two other defunct schools, Hahn and Frankfurt, before he arrived in 1994 at Wiesbaden, one of a total of 27 of all sizes with high schools sports that are still open.
"Prior to the drawdown," Richards said, "We had 22 small schools alone. All had a special feeling about them."
They also offered a special opportunity, he added.
"I never would have coached in the States," said Richards, a chemistry and physics teacher by trade. "I started helping at Bad Kreuznach and then at Hahn and it went on from there."
Richards served as athletic director and coached gymnastics, cross country, tennis and girls basketball at Bad Kreuznach and Hahn until 1993, when he moved on to Frankfurt, and coached girls basketball and no-longer-offered gymnastics, his favorite. There, Richards, a self-described "small-schools guy," was on a big stage for the first time, working with Karen Seadore, now the DODDS-Europe athletic director.
"I've known Tom since 1991," Seadore said Wednesday. "We coached the first DODDS-Europe girls all-star basketball team. He was my assistant with the girls basketball team at Frankfurt."
Circumstances led Richards to an even bigger stage a few years later, when DODDS-Europe sports were thrown into turmoil by the sudden resignation of longtime system AD Tom LeBlanc. Richards had moved to Wiesbaden by that time, and once again answered the call of duty.
"Tom served as the interim athletic director for DODDS-Europe in 2000-2001, after [LeBlanc] stepped down," Seadore recalled, "until I was put into place."
Interim AD was a continuation of Richards' habit of agreeing to do what needed to be done. From 1995 onward, Richards found himself volunteering for the European tournament staff year after year.
"Maybe I was too quick to volunteer," he said, but added in explanation, "Europeans are good. It's an event. It puts teams on to a bigger stage. There were teams such as Iceland and the Azores which never got a chance to play, but by the time the tournament was over, they had played a season."
Richards' seasons in DODDS-Europe sports officially ended last month, when he and Wiesbaden hosted the 2010 European track and field championships. Richards again handled the microphone, announcing the event on his personally owned public address equipment for the last time.
"I'll really miss it," said Richards, who plans to divide his retirement time between Seattle and Thailand. "What I'll miss most is the friendships."
One of those friends, Seadore, says the sentiment is mutual.
"I can't even begin to imagine what it's going to be like without him," she concluded. "He'll be missed."
bryanr@estripes.osd.mil
The Richards record
Tom Richards' contributions to DODDS-Europe athletics:
 Bad Kreuznach High School (1977-1980)
Athletic director, 1977-1980
Tennis coach, 1977-1980
Girls basketball coach, 1977-1980
Gymnastics coach, 1978-1980
Cross country coach, 1979
 Hahn High School (1980-1993)
Athletic director, 1980-1993
Girls basketball coach, 1980-1993
Gymnastics coach, 1980-1993
Tennis coach, 1980-1984
 Frankfurt High School (1993-1994)
Gymnastics coach, 1993-1994
Girls basketball, 1993-1994
 Wiesbaden High School (1994-2010)
Athletic director, 1997-2010
Gymnastics coach, 1994-1997
Girls basketball, 1994-2008
 European tournament staff (1995-2010)
Basketball, 1995-2010
Volleyball, 1992-2007
Track and field, 2002-2010
Golf, 2007-2010
Cheerleading, 1998-2010
Tennis, 2008-2009
---
---
---
---