Longtime Pacific Force outfielder Chaney calls it a career
by
Dave Ornauer
July 3, 2005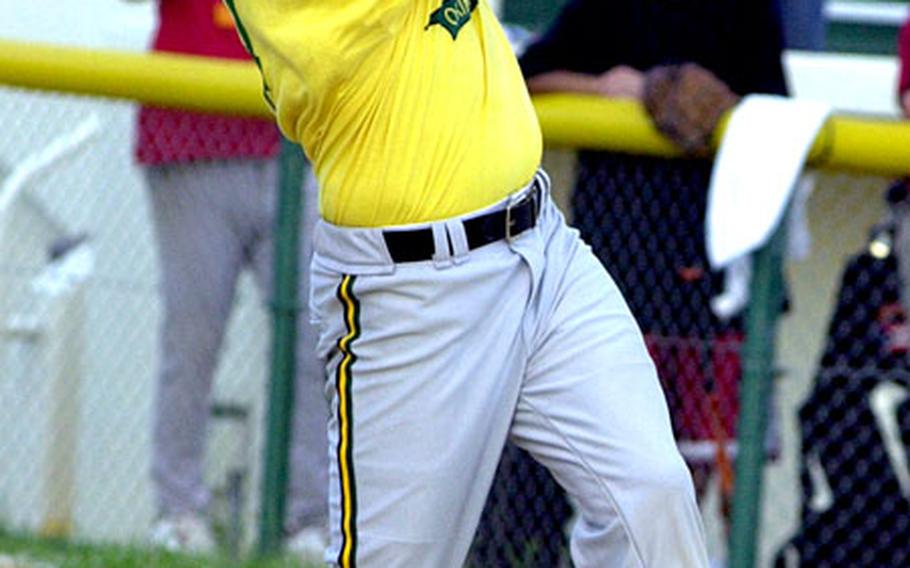 CAMP FOSTER, Okinawa — Gary Chaney's interservice softball résumé is one that many players might envy.
Among his feats over a 20-year Marine Corps career, Chaney was selected All-Marine outfielder four times, twice was picked All-Armed Forces and for several years was a key player for Pacific Force, the region's top open team of the last 20 years.
Of all the years he played, 1999 will be foremost in his mind, he says of the year he was one of seven Pacific Force players chosen for the All-Armed Forces team.
"That stood out," Chaney said Wednesday, the day before he called it a Marine Corps career and flew back to his home state of Michigan.
"You had how many guys from the same team? I don't think you'll ever see that happen again."
The 39-year-old from Hazel Park, Mich., retires as a gunnery sergeant, with most of his years spent in security forces. The last two years, he was a first sergeant with 3rd Force Service Support Group at Camp Kinser.
Most softball veterans in the Pacific will remember Chaney as a polished all-around player.
"An unbelievable clutch player," said John O'Brien, a fellow Marine retiree who coached Chaney's 3rd Force team in the Marine Forces Pacific Regional Tournament last August — which Chaney won with a two-run home run in the last inning of the championship game.
"Two out, one on, bottom of the seventh, chasing one (trailing by a run), there's nobody I'd rather have batting than him. If you needed the big hit, he'd get it for you. Like last August."
Chaney is more closely associated with Pacific Force, an open team of players from all services that formed in 1989 and won 39 tournaments on the Pacific interservice Grand Slam circuit before disbanding earlier this year.
Pacific Force won 10 straight Grand Slam tournaments, becoming the first and only team to ever sweep all four Grand Slam titles in one calendar year, and reaching the finals of 12 in a row.
"Playing for Pacific Force and that stretch when we won the Grand Slam, went to All-Armed Forces and played together. That will stand out," Chaney said last week, while playing for a company-level team in the Commanding General's Cup tournament at Camp Foster.
"It wasn't just the wins, but the guys we had. You couldn't ask for better teammates, coming up to bat knowing that the guys behind you had your back."
After his Marine regional title-clinching feats of last August, Chaney says he began to shy away from the game, preferring to spend time with his wife, Jiab, and three daughters.
"I told myself when I got to where I wasn't having fun, I'd stop playing," Chaney said. "I wasn't going to go through the motions."
Not that he didn't enjoy playing anymore, but he said he feels players have become too selfish.
"The game has changed. The attitude has changed. I don't think the guys respect the game the way they used to," Chaney said.
Still, Chaney says he wouldn't trade the memories he's collected over the years.
"If it weren't for the ball, the friends, the camaraderie, I don't think I would have stayed for 20 years," Chaney said.
---
---
---
---