Longtime Kubasaki coach is new Far East tournament coordinator
by
Dave Ornauer
October 2, 2003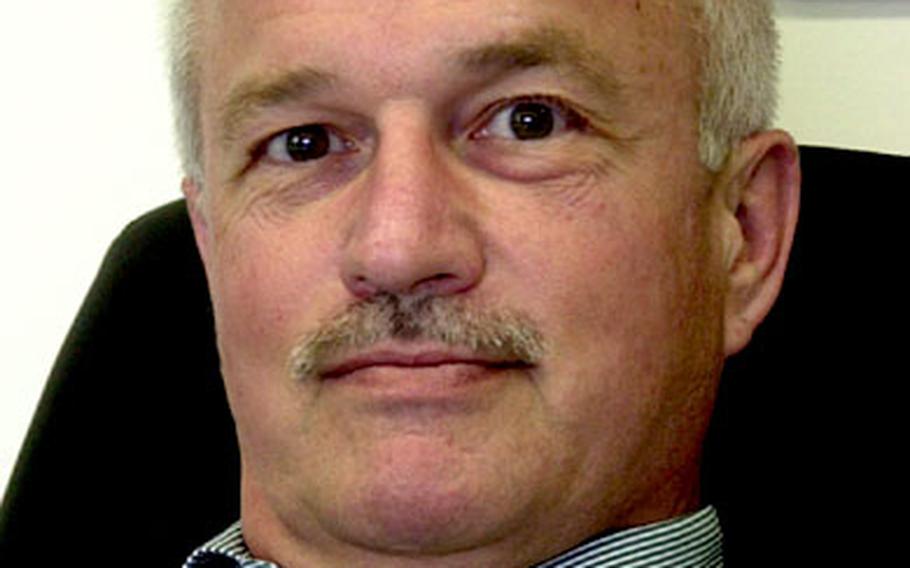 TORII STATION, Okinawa — Don Hobbs' new career with Department of Defense Dependents Schools-Pacific grew out of the classroom and the coaching spot he occupied for most of the past two decades.
He arrived at Okinawa's Kubasaki High School in 1983, took the boys basketball coaching reins in 1986, won three Far East tournament titles, began directing Far East tournaments in the mid-1990s and later served on DODDS-Pacific's Far East Activities Council.
Now, having been named to the new position of FEAC activities coordinator, he will run that very same panel — and shoulder all its responsibilities.
"It just seemed like a natural," said Hobbs, 54, of Roseburg, Ore., who assumed the post over the summer. "I've always been a very strong believer in the role that co-curricular activities play in the life of a student."
Hobbs will oversee 19 DODDS-Pacific Far East activities — mostly sports but also vocations such as science, journalism, military skills, music, speech arts and dramatics.
"I'm not going to dictate policy, but I am assisting people with something that's already in place," he said. "Certainly, I'm not going to be an athletic czar or a Far East activities czar.
"I hope to, if anything, make sure and be of assistance" to Far East tournament and activities directors — people he says are of immeasurable worth to students.
"He's a perfect fit for the job," said Seoul American girls volleyball coach Denny Hilgar, Hobbs' longtime friend. "Directing as many Far East tournaments … has given him valuable experience and exposure into the logistic and administrative sides of his job. He has had countless hours around coaches, picking their brains, listening to their gripes, all with the intent of bringing better tournaments to those coaches and kids."
Hobbs' boss, DODDS-Pacific director Dr. Nancy Bresell, agrees.
"I don't think we could have found a better match," she said. "He knows the issues that teachers and coaches face. He is a teacher and he has a love for athletics. He's going to enrich the program."
It hasn't been all smooth sailing, however.
For a start, the DODDS-Pacific journalism festival Nov. 11-14 at Tokyo's New Sanno Hotel has, for the second year, "run into problems getting stateside presenters," Hobbs said.
"I want to make sure problems like these are tackled in a timely manner, so we don't have to face this problem in the future," he said.
Hobbs also had to move quickly Saturday to mediate a dispute over a girls volleyball match at Yokosuka Naval Base.
Host Nile C. Kinnick High School was awarded a 15-14 win over Robert D. Edgren High School in the fifth set of a five-set match, despite National Federation rules that mandate at least a two-point victory.
Hobbs sent e-mails to coaches asking them to talk to their athletics directors and officials associations so it doesn't happen again.
"I am learning my position as time progresses," he said.
Hobbs might never have found his way to this role had it not been for a brush with death in 1997.
After coaching the Dragons boys basketball squad one evening, Hobbs was found lying on a sofa in the gym. He complained of chest pains and was rushed to U.S. Naval Hospital Camp Lester. He spent seven weeks at Chubu Hospital in Gushikawa, just north of Kadena Air Base, recuperating from a heart problem.
"Somebody was looking after me," said Hobbs, noting that comedian John Ritter died earlier this month of the same problem, a distorted aorta wall that eventually tore.
Hobbs eventually returned to the math classroom but his coaching days virtually were over. He remained active in sports, though, directing the past three Far East Class AA girls basketball tournaments and the last two Far East Class AA boys soccer tournaments — moving Bresell to label him a "great communicator."
"I looked at the things that Don did as a tournament director," Bresell said. "The quality of things he sent out to schools and coaches. Somebody who knows how to communicate. He brings a lot to the position."
Hobbs said he misses the classroom but moving into his new post keeps him close to what he enjoys most: being around young people.
"It would have been more difficult if I'd switched to a position where I was completely separated from kids," he said. "In some ways, I have a really good situation. Mostly I'm going to be around the best kids."
---
---
---