Softball preview
Longtime contenders at it again on diamonds
by
Gregory Broome
March 23, 2017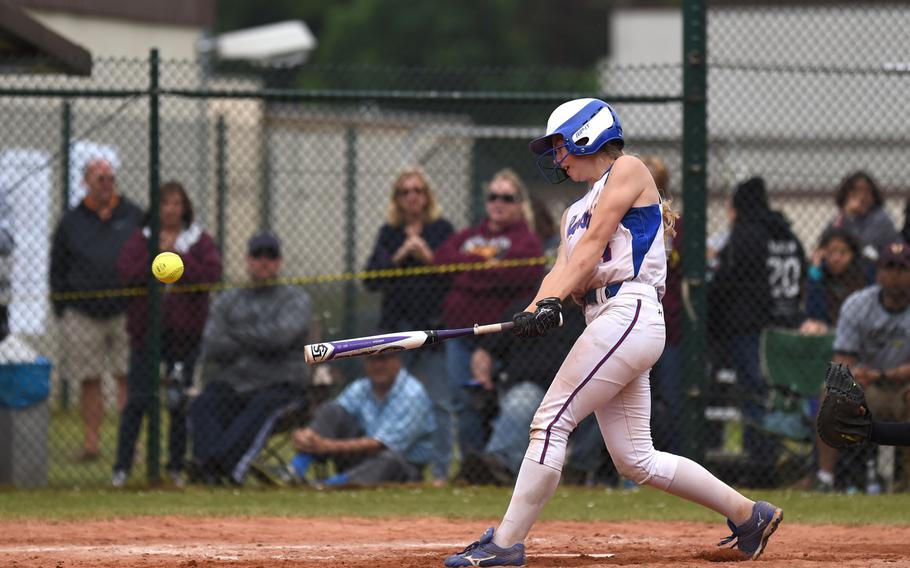 Let's try this again.
A new DODEA-Europe softball season opens Friday, finally returning teams to the diamond after a chaotic conclusion to last year's season. The Division I Stuttgart Panthers and Division II/III Aviano Saints were controversially declared 2016 champions when inclement weather cancelled the European title games.
Now Stuttgart and Aviano will move on from defending the way they won those championships to defending the championships themselves. That effort begins this weekend, as Aviano joins Vicenza and Sigonella at Naples and Stuttgart hosts Wiesbaden to highlight an opening slate across six European sites.
The campaign's stretch run begins on April 15 after an early-season intermission for spring break. The DODEA-Europe championship tournament is set for May 25-27 in the Kaiserslautern Military Community.
Division I Last year's scuttled large-school championship game was just another memorable moment in a feud that has spanned a decade.
Stuttgart has made a habit of interrupting the title reigns of the Ramstein Royals in that span. The Panthers' 2011 title ended a three-year Ramstein streak. Stuttgart's 2014 championship prevented the Royals from winning three straight again. And last year's technical knockout prevented Ramstein from repeating its 2015 triumph.
With that kind of history, what happens next is anyone's guess.
Ramstein hopes to rally from last year's disappointment on the strength of a stalwart set of four standout players. Seniors Delour Durbin, Brea Mangham, Sierra Nelson and Sarah Wilhite have each been with the program for four years and are eager to restore Ramstein dominance before they move on.
While the Panthers and Royals have claimed all of the European championships since 2008, a meeting between the two this spring isn't a foregone conclusion.
Vilseck cracked the glass ceiling for title-game appearances in 2012 and 2015, and this year's Falcons have the talent and experience to not just get back to the title game but potentially break the two powerhouses' hold on the division.
Ten varsity players, including eight starters, are back for a Vilseck team that nearly upset eventual champ Stuttgart in an eight-inning 13-12 semifinal loss last year. Seniors Isabella Brasi, Crystal Morris and Ariana Estrada headline a playoff-tested squad without obvious major weaknesses.
Former Division II juggernauts Vicenza and Naples have yet to duplicate their former dominance in Division I, but both are preparing fresh attacks this spring. Freshman catcher Mia Rawlins is a welcome addition to a Naples squad led by pitcher Anika Loverink and outfielder Marissa Dye, while Vicenza will lean on the steadying influence of seniors Brittney McDonald, Samantha Rivera and Samantha Hughes.
Kaiserslautern, meanwhile, has hung on the periphery of title contention for years, and appeared set to break through last year before a 7-6 semifinal loss to rival Ramstein ended its run. The loss of 2016 Stars and Stripes softball Athlete of the Year Tori Liggins will hurt, but the presence of battery combination of Phoenix Whisennand and Chloe Whisennand, corner infielder Victoria Jackson and all-around standout Ally Alamos gives the Raiders a chance at redemption.
Division II/III The Aviano Saints have perpetuated Italy's lock on this division, winning both European titles since former powerhouses Vicenza and Naples moved up to Division I. There's a good chance that trend will continue this spring.
Aviano welcomes seven returning starters back from last year's roster, a substantial level of continuity by DODEA-Europe standards. Senior Makena Page occupies the middle of a solid defensive infield, while sophomore pitcher Elizabeth Bond gives the Saints an effective starter on the mound.
The Hohenfels Tigers were denied their opportunity to unseat Aviano when last year's championship game was washed out. This year's Tigers are a mix of proven contributors, like junior pitcher and shortstop Alexus Garcia, and promising newcomers, including freshman prospects Atleigh Hardaway and Aliyah Jordan.
Bitburg and Sigonella will look to elbow into the title game this spring after strong semifinal showings a year ago. Bitburg boasts a formidable core of seniors and juniors; Sigonella hopes to welcome all-around injured standout Hanna Barnes back to the squad in time for another postseason run.
Twitter: @broomestripes