Home Team
Longtime athletics coordinator taking another DODEA job
by
Gregory Broome
January 19, 2017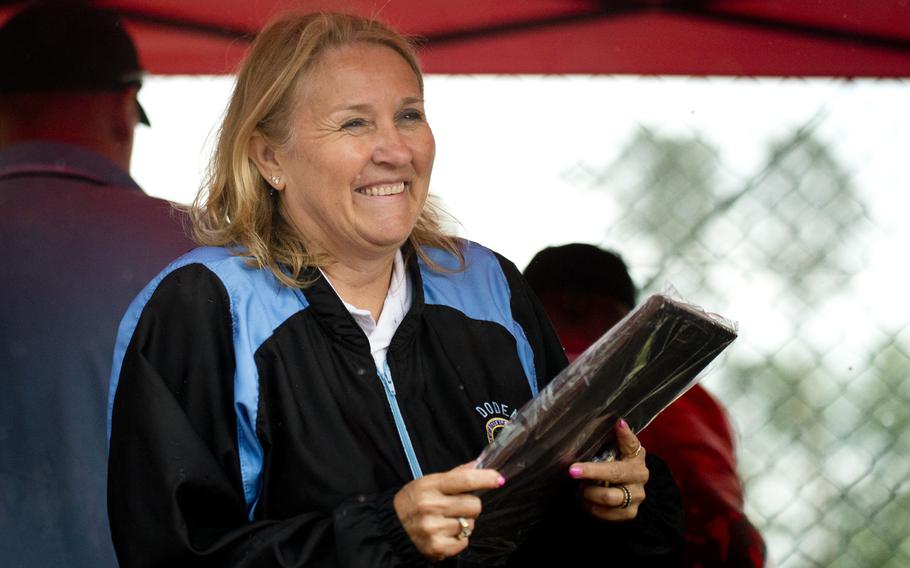 Karen Seadore resigns as DODEA-Europe athletic director Friday, ending a tenure of 16 years in the position. Seadore will report to DODEA headquarters in Alexandria, Va., on Monday to take over as the organization's Instructional Systems Specialist for Health and Physical Education.
Seadore made a habit of calling her position coordinating DODEA-Europe athletics "the best job in the world," even as a consistent stream of fiscal and logistical challenges made it appear to be anything but. She navigated those issues by staying focused on the organization's larger mission.
"Our military children deserve to have opportunities similar to their stateside counterparts," Seadore said.
Seadore has spent the last three decades pursuing that goal in a variety of capacities. She taught, coached volleyball, basketball and soccer and served as athletic director at Frankfurt American High School from 1985 to the school's closure in 1995, then spent six years as a teacher, coach and athletic director at Mannheim High School. She started as DODEA-Europe athletic director in August of 2001.
Seadore's career has overlapped with the overall drawdown of U.S. military forces in Europe, a process that has caused considerable upheaval for DODEA-Europe athletics. But Seadore also managed to make notable progress rather than merely managing the consolidation.
Seadore cited two achievements of which she is particularly proud: her role in installing a coaching certification program in 2002 that has since certified more than 450 coaches, and the ongoing evolution of the season-ending European championship tournaments that in most team sports gather every program from across the continent in a central location.
"There have been many challenges and much adversity," Seadore said. "But due to the fact that I have always surrounded myself with outstanding, knowledgeable people and worked for many great leaders who have allowed me to do my job, the athletic program has continued to flourish."
While Seadore deflects credit to her colleagues, some of the most experienced of those colleagues are eager to return it to Seadore.
Tom Richards spent 31 years working in DODEA athletics, including a stint as interim athletic director between the tenures of Seadore and her predecessor Tom LeBlanc, and the seven since his retirement dropping in to assist with the coordination and presentation of European tournaments.
"Karen's place in the history of (DODEA-Europe) athletics will forever be remembered by those of us who has the honor to work with her," said Richards, who plans to work his final European tournament this February. "She will be missed, but her time has come to take on a new challenge."
Wiesbaden athletic director and girls basketball coach James Campbell first met Seadore in 1990 at Frankfurt American High School, where he served as a coach and Seadore a coach and athletic director.
"She was a great role model for me as a coach," Campbell said. "And a great mentor to me as the athletic director."
Campbell lauded Seadore's handling of a number of issues that have confronted DODEA-Europe over her career, including increased security concerns and divisional realignments made necessary by school closures and fluctuating student populations. Overall, he said, Seadore's "legacy will include providing a high-quality interscholastic athletic experience" for DODEA-Europe student-athletes. He said Seadore's replacement will have some "very big shoes to fill."
The process of naming that replacement is ongoing. The vacancy, listed on USAJobs.gov under Instructional Systems Specialist (Interscholastic Athletic Program), opened on Jan. 10 and is scheduled to close on Monday, Seadore's first day in her new stateside job. The position is open only to current full-time DODEA employees.
Seadore said she is "hopeful" she'll be allowed to participate in the transition and "have the opportunity to mentor my replacement." The job, she reiterated, is a big one.
"Just when you think you have completed your to-do list, more emails will arrive needing your attention," Seadore said. "With sports, it is never-ending because you are always preparing for the next season."
After 16 years, those preparations will soon be a task for someone else.
Twitter: @broomestripes