London Central's Scott, Heidelberg's Zachar repeat as Europe wrestling champs
---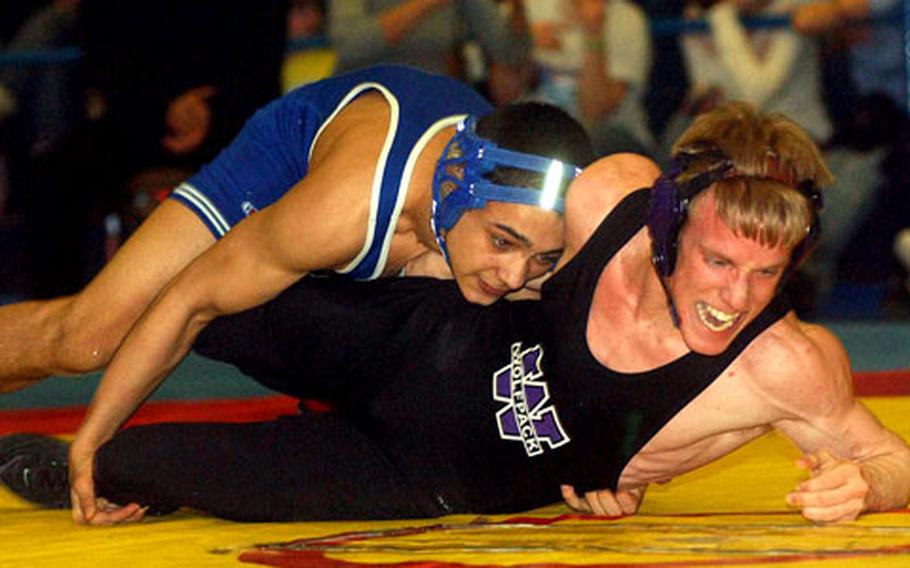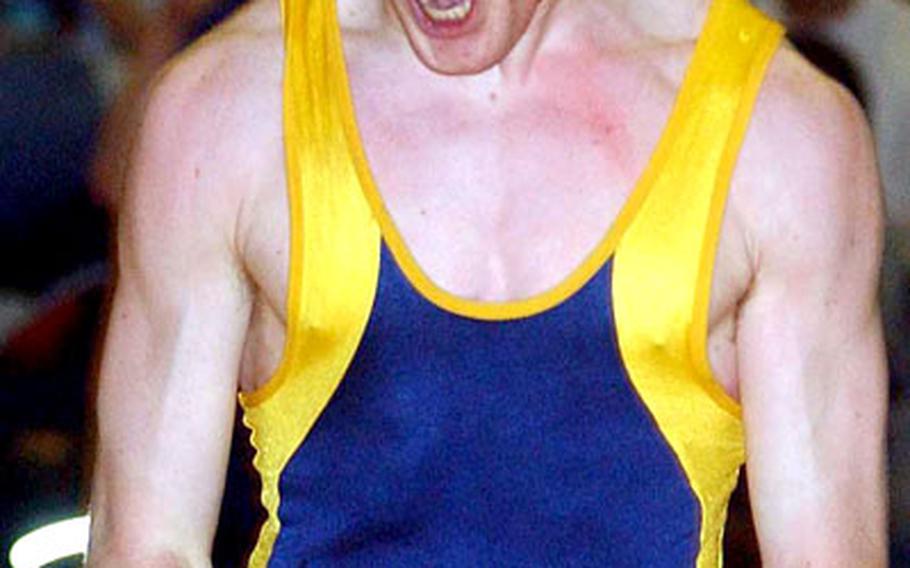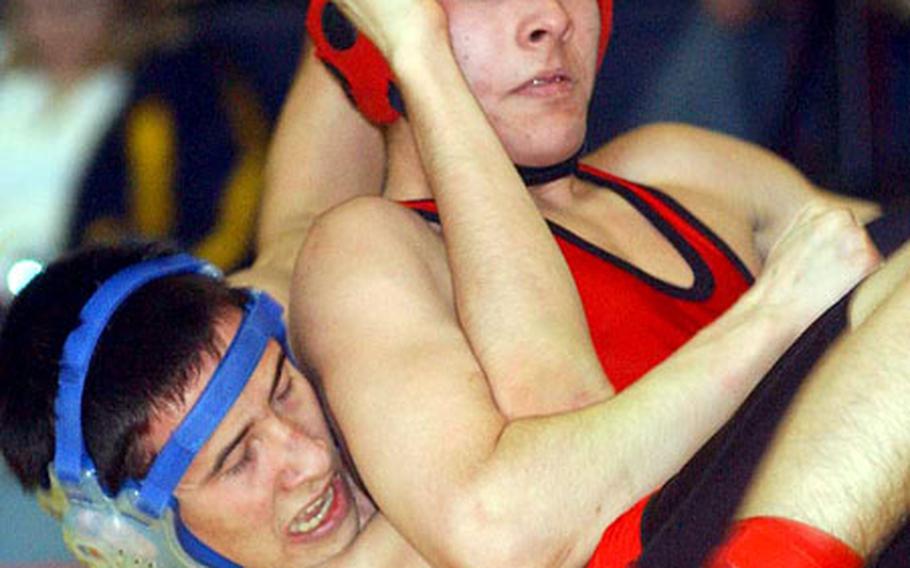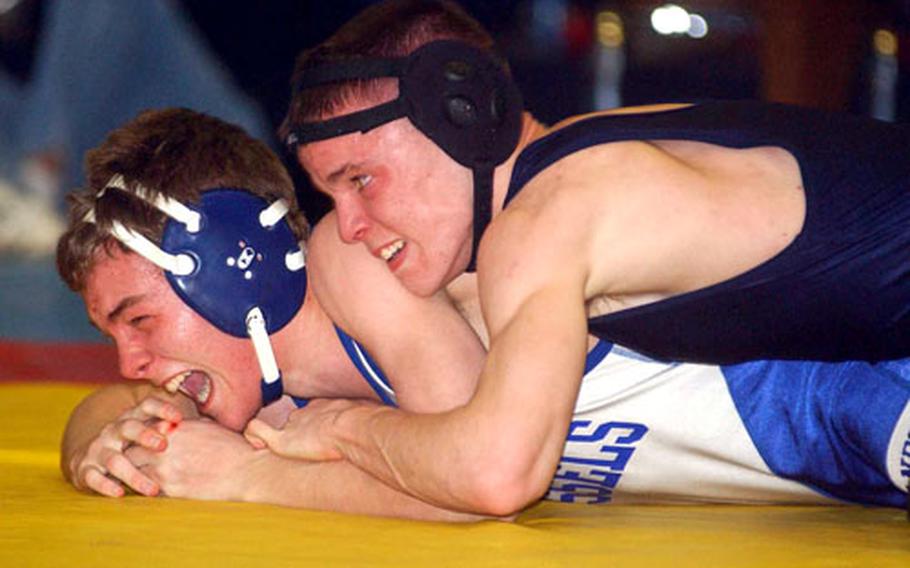 WIESBADEN ARMY AIRFIELD, Germany — Two of the five returning champions in the DODDS-Europe wrestling championships defied the No. 2 seeds they were given by winning their second straight titles on Saturday.
London Central's Jonathan Scott, seeded second to Jonathan Painter of Würzburg, earned a 130-pound title to go with the 112-pound crown he took home last season. Heidelberg's Andrew Zachar, seeded behind Guadalupe Flores of Naples, added a European 160-pound title to the 152 version he won last year.
"I don't care what my seed is," Scott said after defeating a fast-closing Painter 13-9 in the title bout. "They can seed me 16 for all I care."
Scott took a 10-4 lead into the final 2:09 of the title bout before Painter closed with a rush.
Zachar defeated Wiesbaden's Matt Alexander, who knocked off Flores in the semifinals, 8-5 by exploiting a trio of double-leg takedowns.
"It's a simple move," said Zachar, who is familiar with Alexander, a Division I rival. "He's one of my toughest opponents."
Three other returning champions failed to win titles. Karl Saucier was upset in Friday's 145-pound quarterfinals, and Mike Monaco of Naples and Jesse Painter of Würzburg placed second at 140 and 135, respectively.
Monaco fell 8-6 to top-seeded Devon Gardner of Naples, a 2003 champion whom Monaco beat 6-4 in last season's 140-pound bout, and Painter lost 9-2 to Coty Reinhart of Ramstein.
Monaco and Gardner were tied going into the final two minutes, but Gardner took a 7-6 lead with 1:45 left in the match when Monaco was penalized for locking his hands. Monaco threw everything he had into trying to turn Gardner over the next 90 seconds, but Gardner held on.
"He came very close to turning me. I was scared," Gardner said. "I knew he would come at me like that. I didn't wrestle all out in the semifinals so that I would have something left for this match."
Painter, never short on muscle and desire, could do nothing with the technically proficient Reinhart. The Ramstein freshman, who placed sixth in the Ohio middle school championships last season, would not allow the determined Painter to complete any move.
"Jesse's fun," said Reinhart, who will have a chance to tie the graduated Josh Anderson of Patch as DODDS-Europe's only four-time champions. Reinhart said he'll be at Ramstein his entire high school career.
Ramstein senior Cole Maxey turned a DODDS double when he added the European 215-pound crown to the Far East title he won last season in Japan. Maxey pinned Richard Rendon of SHAPE at the 5:20 mark of a gritty match.
Maxey trailed throughout the bout and was down 7-4 with 1:20 to go when his relentless pursuit of Rendon produced a takedown into a half-nelson body press for the fall.
"There's no stopping out there," the Ramstein senior said.
Reinhart and Maxey were among five first-timers who won championships on Saturday.
Würzburg's Anthony Davis, a freshman, just took the sport up last fall. He pinned Heidelberg's Chris Toner in 3:33 for his win. Wiesbaden's Chad Abramson downed Todd Thom of Naples 6-4 at 189, and Heidelberg's 5-foot-6 Jordan Yakana dominated 6-foot-2 Cole McClain of Menwith Hill 6-3 at 152.
"I just tried to keep my hips on him," Yakana, a senior in his first year in Europe, said of fending off his lanky opponent.
Bitburg's Daniel Brunal, who finished second at 103 last season, made the top rung in his fourth year of trying when he downed Seth Romero of Menwith Hill 9-6 for the 112-pound crown.
"All the work was worth it," Brunal said.
Bryan Isbell of Brussels joined Brunal in turning 2004 silver into 2005 gold with a freestyle-looking 12-8 victory over Heidelberg's Rex Ely at 171. Isbell, coming off a battle with mononucleosis, used his skill on his feet for the victory, taking Ely down four times and reversing him.
Aviano sophomore Gary Vogt improved on a third-place finish in 2004 with a 5-2 verdict at 119 over Paul Moseman of Brussels. Noah Sheppard of Ramstein, hurt during last year's Europeans, manhandled Andrew Moon of Heidelberg 12-0 at 125. Both were top seeds.
James Horst of Ramstein made it 4-for-4 for Royals in the finals with a 4-1 victory over Gregg Surpris of Wiesbaden at 275.
But the home team got its treat at 145, when Tony Gagnon, another second-place finisher in 2004, reversed and pinned Vicenza's Gary King 1:32 into their title bout.
"I used a switch and caught him in a Turk," Gagnon said. "I was surprised. I thought the match would last six minutes."
---
---
---
---