London Central's Scott a DODDS wrestling champion again
by
Rusty Bryan
February 19, 2006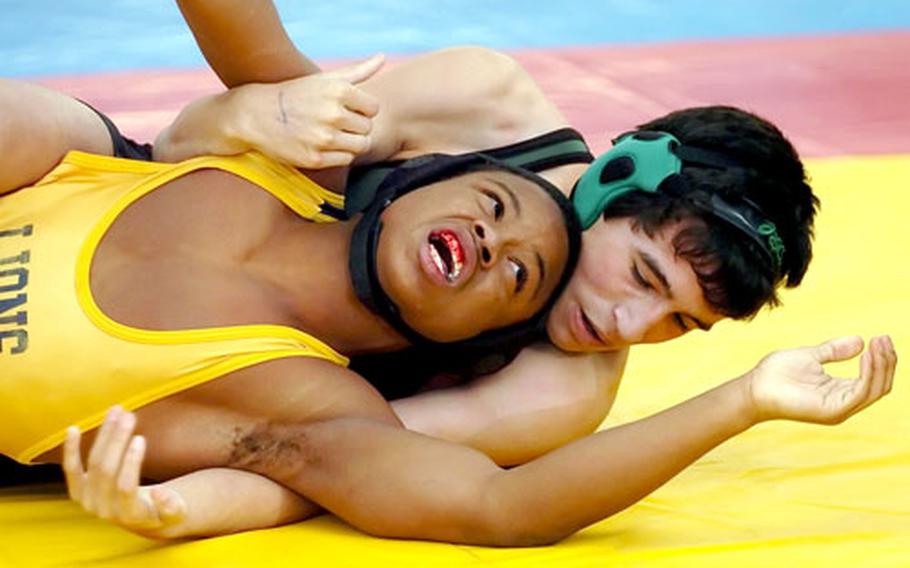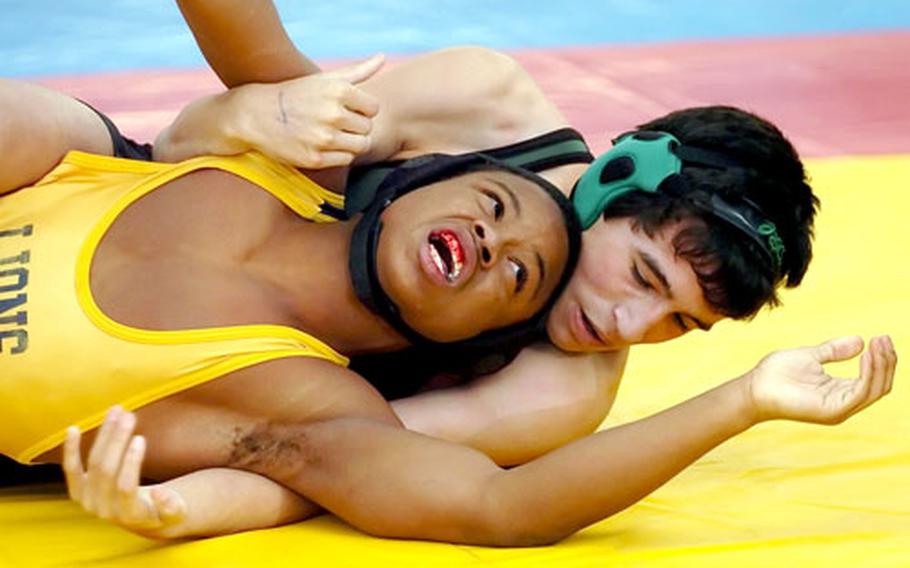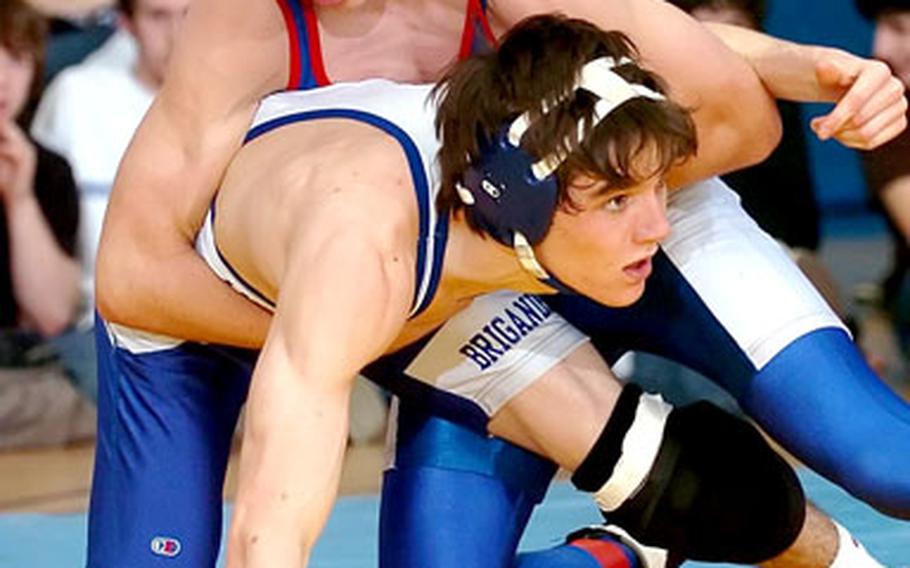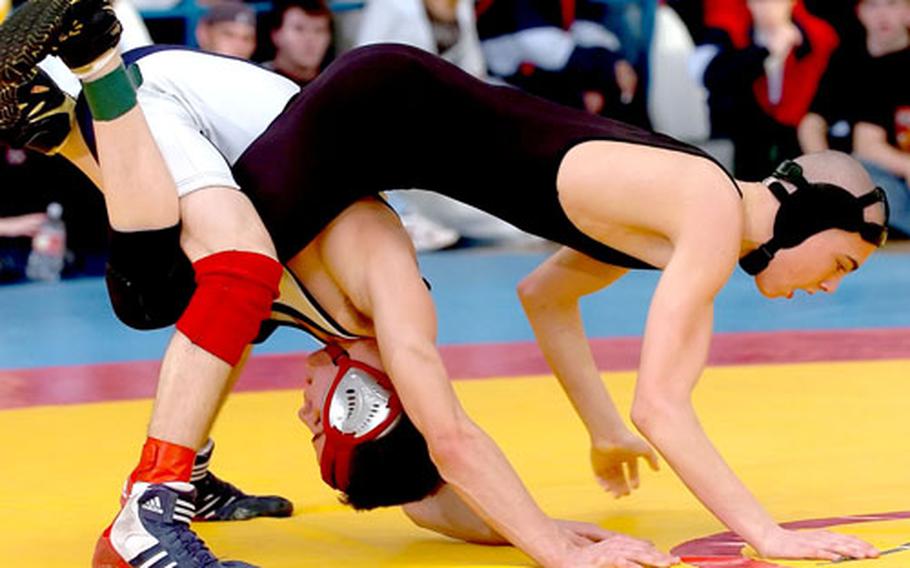 WIESBADEN AIR BASE, Germany — Just as he'd planned, Johnathan Scott of London Central made it three straight titles Saturday in the European high school wrestling championships.
"Of course it did," the senior replied when asked if it had occurred to him when he was starting out that he'd be standing on the winner's podium a third straight time.
Expectation, however, took nothing out of the joy of the occasion. Scott, who plans to walk on at Iowa State on an Army ROTC scholarship, did a back flip after downing Heidelberg's Adam Johnson 11-3 in the 140-pound title bout.
Scott, who collected a fall and another major decision in his earlier bouts, used low-single leg takedowns and punishing rides in his victory.
"What I did was trick him into concentrating on staying alive," Scott said of his title strategy. "He was trying so hard not to get pinned that he never thought of attacking."
Attacking was the order of the day for the other two wrestlers who retained crowns, 125-pounder Noah Sheppard of Ramstein and 189-pound king Chad Abramson of Wiesbaden.
"It's very difficult to repeat," said Sheppard, who nevertheless dominated Heidelberg's Andrew Moon 11-2 to do just that.
Abramson was even more dominating in winning at 189 for the second straight season, pinning Guadalupe Flores of Naples in 1:43 for his fourth fall in his four matches here. None of the previous three matches lasted as long as Saturday's — he spend a total of 4:34 on the mats here — but Abramson nevertheless was nervous as he awaited the title bout.
"The higher weight classes don't wrestle until later in the day," he said, "and the pressure just builds up."
Two defending champions saw their reigns ended. Heidelberg's top-seeded Elliott Boltz toppled Ramstein sophomore Coty Reinhart 7-3 at 152, and Aviano's Gary Vogt fell 5-3 to Heidelberg's Travis Johnson in the semis at 135.
"I tried to be as aggressive as possible," Boltz said of his second victory this season over Reinhart. "When I saw an opening I tried to take it. I also tried to stay two moves ahead of him."
Boltz, voted MVP by the coaches in attendance, led 2-1 after one period and 3-1 after escaping from a period-long ride by Reinhart with four seconds to go. He then connected on a single-leg takedown in the third period to make it 5-2 and added a takedown with a countering move with 30 seconds to go.
Johnson handed Vogt his first defeat of the season, but had no answer for Ramstein buzzsaw Chris Maxey in the 135-pound finale. Maxey built a 7-0 lead before collecting the fall at 3:15.
"I just tried to do my game — attacking," said Maxey, a senior who sat our last season with a broken ankle.
Attacking was the order of the day for Ramstein, which rode four straight crowns — falls by Trey Fortunato at 119, Ryan Gough at 130 and Maxey, and Sheppard's major decision — to a dominating team title in Division I. The Royals outdistanced runner-up Wiesbaden 226½-155. Heidelberg was third at 153½.
Patch, which crowned champions at the lightest and heaviest weights, won the D-2 crown, 115-105 over runner-up Naples.
Patch claimed gold after sophomore James Ricks spotted Bitburg's Jerry Archuleta a 4-0 lead before riding the energy out of his foe in the second period and scoring big in the third period for a 12-5 decision at 103. And Patch senior Brian Bowles sparred with unseeded Sasha Chavez of Kaiserslautern before pinning him in 4:11.
"It doesn't matter whom I wrestle," Bowles said of his unexpected foe. "Whoever's in front of me, I take him out."
Naples claimed its title at 112, where freshman Chris Campos needed just 1:22 to flatten Heidelberg soph Kuani Tillman, and SHAPE became the final D-2 team to earn gold when senior Doug O'Meara pinned previously unbeaten Dameon Odum of Hohenfels in 2:58 at 145.
"He made a mistake and I capitalized on it," O'Meara said. "Our coaches work us on capitalizing on mistakes."
Scott led London Central to the D-3 crown over Hohenfels, and Division IV champion Brussels struck gold with 215-pound champion Eric Popp. Popp pinned top-seeded Brandon Simmons of Heidelberg in 1:12 in the semis, then decked Ramstein's Nick Petitt in 1:26 for the title.
"A good wrestler can always beat a 'muscular' one," Popp said of his impressive tournament which saw him pin four foes in a total of 5:47.
Gold medal for controversy went to AFNORTH's Jared Waters, who left it all on the mat in beating Alconbury's Kyle Lucas 7-6 at 160.
Waters, who wants to be a comedian, ran off the mat and raised a WWE-style championship belt just before time ran out. The officials docked AFNORTH a team point for unsportsmanlike conduct.
"I got excited," explained Waters. "I had to let it out."