London Central's Gallagher finds success in boys soccer
---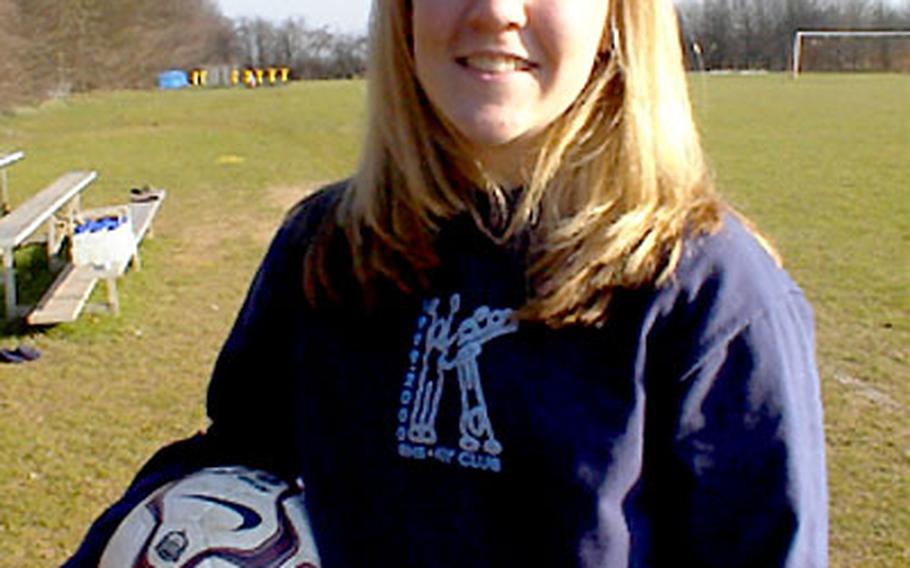 HIGH WYCOMBE, England — Who needs Title IX?
Certainly not London Central High School's Brenna Gallagher.
Just because there weren't enough girls to form a soccer team didn't mean Gallagher wasn't going to play.
She simply joined the Bobcats boys.
They couldn't be happier, and no gender-equity mandate was needed. As a matter of fact, the only people who need to worry about Gallagher are the opposing teams' goalies.
Gallagher scored two goals in each of her first two games, helping the team to the top of the Division III-North standings as the high school season paused for spring break.
"I was pretty nervous at first, thinking, 'Oh, it's guys, and it's a different-level game and they can all run faster,'" Gallagher said. "But at the first day of tryouts, I saw that there were players of every level out there, and I felt confident."
Gallagher's confidence undoubtedly grew from her play-making ability, which she hones playing nine times a week for the Bobcats and her local women's team for 16- to 30-year-olds, FC Cresham.
"I had no hesitation about putting her up as one of our forwards," Bobcats coach Fredo Ontiveros said. "She has great skill and a knack for putting the ball on the net."
Gallagher wasted no time putting the ball on net, scoring twice in the first half of London Central's season-opening 7-0 victory over Alconbury.
"Before the game started, I told the guys, 'Don't get mad if I mess up. I've never played against guys before'" Gallagher said. "They said, 'Don't worry about it, you'll be fine.'"
The tone changed after that big first half.
"When we came off the field at halftime, they were saying, 'Never played before, huh?'" Gallagher said with a laugh.
For all their teasing, Gallagher's teammates weren't all that surprised at the success of their first-year senior. They voted her a team co-captain before the season got under way.
"I was definitely surprised," Gallagher said of her election, especially since she was playing a new position.
"I've always played midfield," said Gallagher, who has been playing the game since she was 6 years old, "but against guys, they moved me up. I like it."
The more physical boys game didn't cause her stress.
"I'm used to playing with a pretty rough bunch," said Gallagher, who transferred to London Central from Washington state. "I haven't had any problems with it. I can manage it."
She certainly managed to settle any doubts about her scoring abilities.
"The first goal was pretty exciting," she said. "I was standing around the penalty spot. It was pretty cluttered, but the cross skimmed by the guy in front of me, and I headed it into the bottom corner."
The second goal wasn't all that pretty, but it tied her for the team lead in goals with C.J. Nogoy and John Wigandt.
"It was a free kick from the top of the penalty box," Gallagher said. "I was standing by the post and sort of bounced it off my stomach into the net."
Gallagher followed that performance scoring two more goals in a 5-1 victory at Geissen on Saturday.
Gallagher, who played volleyball for the first time this season and helped the Bobcats to the European Division III title, also has played varsity tennis and water polo. Soccer is still her main interest.
"I'm kind of hoping to walk on in college," she said, "maybe Western Washington or the University of Washington. I'll have to see what's going on."
---
---
---
---