Girls Track and Field Athlete of the Year
Lockridge secured her legacy among DODDS-Europe track greats
---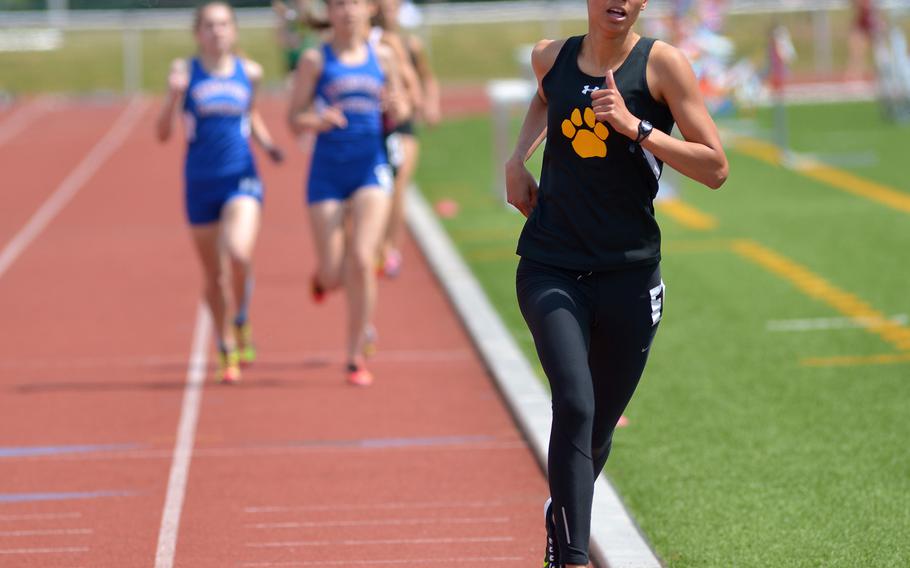 DODDS-Europe runners have spent a lot of time chasing Julia Lockridge over the past four years.
Now, future DODDS-Europe runners will have the same privilege.
Lockridge, a senior at Patch, set two DODDS-Europe records on May 22, the first day of the two-day European Track and Field Championships.
In the 800-meter run, Lockridge raced past a record that had stood for 35 years. Her time of 2 minutes, 16.67 seconds was just over a second better than the 1980 time produced by American School of London's Carla Wyndham in 1980.
In the 1,600-meter run, Lockridge broke a more recent record. In fact, she broke a record whose owner was running against her. Lockridge shattered the year-old mark set by Ramstein's Madison Morse, edging ahead of her rival in head-to-head competition and into the record books with a time of 5:10.26.
With those records in hand, Lockridge is the runaway choice as the 2015 Stars and Stripes girls track and field Athlete of the Year. She'll add the award to the 2014 Stars and Stripes girls cross country Athlete of the Year award she won in the fall.
Lockridge said running cross country helped her on the track this spring.
"Cross country got me over the mental hump," Lockridge said. "In previous years … I just didn't have it mentally. I think now I've matured enough to understand, 'You can do this.'"
Lockridge needed that mental fortitude at the European championships.
The senior got off to a fast start in the 1,600, but she felt its effects as the grueling race continued. She unleashed a ferocious kick over the last 200 meters, motivated not by the clock but by the prospect of being overtaken.
On the final lap, a cheering onlooker gave Lockridge the idea that Morse was catching up to her.
"I got real scared," Lockridge said. "I was trying to sprint as fast as I could."
Fatigue set in again later in the day as Lockridge ran the 800, her third race of the day. Morse again threatened, and Lockridge again responded with a winning kick to the finish line.
Her DODDS-Europe legacy safely ensconced in the history books, Lockridge hopes to attend Weber State University in Utah, where she plans to focus on the mile run as her signature event. Her performance at the European championship will only help that cause.
The mental toughness she's developed over her brilliant high school career should carry her the rest of the way.
"You've run one race, you forget, and you come back and do what you know you can," Lockridge said. "Your best."
Twitter: @broomestripes
---
---
---
---