Little Leaguers' families in it for the long haul
---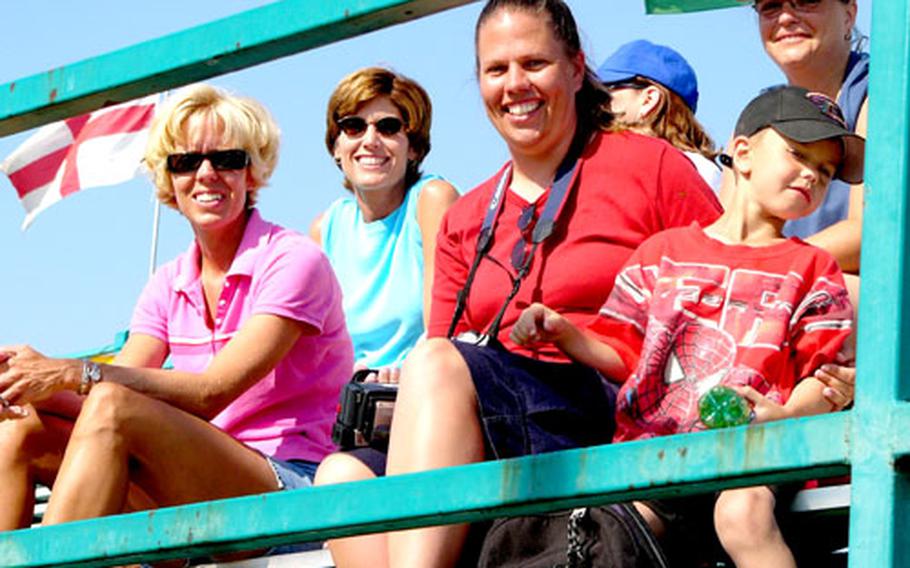 KUTNO, Poland — For the parents of Little Leaguers participating in the Transatlantic Regional tournament here, getting to far-off Poland requires just a few more of those thousands of miles parents routinely go on behalf of their children.
"We drove here," said Christie Lehr, whose son, Jordan, plays on the Brunssum-Schinnen all-star team which is representing the Netherlands.
"It took 16 hours," she said, adding for emphasis, "Make sure you put in there that it was LONG."
And not just for the contingent from the Netherlands.
Kutno, located in central Poland about 70 miles west of Warsaw, is a long haul for all seven teams vying for the berth in the Little League World Series.
The teams from Naples, Italy, London, Madrid, Spain, Brussels, Belgium and Dharhan, Saudi Arabia flew in to Warsaw, then rode chartered buses for two hours over the bumpy two-lane highway to Kutno.
Teams from Ramstein, Germany, and the Netherlands drove all the way, transitioning from high-speed motorways in Holland and Germany to mostly rutted two-lane roads that wind along most of the 200-plus miles from the Polish-German frontier to Kutno.
"Planes, trains and buses," was the way Michelle Richardson of Naples described her trip from Italy. Their 12-plus hour journey behind them, Richardson and her husband, Gerald, were looking forward Tuesday to watching their son Jorgio, 12, and his Italy champion teammates take on Belgium in a crucial game for both teams in their quest to make Thursday's semifinals.
"We're going to see our first game today," Gerald Richardson said. "We're trying to make fourth place."
While the Richardsons were preparing for their first day, many of the parents have been here since the tournament started on Aug. 5 — taking time off from jobs and trying to keep younger siblings occupied.
Keenan Lehr, 6, a soccer player, passes his time playing on the large rocks outside the stadium, and, his mother added, "Gameboy."
Other children, younger sisters from Saudi Arabia and Ramstein, for example, play games with each other in and under the grandstands while their big brothers and sisters play games on the fields.
For the parents, though, baseball itself is pastime aplenty, especially in Kutno, where sightseeing is at a minimum.
"I've enjoyed watching the games," said Melissa Leugers, mother of Netherlands outfielder Matthew, 12, "even when we're not playing."
And despite the travel time involved, parental opinion was unanimous about the value of the time spent here.
"It's good for the kids," said Gerald Richardson, "a great experience."
Even if it's a little inconvenient getting here.
"Next year," said Christie Lehr, perhaps thinking about the long road home, "maybe it'd be better to take the train."
---
---
---
---