Little League: Ramstein's victory is no close shave
---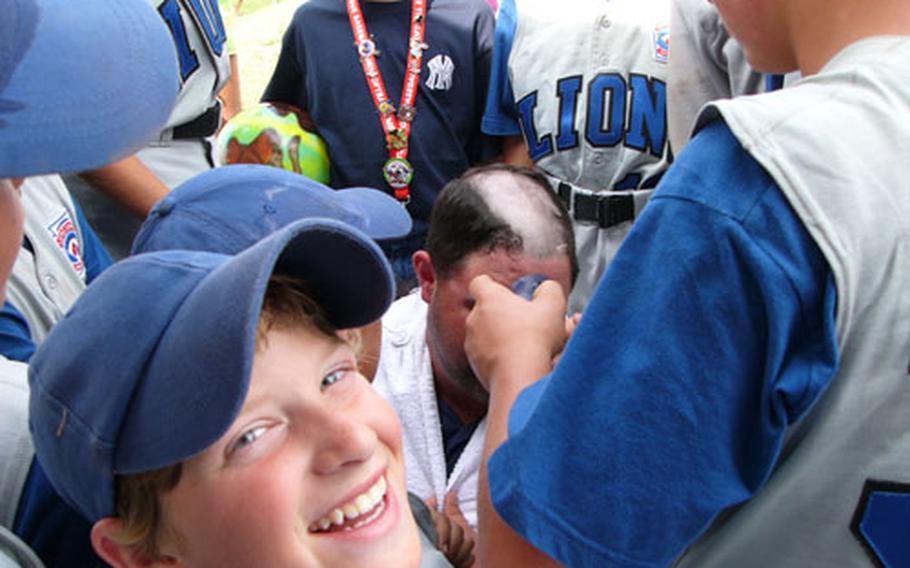 KUTNO, Poland — Ramstein's "Mr. August" left his mark on Little League Baseball's Transatlantic Regional tournament Monday.
Chris Johnson, a 12-year-old pitcher-first baseman with the body type of a right-handed Babe Ruth, clubbed three-run home runs in each of his first two at-bats to power Ramstein to a 10-0 run-rule victory over Belgium.
Johnson also hit a three-run homer in his last at-bat on Sunday, giving him three consecutive three-run shots.
"I think the second one was a hanging curve ball," Johnson said of Monday's blasts, while rubbing up one of the very balls he hit out. "The first one was a fast ball."
Officials in Kutno retrieve every home run ball and present it to the batter. Monday's pair upped Johnson's total to four after four games of this tournament, and 17 for his 23 games this season.
"The umpires get the ball and put your name on it," said Johnson. "They also put on there how many were on base."
Johnson smoked a run-scoring double down the left-field line in his final at-bat Monday. It gave him 10 RBIs in his last four trips to the plate in the round-robin event that determines which team of 11-to-12-year-old expatriates residing in Europe, the Middle East and Africa advances to the Little League World Series Aug. 20-29 in Williamsport, Pa.
Ramstein (3-1) is tied for second place with England champion London.
With Ramstein starter Augustin Ortiz pitching no-hit ball for the first three innings, Johnson's second clout gave the champs from Germany a commanding 6-0 lead on a fifth straight day of bright, breezy 80-degree sunshine at Little League's European headquarters.
Belgium pitcher Sasha Trevoury attempted to intentionally walk Johnson in his final at-bat Monday, but coach Doug Rohn came out and instructed Trevoury to pitch to him. The result was a blistering shot down the line to the left-field fence.
Johnson also made a deft stab of a low line shot off Trevoury's bat to end the top of the fourth inning with his team up 7-0. Ramstein scored three runs in the bottom of the fourth to reach the game-ending 10-run margin. Ortiz, 12, who plays shortstop when he's not pitching, struck five of 10 batters and walked one. He struck out the side in the second.
"I was here last year," said Ortiz, who throws a fastball and curve. "Our team this year is much better."
Ramstein will meet England, also 3-1, on Tuesday. The top four teams in the round robin advance to Thursday's semifinals, with the winners vying for the tournament crown and a trip to Williamsport on Friday afternoon.
Saudi Arabia 11, England 0: England's three-game winning streak here foundered against a rock-solid Saudi Arabia team, which is bidding for a fifth straight trip to Williamsport.
Joel Reimer went the four-inning distance for Saudi Arabia, allowing just two hits and four base runners in the champions' fourth straight victory and third straight run-rule shutout in four innings.
Reimer also went 3-for-3 with two two-run homers as Saudi Arabia pushed its aggregate score here to 55-1. Craig Denker also clubbed a two-run homer off London starter Charlie Smith.
England was coming off a 5-4 victory over Belgium in Sunday's late game, which saw Lem Zeigler's solo homer to lead off the fourth give the Londoners a 5-2 lead. Belgium got a two-run homer in the fifth from Trevoury and nearly tied it when the next batter flied out to the warning track in right.
Spain 4, Netherlands 0: Just before the game, Netherlands coaches Andy Broome, Marc Gratton and George Truini let their players administer basic-training-style skinhead haircuts to them as a reward for winning Sunday's game against Italy champion Naples.
Once the game started, however, Spain (2-3) did the trimming, ruining a masterful pitching performance by Netherlands starter Tyler Broome.
Broome matched shutout innings with Spain starter Paul Boerema for four innings, striking out eight and surrendering just one hit until Madrid broke through for three hits and four runs in the fifth.
Broome finished with 11 strikeouts.
For the second time in this tournament, diminutive Spain pitcher Paul Boerema posted a victory following an extra-inning loss. He went the six-inning distance, allowing three hits, singles to Grant Miller and Benoit Tremblay and a last-inning double to Shayne Rhyno. He fanned four and walked one.
The Netherlands (1-4), represented by an all-star team from Brunssum and Schinnen, plays Saudi Arabia on Tuesday. Italy (1-3) takes on Belgium in the day's other matchup.
---
---
---
---