Little League baseball: Ramstein, Naples still alive in tournament
---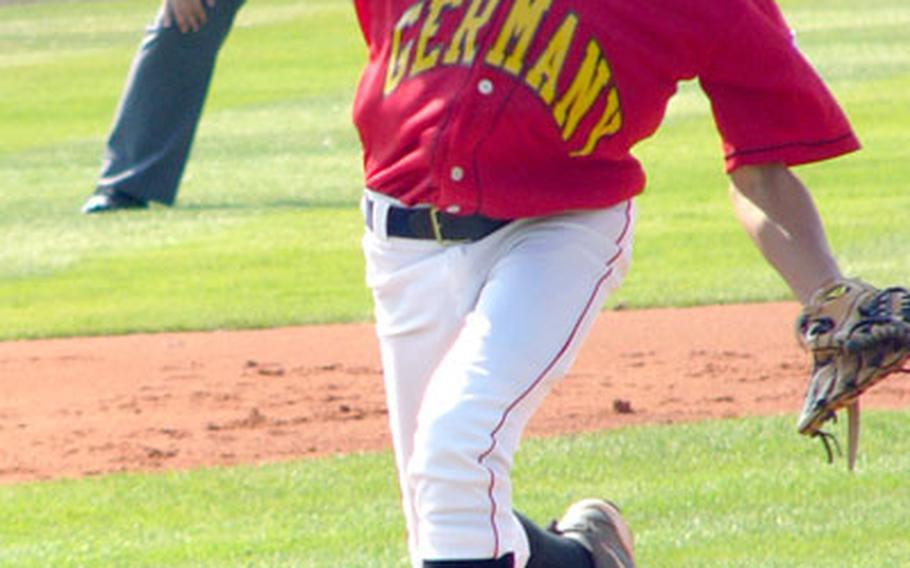 KUTNO, Poland — Ramstein and Naples, the only military community teams involved in Little League Baseball's 2006 Transatlantic Regional Tournament, each suffered its third defeat Monday.
Ramstein (1-3), stayed alive for Wednesday's semifinals despite a 14-1 loss to six-time defending champion Saudi Arabia, while Naples (1-3) has little hope after losing 7-0 to London (3-1).
Ramstein can clinch a berth by beating Dubai in Tuesday's round-robin finale. Naples has to beat unbeaten Saudi Arabia and have Ramstein lose to advance.
Saudi Arabia 14, Ramstein 1Rashad Brown blasted a home run over the right centerfield fence for Ramstein, the only run Saudi Arabia has allowed in four games.
Brown also tripled off Saudi starter Matt Timoney, who allowed four hits in six innings and striking out 13. Devin Johnson doubled and Taylor Portman singled for Ramstein. The team had managed just one hit in Sunday's 1-0 loss to England.
Timoney also stroked one of the Saudi's three home runs, a two-run shot in a six-run sixth inning. First baseman Aaron Durley, who is 6 feet 8, clubbed a three-run shot in the first, and Andrew Holden followed Timoney's clout with a two-run homer.
Ramstein starter Finn Harrington held Saudi Arabia to eight runs in the five innings he worked.
"Finn pitched a great game today," Brown said. "We just have to play our best tomorrow."
London 7, Naples 0London pitchers tossed their second straight shutout, limiting the Italy champions to three hits.
Starter Cameron Bishop gave up two infield singles in the four innings he worked while striking out eight. Anthony Tyree finished up, fanning four of the seven batters he faced. He ended the game by striking out the side.
Dustin Bratcher of Lakenheath stroked an inside-the-park home run for London (3-1), which also got a triple from Tyree, and a pair of doubles from Hayden Treu.
Dubai 2, Brussels 0Joe Carrizo's bases-loaded single to center in the bottom of the fifth made a winner of starter Peter Barber and turned Tuesday's game against Ramstein into an elimination game for both teams.
The outcome also created drama for Brussels (2-2) — already assured a semifinal berth — should it lose to London on Tuesday. If Dubai (1-3) were to top Ramstein, it would vault into third-place on the basis of a head-to-head tiebreaker. Brussels would fall to fourth and into a semifinal matchup with Saudi.
---
---
---
---