Little League baseball: Naples, Ramstein on brink of elimination
---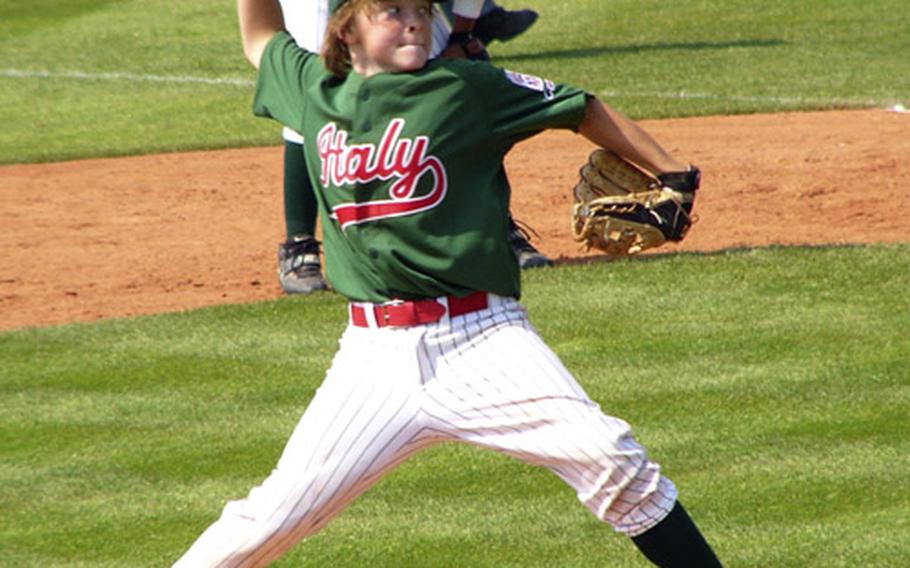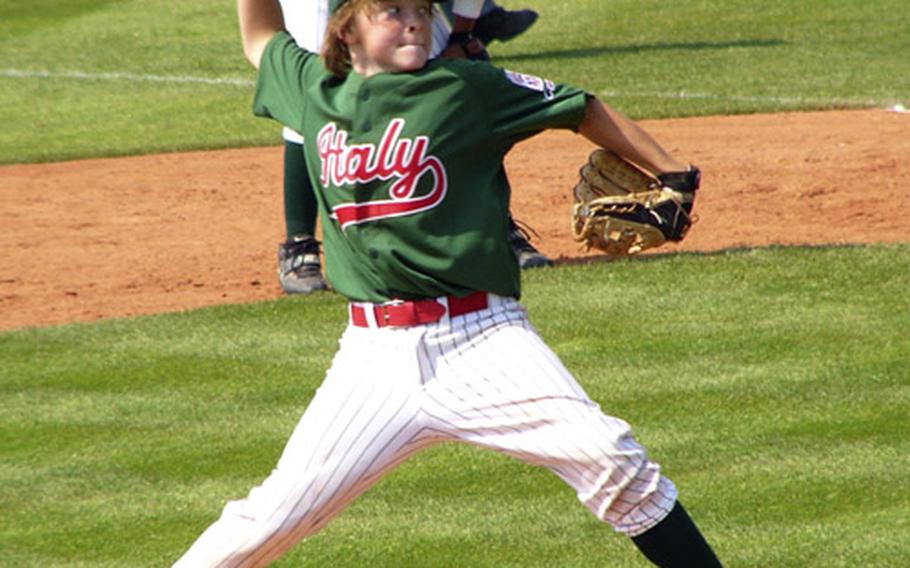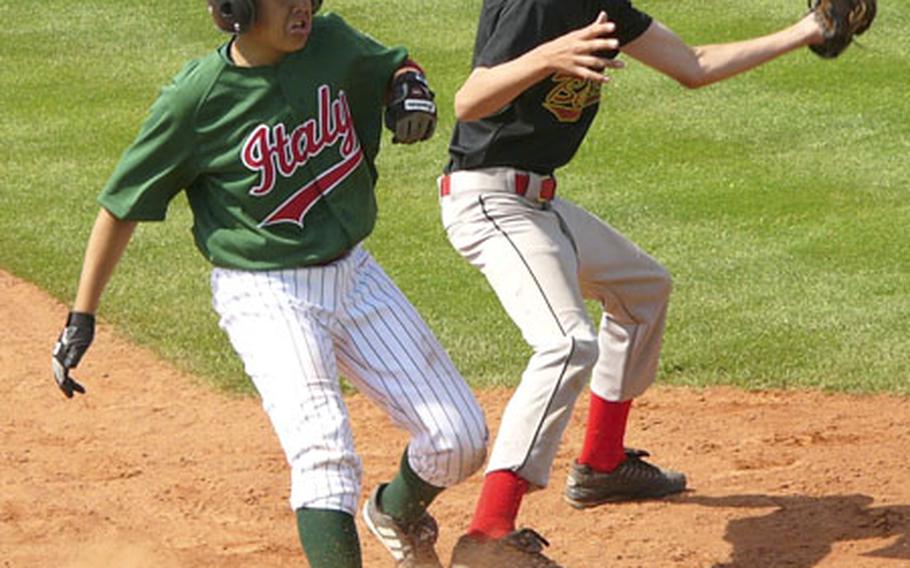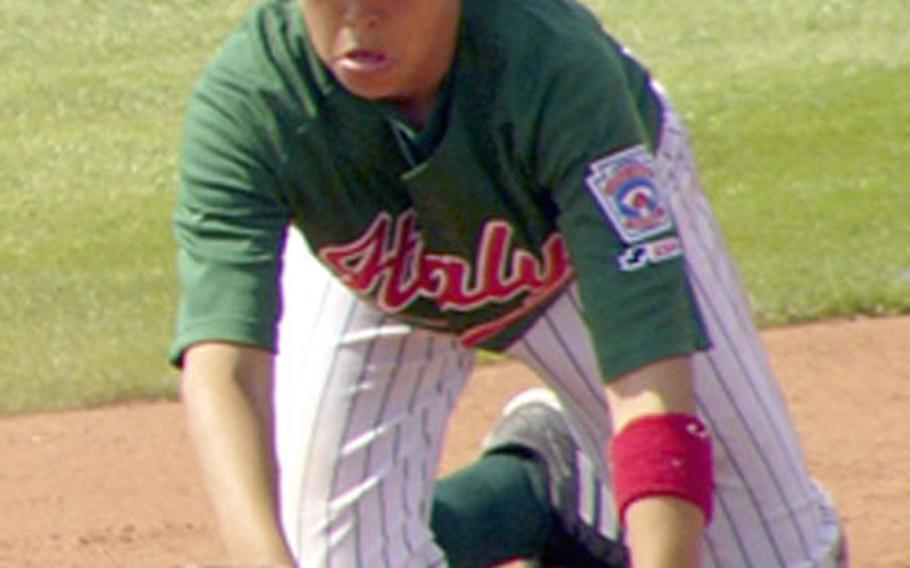 KUTNO, Poland — Practically masterful pitching put Ramstein and Naples on the brink of elimination Sunday in Little League Baseball's Transatlantic Regional tournament.
London's Hayden Treu pitched a one-hitter against Ramstein and scored the game's only run, and Brussels stopper Ruki Iishe tossed 2 2/3 innings of scoreless relief to allow the Belgium champion to dump Naples 6-2.
The losses were the second each for Ramstein and Naples in this six-team round-robin event, which sends its champion to next month's Little League World Series, and neither team has yet faced six-time defending champion Saudi Arabia. While Naples (1-2) and Ramstein (1-2), the only military community teams in this year's event, are not yet excluded from the title picture, they're also barely in the frame.
On Wednesday, the top four teams move into single-elimination semifinals. London and Brussels, both 2-1 with a 10-run rule loss to Saudi Arabia, are in the drivers' seat to finish second and third. That leaves Ramstein, Naples and Dubai to battle for the fourth berth.
London 1, Ramstein 0Treu struck out 10 and walked just one in dominating the Germany champion, which had just two baserunners — David Novak (single) and Caleb Fluker (walk) — neither of whom got as far as second base.
"We scouted Ramstein last night," Treu said, "and picked up some things."
According to Dustin Bratcher, one of those things was a location weakness.
"They can't hit the outside pitch," said Bratcher, who followed Treu's second-inning single with a hit that moved the pitcher to third.
Treu scored on a wild pitch from Ramstein's Rashad Brown, who was pitching to his first batter after relieving starter Stephen Burns.
Brown, however, shut down the England champ the rest of the way, fanning the first five batters he faced and allowing just one hit in the 41/3 innings he pitched. Altogether, he struck out eight.
Treu, however, was just as untouchable. He relied on a devastating straight change-up, an effective Little League curve and on keeping the ball up and away.
Twelve-year-olds aren't supposed to have curve balls, but as London's Anthony Tyree explained, the Little League version is different from the big-league hook.
"We don't snap the ball hard," he said of the technique believed to cause problems for growing arms. "We just pull the ball down as we let it go."
Next up for Ramstein is Saudi Arabia, which outscored its opposition 29-0 in its first two games.
Brussels 6, Naples 2When starter Matt Heinrich filled the bases after giving up two runs in the third, Iishe came on to end the threat with a strikeout and pop-up. He then held Naples scoreless until yielding to closer Peter Oppenheim in the sixth.
Brussels next plays winless Dubai, which was taking on Saudi Arabia in Sunday's third game, and closes the round-robin on Tuesday against England.
Naples plays England on Monday and Saudi Arabia on Tuesday.
Saudi Arabia 12, Dubai 0Michael Knight blasted a three-run homer and was rewarded with the rest of the game off as Saudi Arabia (3-0) collected its third four-inning, run-rule victory in as many outings.
Knight, intentionally walked with runners on second and third in the first inning, connected in the second inning for his third home run in his last four official at-bats. He doubled in his other appearance.
Thomas Fitzmaurice also homered for the six-time defending champion, a two-run shot in the second. After the score reached 12-0 later in the frame, Saudi Arabia's last 14 batters in the game were ordered to bunt.
Aaron Durley, a 6-4 12-year-old, picked up the victory, his team's third shutout of the series, despite yielding one-out triples to Dubai (0-3) in the third and fourth. Durley induced Dubai batters to pop-up and ground out to strand Robert Barber in the third, and catcher Robert Eyazzadeh threw out Anthony Collins when Collins attempted to score on a wild pitch in the fourth.
---
---
---
---