Little League baseball: Germany, England give a good preview
---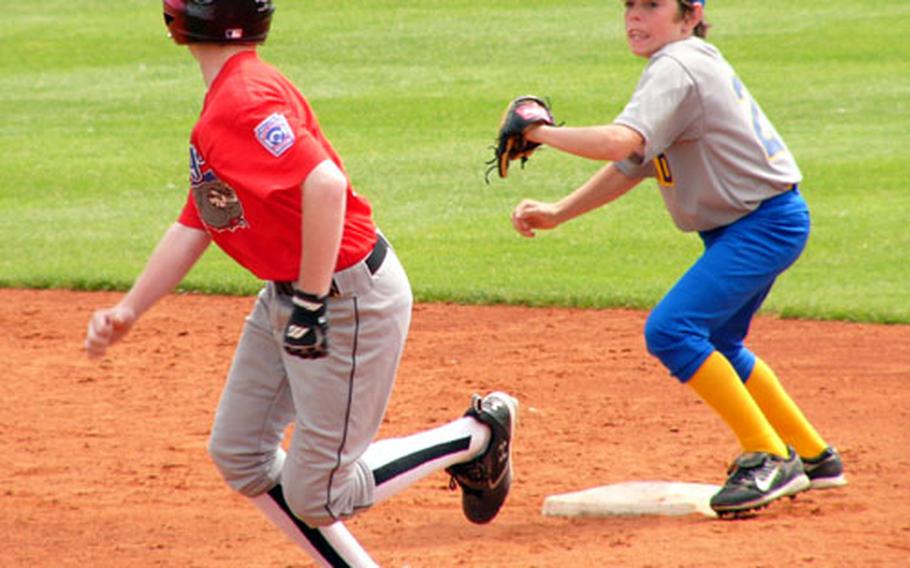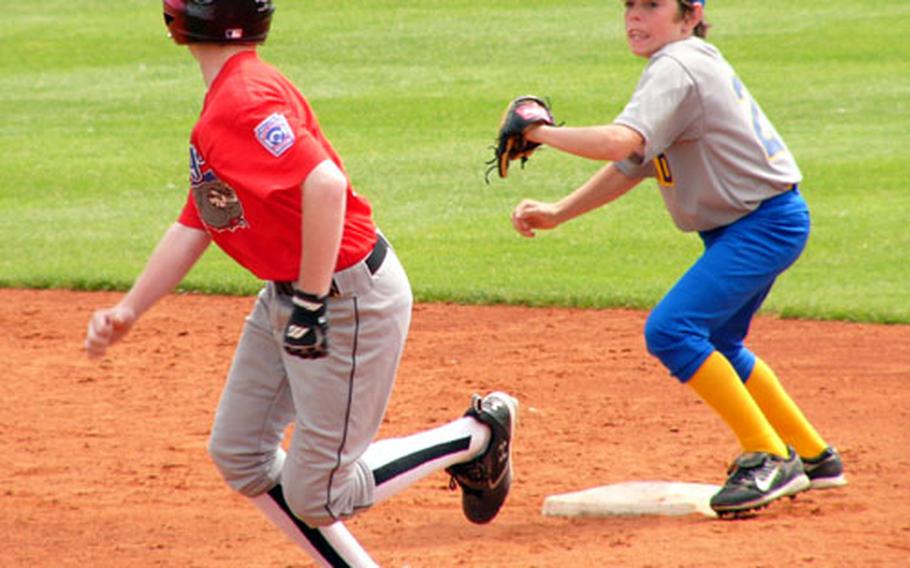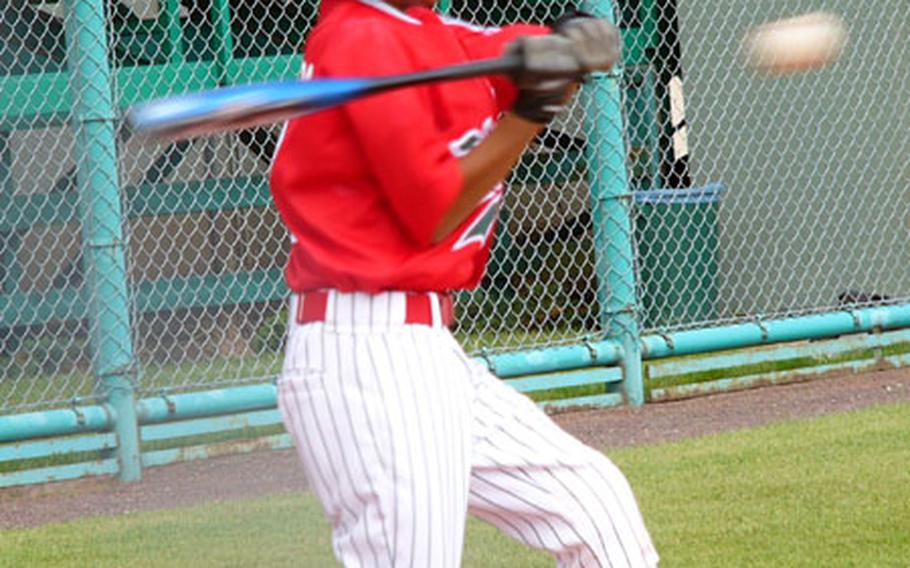 KUTNO, Poland — The champions of Germany and England knew before Friday's pool-play finale that they'd be meeting again at 3 p.m. on Saturday in the semifinals of Little League Baseball's Transatlantic Regional.
After they finished Friday's game, a 9-8 Stuttgart-Wiesbaden victory, they knew they would be evenly matched in the elimination rematch.
Joseph "Fish" Patrick and Ben Carson were the heroes for the Bulldogs (3-1) on Friday. Patrick went 3-for-3 with a walk, and Carson, one of three Wiesbaden players added to Stuttgart's all-stars for postseason play, pitched the final 21/3 innings.
Carson, a left-hander who played the outfield in the Bulldogs' previous three games, took the ball with two outs in the bottom of the fourth and his team trailing 5-4 and retired the side.
After the Bulldogs went up 7-5 in the fifth, things really got sticky.
A couple of fielding miscues and a wild pitch converted a leadoff single and walk for London into the potential tying runs with one out. Carson settled down, however, and retired the side on two putouts by Patrick — unassisted on a grounder and a foul popup.
It was much the same in the final inning. With the Bulldogs up 9-7 — partially on the strength of their second steal of home — Carson walked the first two batters. After a putout on a come-backer, he filled the bases with an intentional walk to London's Timmy Davison. Davison's three-run homer in the second had put the England champs up 5-2.
"All you're thinking is 'Get an out,' " said Carson, who did just that.
J.T. Green's sacrifice fly to center made it 9-8, but Carson induced Brett Fitzpatrick to ground out on a close play to end the game.
Patrick, whose leadoff triple sparked the Bulldogs' three-run fifth, also had two singles to raise his tournament batting average to .500. Chris Byrd, Tommy Cashman and C.J. Kellogg each had two singles, but the Bulldogs essentially won this game on the basepaths.
Dylan Measells stole home in the fifth when Ryan Tannenbaum bought time in a rundown between first and second. Then Kellogg raced home from third in the sixth with the eventual winning run when London failed to run him back to the base with the pitcher off the rubber and his back to the plate.
London (2-2) has a shot at payback Saturday, and Patrick expects a battle.
"I've heard they're supposed to use their best pitcher tomorrow," he said.
And so will the Bulldogs. There won't be any more rematches.
In Friday's second game:
Dubai 16, Naples 0, (4): Dubai (1-3) sent 21 batters to the plate during a 15-run first inning and stormed into a semifinal date at 10 a.m. Saturday against unbeaten Saudi Arabia, the seven-time Transatlantic champion.
Dubai pitchers Alex Shenawsi and Nick Bargehout, combined for a one-hitter — an infield single by Caleb Jaedicke — against Naples (0-4) in a game interrupted for an hour by a passing thunderstorm.
Other regionalsAs the Transatlantic Regional qualifying tournament for next month's Little League World Series Williamsport, Pa., draws to a conclusion, several other regionals for Europe, Middle East and Africa — or EMEA — have already wrapped up, or will be ending soon.
Advancing to youth league World Series in the United States from the EMEA region are:
Baseball
Junior League (Ages 13-14): Kirovgrad, Ukraine. A team from Ramstein Air Base, Germany, lost in the semifinals; a team from Waterloo/SHAPE, Belgium, did not make the semifinals.Senior League (14-15): Vilnius, Lithuania. A team from Ramstein did not make the semifinals.Big League (16-18): Tblisi, Georgia.Softball
Little League (11-12): Kaiserslautern Military Community, Germany.Junior League (13-14): Championship game Sunday at Landstuhl, Germany.Senior League (15-16): Championship game Sunday in Landstuhl, Germany.Big League (16-18): Brzeg, Poland.To follow the progress of all the worldwide regionals and World Series, log on to www.littleleague.org.
—Stars and Stripes
---
---
---
---