Legion, Kadena win Kadena Klassic titles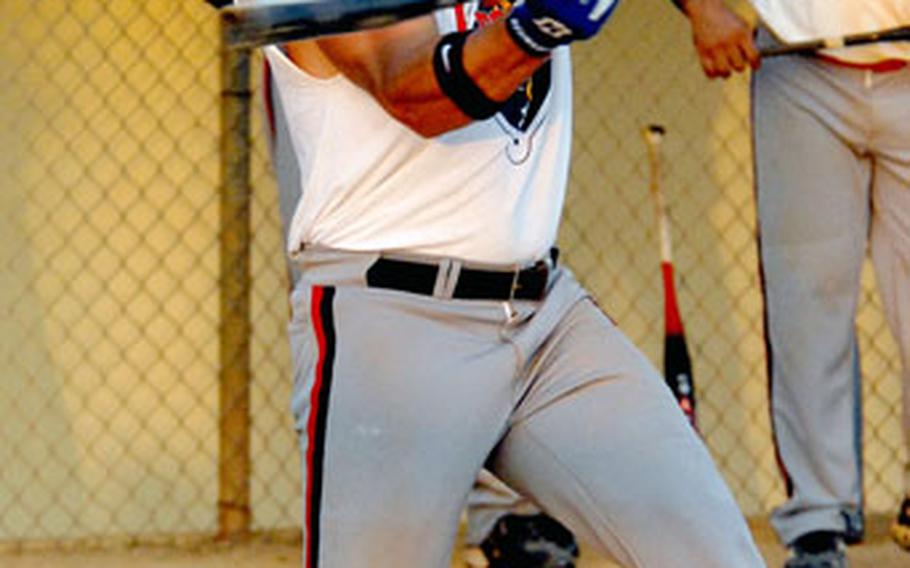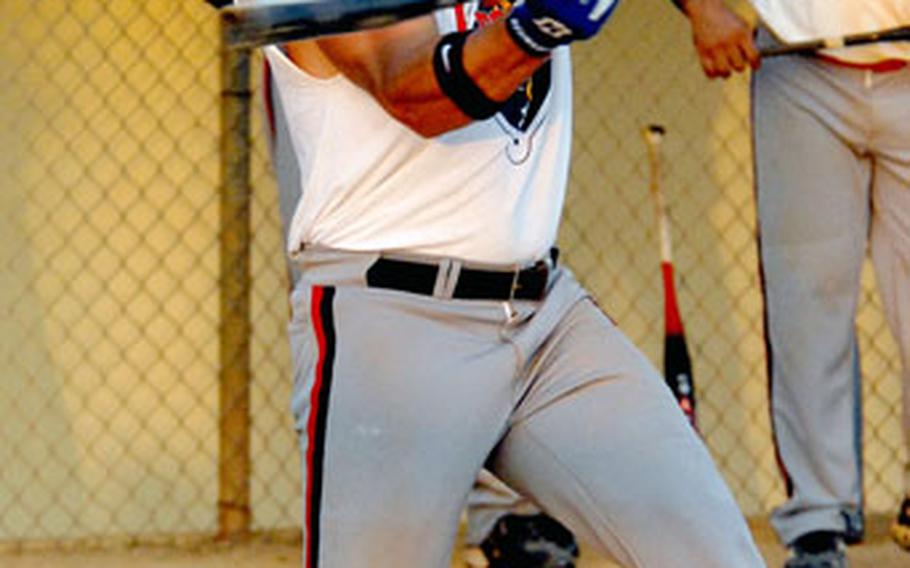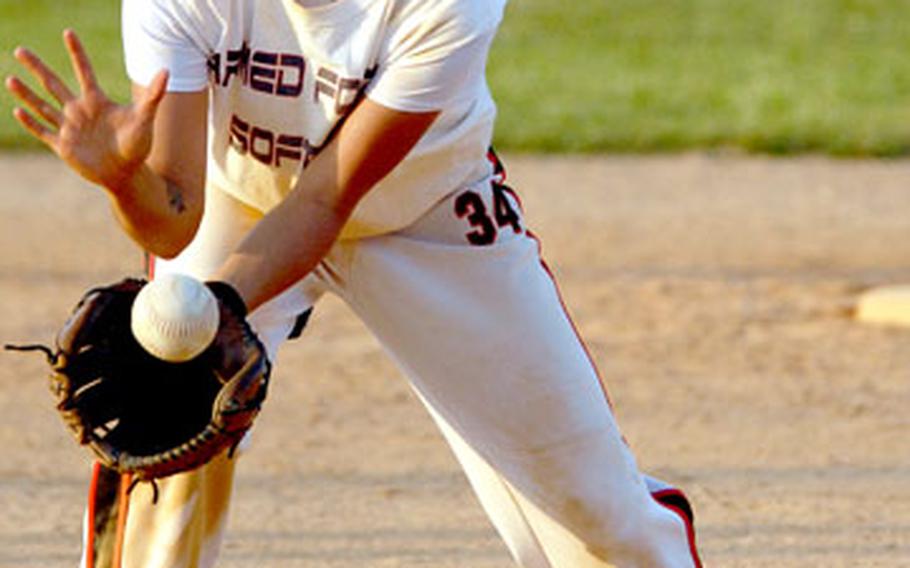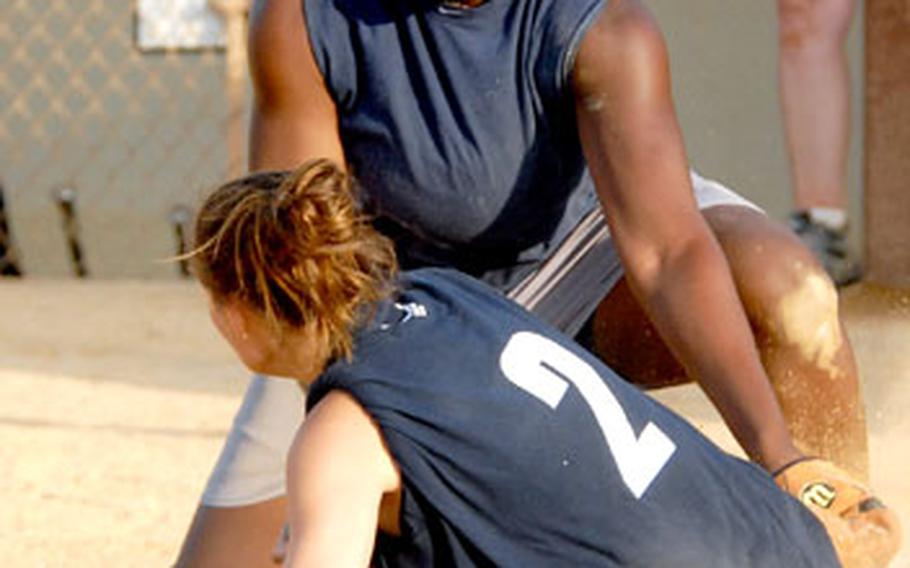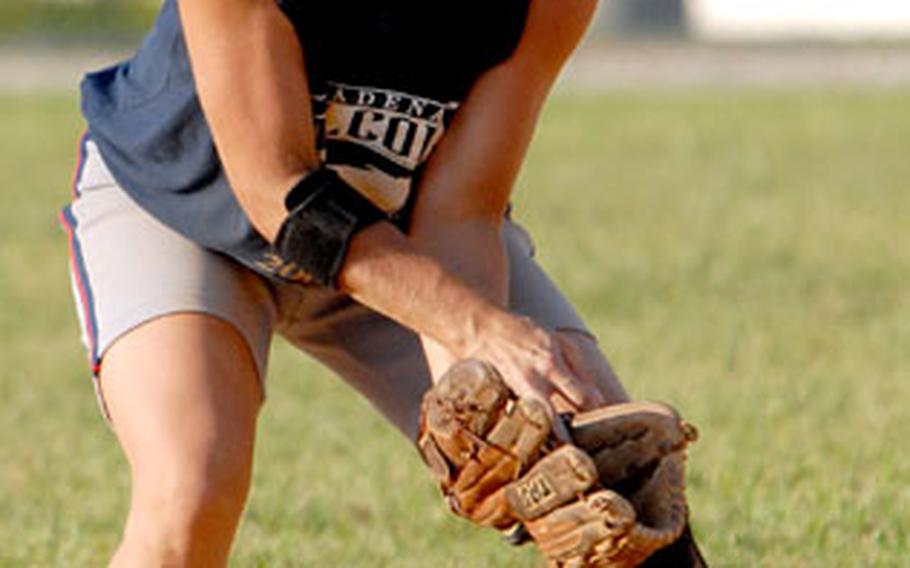 KADENA AIR BASE, Okinawa — American Legion wielded big batting power, while Kadena Air Base's women brought a strong measure of leather to the table.
They captured their respective titles in the Kadena Klassic Softball Tournament on Sunday, bringing their total of major Pacificwide open tournament titles this season to three apiece.
All-Air Force slugger Kurt Tom hit for the cycle, going 6-for-7 with two singles, a double, a triple, two home runs and six RBIs as Legion overwhelmed Okinawa island-rival Club Red 40-17 in the men's championship Sunday evening at Kadena's FourDiamonds Softball Complex.
"KT was steady throughout. He pitched great and he hit great," coach John O'Brien said of Tom, who was named the tournament's Most Valuable Player.
Earlier, 2005 Air Force Athlete of the Year Twyla Sears scattered 13 hits, just two for extra bases, and walked nobody and Kadena's outfield defense recorded five sparkling plays as the Falcons held off Yard Busters 11-8 for the women's title.
"She (Sears) starts every batter with a strike. That means they have to be swinging. And defensively, we just made play after play," coach Al Lozano said of Sears and outfielders Heather Barnes, Renee Cullen, Jennifer Ritchie and tournament MVP Shannon Thomas. "We work on defense and that's what carried us. Nobody compares to us defensively."
American Legion 40, Club Red 17Legion sent 18 batters to the plate in a 13-run second inning, highlighted by Aaron Frederick's two three-run homers, which sandwiched Tom's grand slam.
"Those were large," O'Brien said. "We put up a lot of runs at the beginning, put us out in front comfortably. Club Red is a good team. You never know when they'll come back on you. We had to take the initiative and we did."
It got worse for Club Red in the third inning, when once again 18 Legion hitters came to bat. Dan Miller, Alton Hufstetler and Donnie Darling each belted two-run homers and Chris Souza added a two-run single in the inning, giving Legion a 30-1 lead.
Todd Harding and two-time All-Marine T.C. Grey each ripped two two-run shots as Club Red staged a mild rally in the last three innings, getting as close as 33-15, but Darling and Brian Shintaku each belted two-run doubles as Legion put the nail in the coffin with a seven-run seventh inning.
"The guys played great this year," O'Brien said, citing specifically Legion's Typhoon Classic title last month when Flagg, Tom and Chadd Malin were playing for Air Force in the All-Armed Forces tournament. "Bench guys stepped up bigtime for us while they were at camp."
Miller finished 5-for-7 with four RBIs, Frederick was 4-for-4 with a double, triple and seven RBIs, Darling went 3-for-7 with five RBIs and Hufstetler batted 4-for-7 with a triple and four RBIs. For Club Red, Grey was 4-for-5 with five RBIs, Dan Koreen hit two homers and drove in four runs and Shawn Curtis was 4-for-5 with two homers, a triple and three RBIs.
Kadena Air Base 11, Yard Busters 8Lozano's charges spread the wealth of base hits and RBIs. Of 13 players used, 11 got base hits and eight drove in runs as the Falcons overcame a Yard Busters team bolstered by the presence of All-Air Force veterans Kischa Scott-McCloud and Latricia Munday, who are stationed in South Korea.
"Yard Busters put a good team together, but our team has been working together all year, they know each other and that makes a difference," Lozano said.
Tysha Bland's two-run double capped Kadena's four-run first inning, but Dee Liefson answered with a two-run double to highlight a six-run second by Yard Busters.
The lead didn't last long, as Kadena clawed back with an unearned run and Angela Thomas' RBI infield single to tie it 6-6 in the third. Erickson and Amy Darling pounded RBI triples to cap a four-run fourth, putting the Falcons ahead for good 10-6.
Kadena's third straight Pacificwide title and all time-leading 18th Grand Slam title was also the seventh tournament title the Falcons had won in eight tries this season.
Kadena Klassic
At FourDiamonds Complex, Kadena Air Base
Double-elimination playoffs
Men
Sunday's games
Game 1-Shoguns, Okinawa, 10, Sasebo Naval Base, Japan, 8
Game 2-Camp Humphreys, South Korea, 15, Benchwarmers, Okinawa, 9
Game 3-Fat Kids, Okinawa, 16, Naval Forces Okinawa 6
Game 4-Osan Air Base, South Korea, 12, Camp Schwab, Okinawa, 9
Game 5-Shoguns 19, Kadena Air Base, Okinawa, 12
Game 6-Club Red, Okinawa, 15, Camp Humphreys 11
Game 7-American Legion, Okinawa, 20, Fat Kids 6
Game 8-Osan Air Base, South Korea, 25, Yokota Air Base, Japan, 9
Game 9-Camp Humphreys 15, Sasebo Naval Base 12; Sasebo eliminated
Game 10-Kadena Air Base 25, Benchwarmers 2; Benchwarmers eliminated
Game 11-Yokota Air Base 15, Naval Forces Okinawa 2; Naval Forces eliminated
Game 12-Camp Schwab 9, Fat Kids 8; Fat Kids eliminated
Game 13-Shoguns 17, Club Red 15
Game 14-American Legion 23, Osan Air Base 20
Game 15-Kadena Air Base 17, Camp Humphreys 1; Camp Humphreys eliminated
Game 16-Yokota Air Base 16, Camp Schwab 1; Camp Schwab eliminated
Game 17-Osan Air Base 21, Kadena Air Base 12; Kadena Air Base eliminated
Game 18-Club Red 28, Yokota Air Base 13; Yokota Air Base eliminated
Game 19-American Legion 27, Shoguns 13
Game 20-Club Red 28, Osan Air Base 20; Osan Air Base eliminated
Game 21-Club Red 28, Shoguns 17; Shoguns eliminated
Game 22-American Legion 40, Club Red 17; Club Red eliminated
Awards
MVP: Kurt Tom, American Legion.
All-Tournament team: Jim Flagg, Chadd Malin, American Legion; T.C. Grey, Dan Koreen, Club Red; Andy Ball, Steve Halloway, Shoguns; Tre Ebron, Jason Brogdon, Kadena Air Base; Lance Nakayama, Camp Humphreys; Chris Bast, Robert Goddard, Osan Air Base; Ismael Govea, Yokota Air Base.
Women
Sunday's games
Game 1-Kadena Air Base, Okinawa, 12, Camp Humphreys, South Korea, 4
Game 2-Yard Busters, Okinawa, 8, Okinawa Typhoons 5
Game 3-Camp Humphreys 6, Okinawa Typhoons 5; Okinawa Typhoons eliminated
Game 4-Kadena Air Base 5, Yard Busters 2
Game 5-Yard Busters 13, Camp Humphreys 7; Camp Humphreys eliminated
Game 6-Kadena Air Base 11, Yard Busters 8; Yard Busters eliminated
Awards
MVP: Shannon Thomas, Kadena Air Base.
All-Tournament team: Darlene Rayburn, Renee Cullen, Marcy Erickson, Kadena Air Base; Vonda Ware, Latricia Munday, Kischa Scott-McCloud, Yard Busters; Kimberly Toone, Angela Nelson, Okinawa Typhoons; Roxanne Finks, Lindsey Harty, Camp Humphreys.