Legion, Camp Casey take Firecracker titles
by
Dave Ornauer
July 6, 2010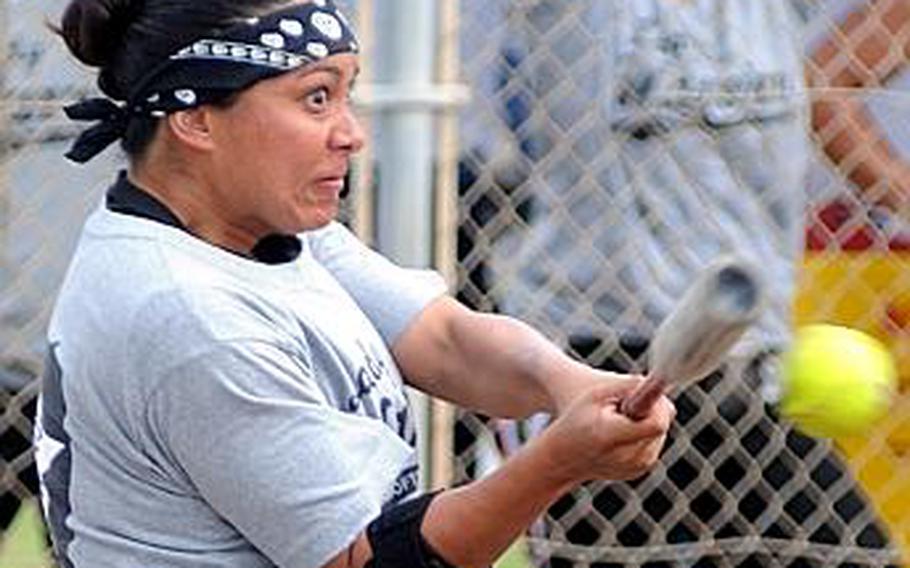 CAMP FOSTER, Okinawa — Lightly regarded Cat Catano and Brian Tiner made a huge impact with their bats Monday as Camp Casey of South Korea and American Legion of Okinawa won the 15th Firecracker Shootout Interservice Softball Tournament title games by mercy-rule margins.
Catano went 2-for-3 with four RBIs to help power Casey past Camp Humphreys 23-3 for its second women's title in three years. Meanwhile, Tiner was 3-for-3, also with four RBIs, as Legion repeated its men's championship 20-0 over Casey. Each final lasted three innings.
"Everybody did their jobs when they needed to. Cat, usually she doesn't hit it, but today, she was hitting, too," said coach David Hill after his Warriors won their third Pacific Grand Slam tournament title and first outside of Korea.
"The guys played great. They wait their turn, and once it's their turn, they come through," coach John O'Brien said after Legion won its 13th Grand Slam tournament, second to Pacific Force's 39. It was Legion's fourth title in a July 4th weekend tournament since 2005.
Men's championship
American Legion 20, Camp Casey 0: After struggling Sunday to win 6-5 over Club Red and 7-5 over Casey just to stay alive in the double-elimination tournament winner's bracket, Legion's bats came alive at the right time, O'Brien said.
"Perfect time to do it. Championship game," he said, adding that Legion's batters were "pressing too hard" with the wind blowing in at up to 25 mph. "They were trying to do something different. Today, they did what they normally do, hit the ball hard."
Five-time All-Air Force slugger Chadd Malin went 3-for-3 with a homer and three RBIs, Mike Dochwat was 3-for-3 with two doubles and two RBIs and Dan Miller also drove in two runs for Legion, which sent 17 batters to the plate in a 13-run second inning.
In his swan song for Legion before leaving Okinawa after retiring from the Marines, pitcher Richie Krause held Casey to two hits.
Women's championship
Camp Casey 23, Camp Humphreys 3: The Warriors sent 17 batters to the plate and tallied 14 first-inning runs, then closed it with eight more in the third, taking advantage of 10 walks.
Shaqina Smith kick-started the Warriors' big first inning with a two-run in-park homer, her first of two in the game. "She's been there for us all season," Hill said.
Smith was 3-for-3 with four RBIs, Lisa Harris had two triples and three RBIs, Kristen Wolf was 2-for-4 with three RBIs and Scarlet Pryor and Avonary Williams each drove in two runs.
Ashley Robertson's third-inning three-run double accounted for the Bulldogs' scoring.
01