Girls soccer roundup
Late goal helps Marymount top Aviano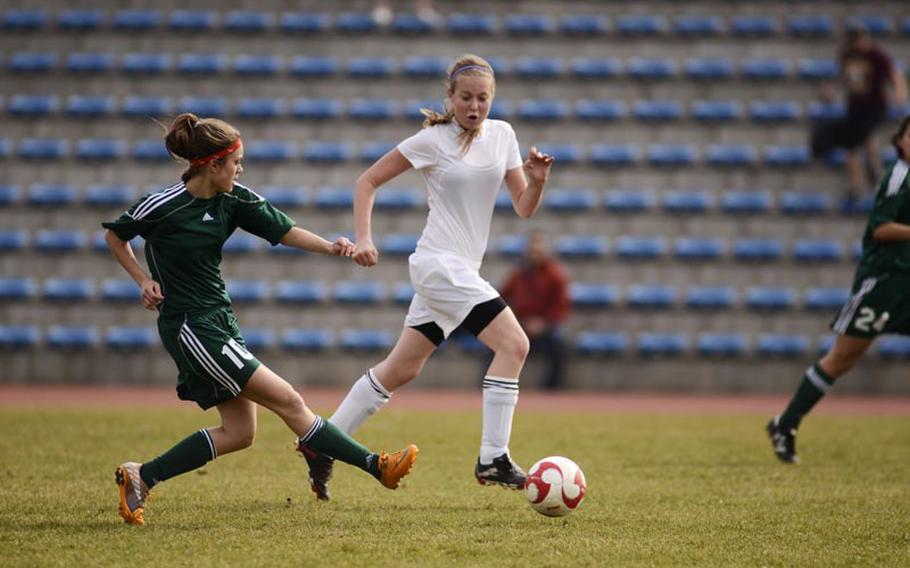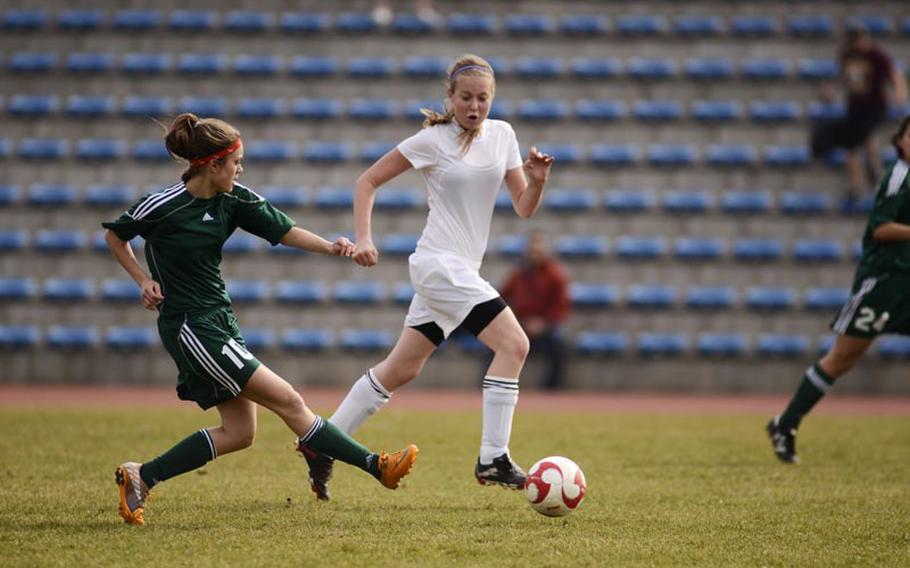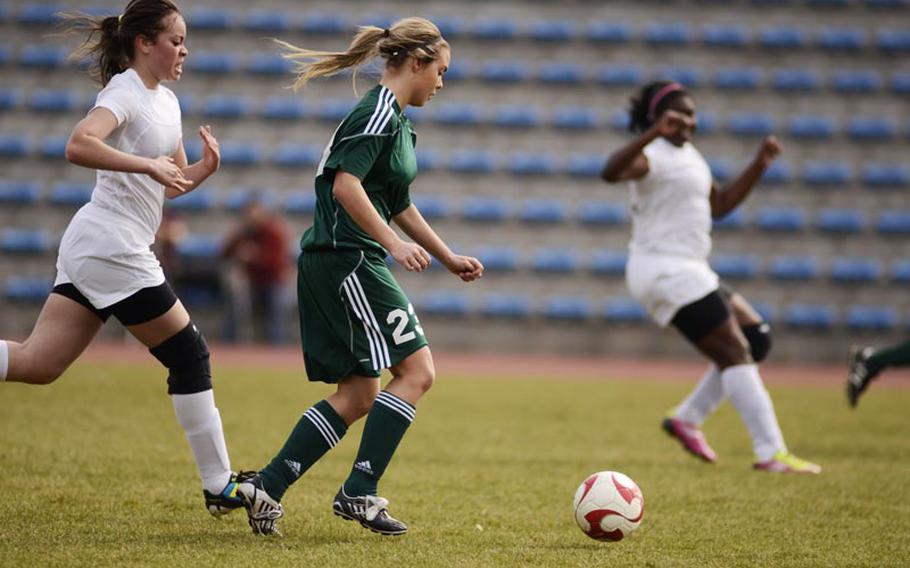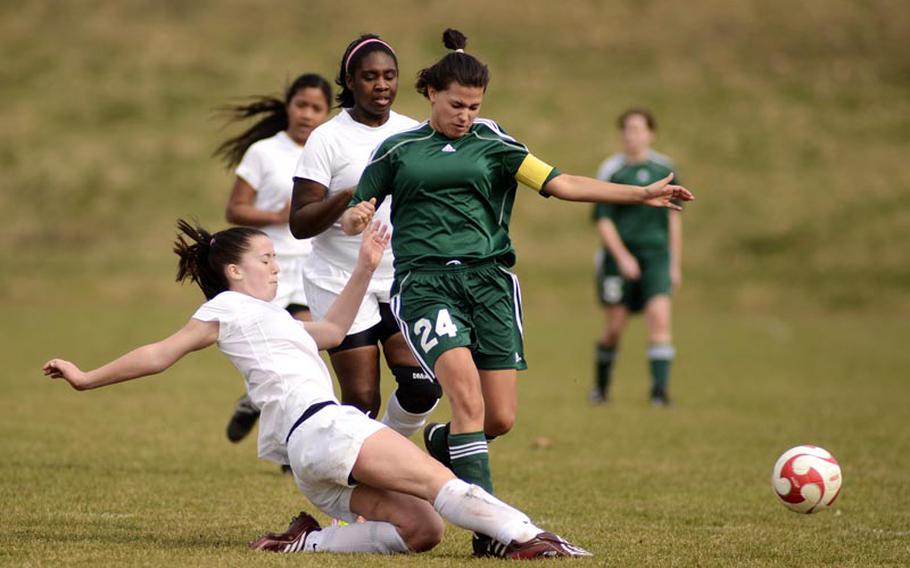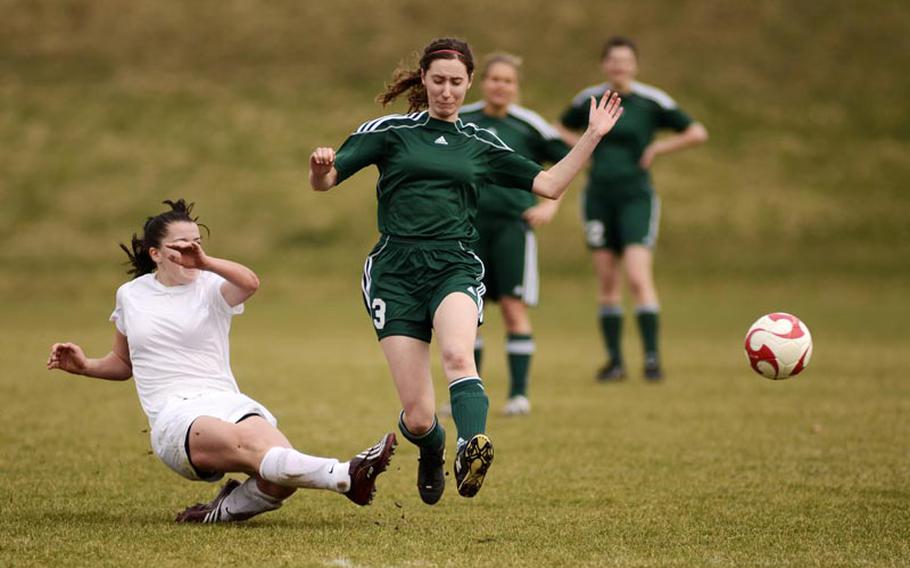 Gabriella Wiley broke away 10 minutes from the final whistle Saturday and tapped home a rebound for the game's only score as visiting Marymount International School of Rome downed Aviano 1-0 in the season-opening game for both teams.
According to Aviano coach Steve Stanley, goalkeeper Annamarie Bickel came out to deflect Wiley's one-on-one 70th-minute shot, but Wiley ran onto the rebound and pushed it into the net.
In an email report of the game, Stanley praised the technical skill of the Lady Royals and the determined performance of his own team.
"Aviano played tough the whole game with excellent movement through the midfield," Stanley wrote, "with center-mid sophomore Allyson Dinges, new to Aviano, connecting passes with both right-mid Emma Reddy and Madeline O'Brien on the left."
Aviano (0-1 overall and in Region IV) is to play Saturday at American Overseas School of Rome. Marymount (1-0, 1-0) is scheduled to host the International School of Florence on Saturday.
In other girls' games of note on opening Saturday:
Menwith Hill 3, Alconbury 0: Living up to Lady Mustangs' coach Pete Resnick's preseason expectations, junior transfer Samantha Cubbler scored one goal and assisted on another Saturday in her debut with Menwith Hill.
"Watch out for newcomer … Samantha Cubbler," Resnick emailed last week. "She has played Stateside for 10 years and has a strong left leg."
Breanna Rogers and Hannah Huntington also scored for Menwith Hill (1-0 overall and in Region I), which played so strongly on defense that Lady Mustangs' goalkeeper Brittany Clays passed the afternoon without having to make a save.
Both teams are scheduled to test themselves against visitors from Division II this Saturday. Menwith Hill is to host SHAPE; Alconbury is to entertain Bitburg.
Wiesbaden 1, Black Forest Academy 1: BFA's Joanna Brauer banged home the equalizer seven minutes ahead of the final whistle to lift the visiting Lady Flacons to the Region II tie, according to Wiesbaden coach Jessica Castro. The goal erased the lead the Lady Warriors had enjoyed since the 30th minute of the first half on a goal by Iris Freeman.
Castro cited outstanding defensive play by Wiesbaden's Katherine Kem and Mackenzie Jefferson and BFA's Krystal Douglas as the main factor in keeping the game low-scoring.
Next up for BFA is a non-regional game Saturday against visiting Heidelberg of D-I; Wiesbaden is scheduled to travel to Ramstein the same day for a Region II game.