Lassetter a repeat winner
by
Rusty Bryan
June 22, 2004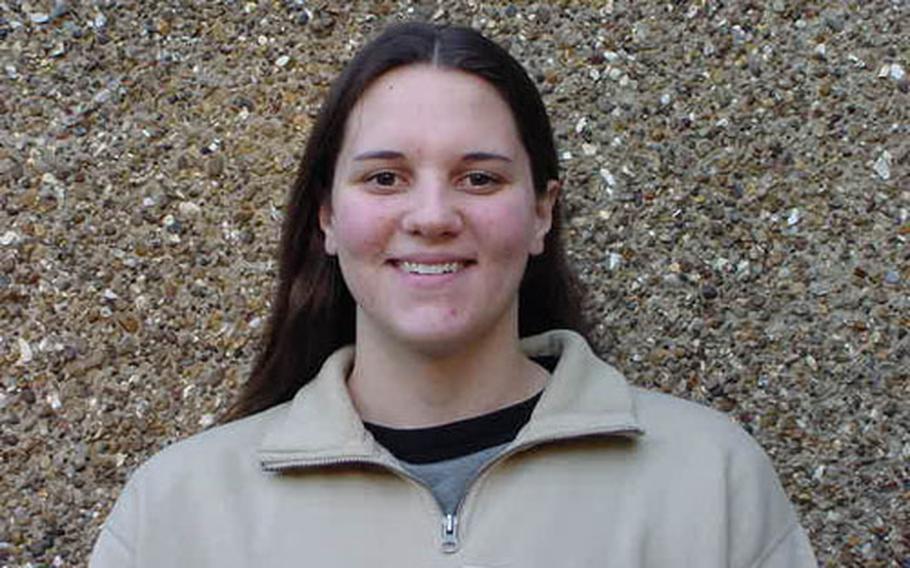 Nicole Lassetter's future plans might be up in the air for the moment, but the London Central three-sport star's place in the DODDS-Europe record book is firmly established.
Lassetter was named the Department of Defense Dependent Schools-Europe Female Athlete of the Year for the second year in a row — just the third two-time selection.
During her senior year, Lassetter won every individual award in volleyball, basketball and track before putting the finishing touch on her year by breaking a 22-year-old European record in the discus at last month's track and field championships.
"I was excited," she said about winning athlete of the year for the second time, adding that the second was just as thrilling as the first.
Lassetter began the year by leading London Central to the European Division III volleyball championship. She was named the European tourney MVP.
She followed that up with a European tournament MVP award in basketball, in which she led her team to a second-place finish in Division III. Lassetter, who averaged 18.8 points and 13.2 rebounds during the regular season, averaged 27 points and 14.5 rebounds during the III-North Regional tournament. She improved to 30.5 points and 12 rebounds per game during the European tournament.
Then came track, where she successfully defended her European discus and shot-put titles, and branched out to become Division III high jump champion as well.
Lassetter sais breaking the discus record was the highlight of her year.
"I had said it last year that I wanted to break it and started working toward it. I hit the weights and began breaking down each movement," she said.
The work paid off last month. Lassetter's 141 feet, 4 inches in the discus broke the old mark of 133-1 established in 1982 by Stefanie Bertram of Wiesbaden.
Lassetter retained her shot-put title with a mark of 38-1, 2 feet past her winning mark of 2003.
The record cemented Lassetter's selection as DODDS-Europe's third two-time athlete of the year. She follows Heidelberg's Carolyn Kirsch (1992 and 1993) and Ramstein's Amy Smith (1998 and 1999).
"Nicole certainly has demonstrated the same type of focus and determination that was evident in the other two athletes," said DODDS-Europe athletic director Karen Seadore, who coached against Kirsch and Smith. "Nicole often was called upon to play every position on the [basketball] team. She never had the opportunity to settle in and develop her skills at one position."
Lassetter would prefer not to have to settle in on one sport at college.
"I'd really like to go to a Division II school where I could do basketball and track," said Lassetter, an honor student who will begin her summer athletic tour by playing in a 3-on-3 basketball tournament in Los Angeles.
"She's an outstanding young woman," Seadore summed up.
---
---
---