Large-school boys contenders face off
by
Gregory Broome
January 26, 2017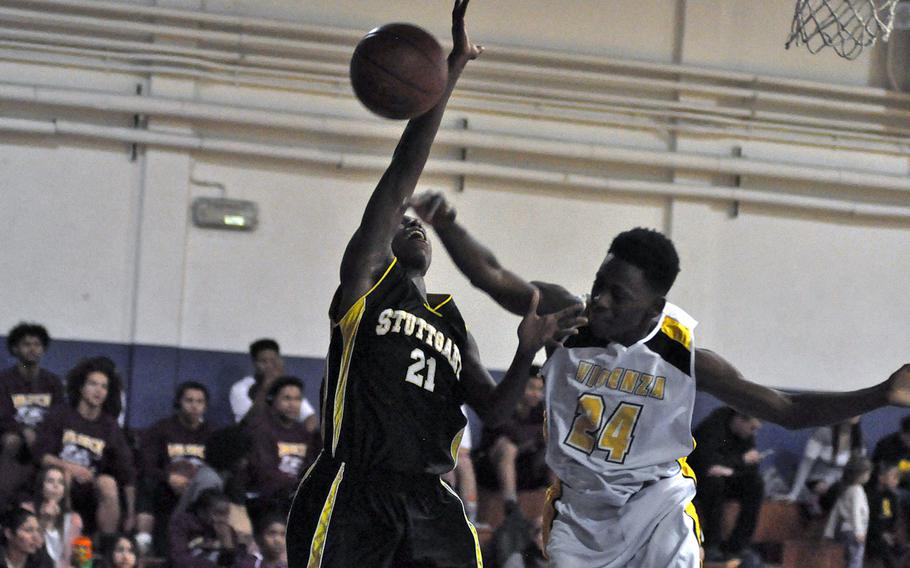 This DODEA-Europe Division I boys basketball season has been notable for its competitiveness and parity. This weekend's large-school schedule makes that remarkably clear.
Four of the five teams with Division I records of .500 or above will be in action against another member of that elite group this weekend. That includes 2-1 SHAPE visiting 7-1 defending champion Ramstein and 4-2 Stuttgart taking on 4-1 host Wiesbaden.
Naples, the other entry on that tier, has already played its last Division I competition of the regular season.
While all of the schools mentioned above figure to make noise in the postseason, this weekend offers each an opportunity to improve stature and seeding.
Ramstein hasn't lost a game since a Dec. 3 upset versus Vilseck, but the Royals have been far from dominant as they've scratched out single-possession victories against Wiesbaden, Kaiserslautern and Stuttgart in the interim.
SHAPE swept Kaiserslautern and was competitive in a close loss to Wiesbaden, but the Spartans were denied their chance to add to their Division I accomplishments when a mid-January set with Lakenheath was snowed out.
Stuttgart has dominated most of its Division I opposition, but the Panthers are still stinging from a pair of losses to Ramstein sustained by a total of seven points.
Wiesbaden too fell short in its bid to knock off the reigning champs when the Warriors fell 46-44 at Ramstein to close out 2016. But they have yet to lose in the new year, and will put that streak on the line three times in the next five days as they host the Panthers this weekend and visit Kaiserslautern on Tuesday.
Twitter: @broomestripes