Wrestling athlete of year
Lane entertained, dominated on way to title
by
Dave Ornauer
March 2, 2017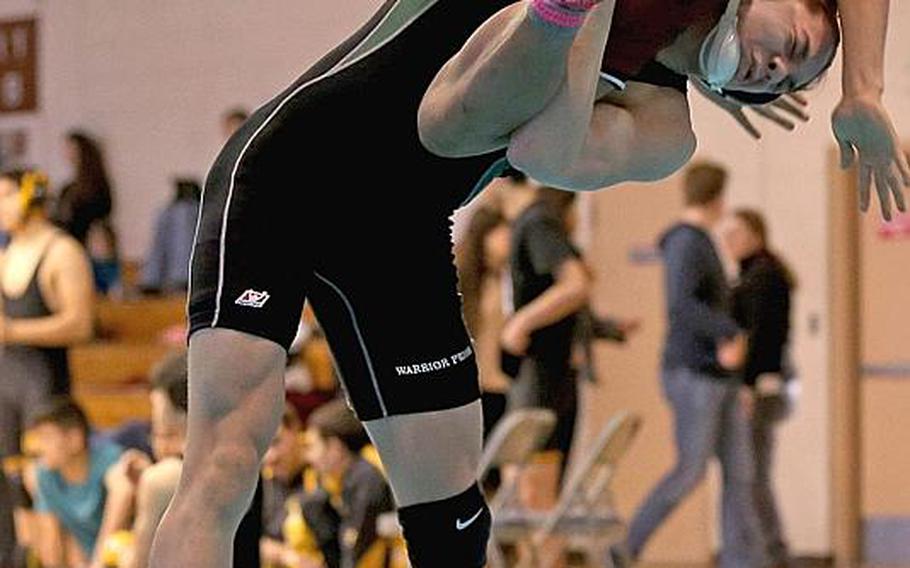 A rival coach once described Hunter Lane as a guy who wrestles with a chip on his shoulder. Given the way his freshman and sophomore seasons ended, the Daegu junior might well have been hoisting a Sequoia or Douglas Fir.
Two losses helped to shape his attitude.
A loss by technical fall to Ryan Vasconcellos in February 2015 in the Far East tournament 135-pound final. The following year, at 148, a loss by similar nature to eventual Outstanding Wrestler Kazuho Kawashima. Both times vanquished by the blue and gold of St. Mary's.
"Losing doesn't feel good, especially in the finals," said Lane, adding that following his loss as a sophomore, he made up his mind to "get back on the mat and start working" once his junior season rolled around.
It turned out, the third time was the charm. Despite wrestling for a Daegu team that had just four wrestlers, Lane rolled to an unbeaten DODEA-Korea campaign and stormed to the 148-pound title in last month's Far East tournament.
Lane won 14 bouts by technical fall and three by pin, recording an astonishing 11 four-point throws along the way.
He capped the 2016-17 season by pinning David Messinger of Seoul American, the team for which Lane wrestled as a freshman, in 1 minute, 23 seconds for the 148-pound Far East title.
For all that, Lane has been named Stars and Stripes' Pacific high school wrestling Athlete of the Year. "It definitely felt good, to win in front of my parents and my coach," Lane said.
He acknowledges he wrestles with a chip on his shoulder, but Lane said he also likes to play to the crowd.
"I like to wrestle with attitude and every move or so I set up, I do with bad intentions," said Lane, who also trains in Brazilian Jiu Jitsu outside of high school. "I don't let up for anyone (but) I try to be entertaining and I like my throws and slams for sure. Gotta keep it exciting."
Lane's training partner and teammate the last two seasons, 158-pounder Jake Dexter, calls Lane "one of the smartest wrestlers I've been around" and compared Lane to a coach on the mat.
"Plus, his style is super-aggressive and his intensity is the same on the practice mats on Tuesdays and Wednesdays as it is on Saturdays and in competitions," Dexter said. "If I or somebody else asks a question about a move or situation, he immediately has an answer to it and knows a good move to hit."
Seoul American coach Ben Pak calls the day he found out the Lanes were moving to Daegu "the worst day of my life."
Pak says Lane's maturity level has skyrocketed since two years ago. "He's more focused and driven on the mat … and it showed all year long. He's gotten stronger and puts his moves together very well. He's a very smart wrestler and knows when to use a certain move and more importantly, how many points for each takedown."
St. Mary's coach Shu Yabui said they could be talking three straight Far East titles for Lane were it not that he "was unlucky" to face two of the finest wrestlers in the Titans program.
"Lane came to Far East with a good skill set," Yabui said. "He knew wrestling. Even when he's wrestling an opponent better than he is, he has an attacking mindset and doesn't change his style. That's important for a successful wrestler."
Lane is due to graduate at Daegu; his sponsor, Col. Peter Lane, 2052 Digital Liaison detachment commander, secured a high school extension to remain place for Hunter's commencement. Pak, for one, feels that Lane can make it back-to-back titles.
"For next year, focus and preparation will be key for Hunter," Pak said. "As long as Hunter is focused and motivated … no one in his weight class will beat him. Hunter loves to compete and he has all the intangibles to repeat as champion next year."
That is precisely the plan, Lane said. "Next year, I plan to come out more aggressive, stronger, faster and hopefully more entertaining," he said.
Twitter: @ornauer_stripes