Lancers pick up pace, roll to win over Mustangs
---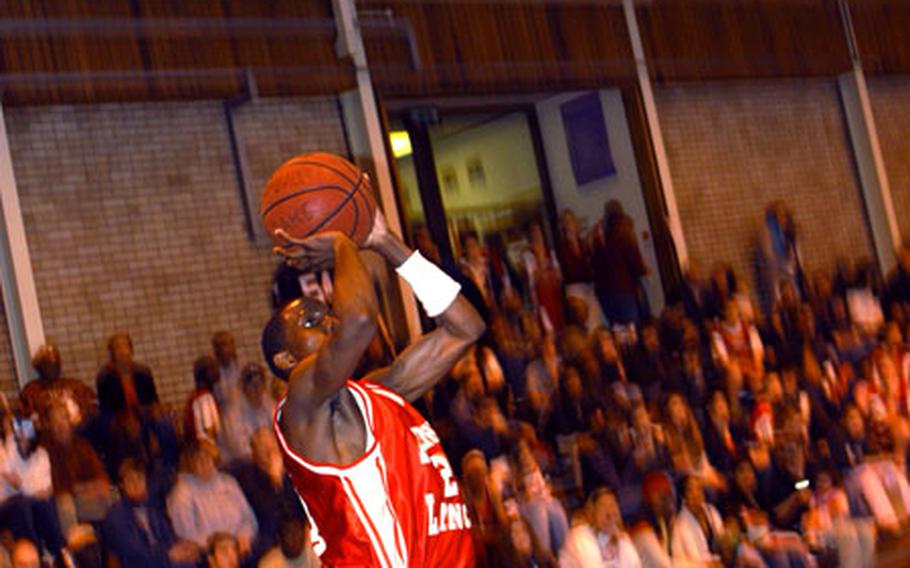 RAF LAKENHEATH, England — Up by seven points at halftime to an underdog Menwith Hill squad, Lakenheath coach Alan Campbell challenged his team to increase its defensive intensity.
Junior Jeff Griffis responded by drawing a charge in the opening minute of the second half to shake the Division I Lancers out of their malaise and propel them to a 55-31 victory over the Division IV Mustangs in a Region I boys basketball game
"He drew that charge and that was just the spark we need to break out of our funk," Campbell said after the victory that completed a two-game sweep of the Mustangs.
Lakenheath's offensive leader agreed.
"Jeff's play was the spark," said senior Eddie Alford, who finished with 19 points to lead all scorers. "From there, we gelled and turned it on."
The game was marked by intensity on both sides. Officials had to call for towels several time to wipe pools of sweat from the floor after players dove for loose balls. Jump balls were called frequently.
"We fought just as hard as they did, but their shots were falling in the second half," Menwith Hill coach Pete Resnick said. "You can only stop so much."
The shots were falling especially well for Alford and fellow guard Taiyo Robertson, who finished with 12 points, including eight in the third quarter when he hit two three-pointers. Griffis added seven points.
Senior Le'Shawn Adams paced the Mustangs with 16 points, but two quick fouls in the opening minutes of the second half conspired to keep the powerful forward from playing with his signature aggressiveness.
Adams was the only offensive bright spot for the Mustangs, which had more airballs than baskets from behind the arc. Lyle Dorsey was the second-leading scorer with six points.
On Friday, the Lancers (6-1) won 57-41 behind 12 points by freshman Derek Schipper, 11 by Alford and 10 each by Robertson and Zach Randolph. Adams again led the Mustangs (2-4) with 16 points, while Corey Crane had eight points and seven rebounds.
Alford said the sweep was another step on the team's quest to play balanced basketball on its way to the tournament.
"We all play as a team and no one is worried about who gets the shot," he said. "We're just trying to work as one so we can get to Europeans and make a run."
---
---
---
---