Lakenheath's Billington is taking it one step at a time
by
Ron Jensen
October 28, 2004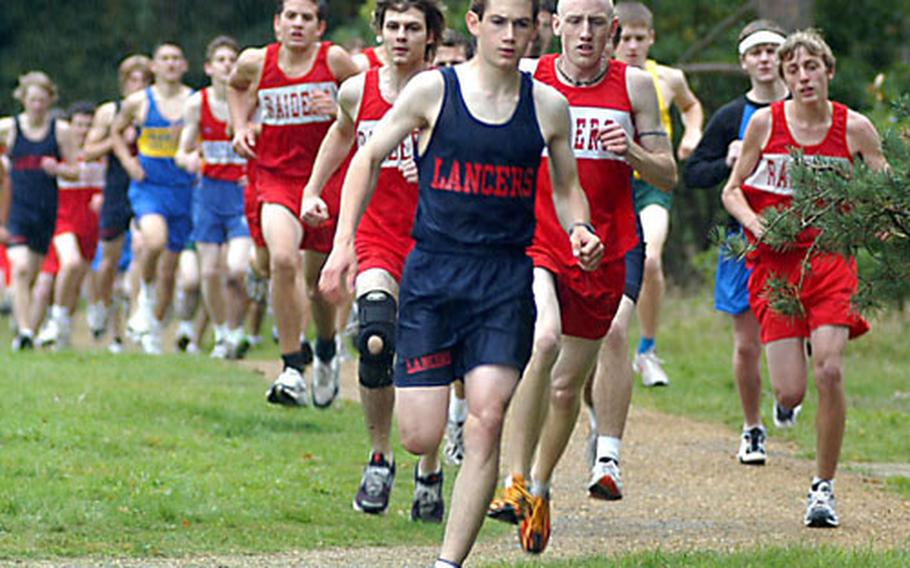 RAF LAKENHEATH, England — Winning means little to Greg Billington. That's not why he runs.
He runs, he says, simply to improve, to lower his time. He runs to stretch his own limit. To test his ability.
Too bad.
Because Billington, a sophomore cross country runner at Lakenheath High School, is probably going to spend a lot of time at the front of the pack.
After all, that's why the stopwatch was invented.
"He has a very good chance of winning the Europeans," Lakenheath coach John Gilmore said. "Last year he did well as a freshman (finishing fourth)."
Billington, 15, downplays his coach's confidence.
"It's my sophomore year," he said. "I don't really care about winning as much as getting faster and getting better."
He gives the nod for victory to runners at Ramstein High School in Germany. Denny Edwards and Parker Cowles, he said, should be the favorites.
But Billington, son of Karen and Garrett Billington, is likely to figure in the final standings. The improvement he has shown since he began running as a freshman is phenomenal, his coach said.
Gilmore said Billington's best time last year for the 5-kilometer cross country course — about three miles — was 17 minutes, 24 seconds. Already this year, Billington has been under 17 minutes in every race, including one at 15:52.
The coach credits the improvement to a discipline that is second to none.
"He's just a super worker. He's got a great work ethic," Gilmore said.
Billington began running cross country last year after growing bored with track, where he ran around and around the same oval track.
"It gets kind of old," he said.
He enjoys stretching his legs across the countryside, just as his older brother, Brian, now in college, used to do. Billington was pleasantly surprised last year to show some running ability. He was determined to improve.
One way he did that was to pedal a bicycle from Land's End, England's most southwestern point, to John O'Groat's, at the tip of Scotland, a journey of roughly 900 miles.
He was accompanied by his mother, who rode a bicycle, while his father trailed along in a van, unable to ride due to an injury. Billington said he's not sure the effort helped his running, but it is a distinct possibility.
"Biking 90 miles a day has to do something," he said.
In addition to biking, he swims several times a week during the running season and every day during the offseason.
In fact, he hopes to combine those three endeavors and compete in triathlons. He has hopes of making it to Olympics in the event.
"I'm trying to get into some triathlon clubs with British teams," he said.
Billington has many miles to run, bike and swim before he becomes an Olympian, but he is determined to make it a reality.
"I don't want to think I could have been there and I didn't try for it," he said.
---
---
---