Lakenheath rallies to win vs. Ramstein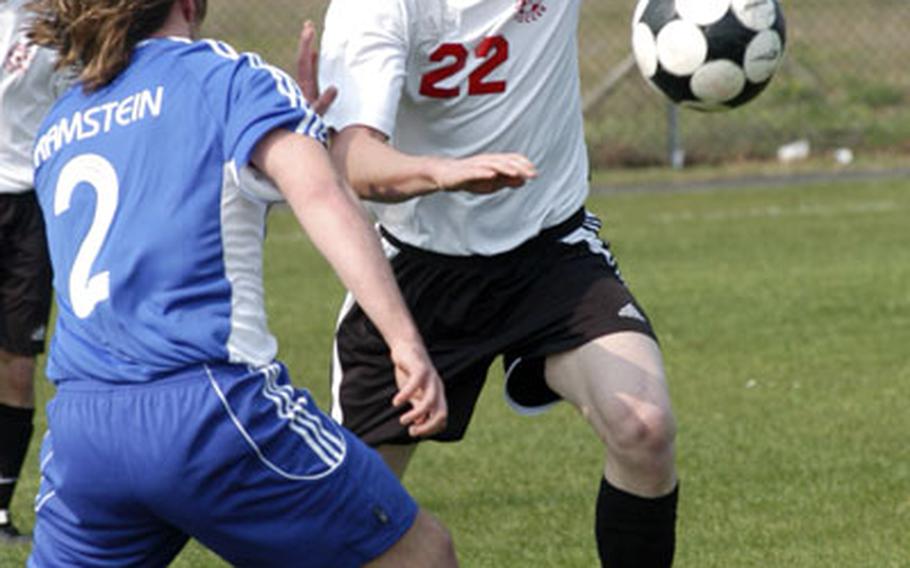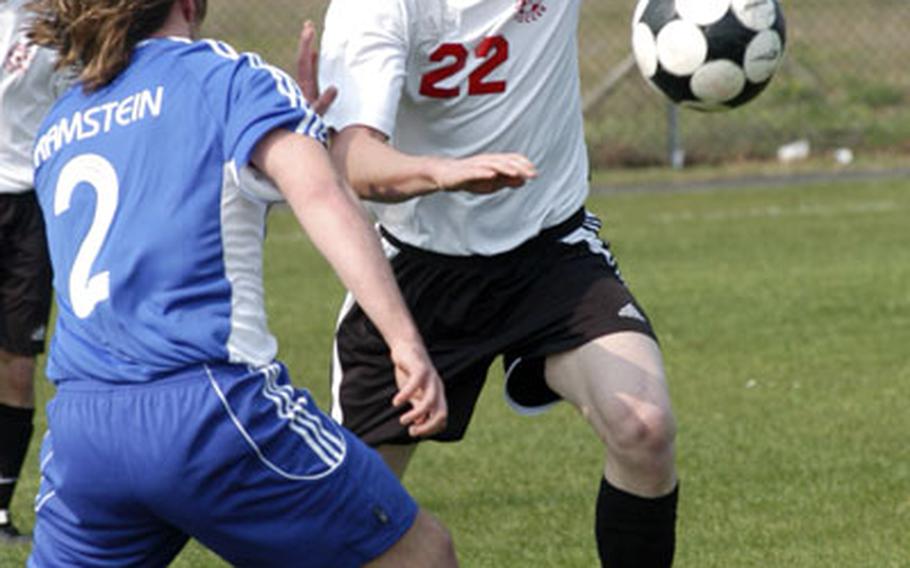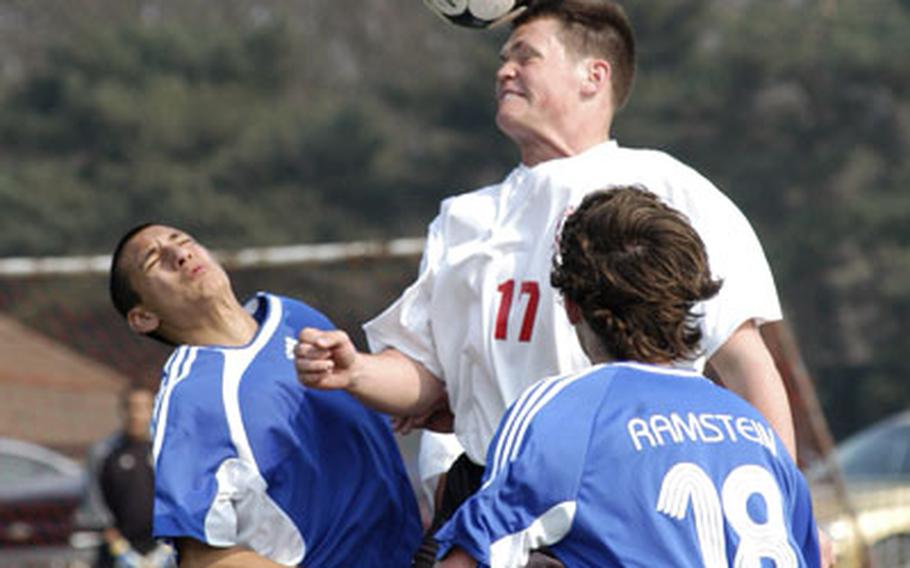 RAF LAKENHEATH, England — Lakenheath scored two goals in two minutes Saturday, coming back from a halftime deficit for a 3-2 victory over Ramstein in a Division I boys soccer game.
The Lancers, who trailed 1-0 at halftime, tied the score on a floater by Kai Pope from just outside the penalty box.
Then, late in the game, Carl Snapp knocked in a pair of loose balls and — in the course of two minutes — put both into the Ramstein net.
Lakenheath won back the English flag the teams use as a traveling trophy in their rivalry. The flag had been in Ramstein's hands since the 2005 DODDS-Europe championships.
Lakenheath coach Chris Davis credited a team effort for the victory, which leaves the Lancers (2-0 in Division I) in a tie with Heidelberg atop the D-I standings heading into the spring break. The Royals (1-2, 0-2) play Wiesbaden on Thursday before starting their break.
In other boys games of note Saturday:
Hohenfels 5, Bamberg 2: At Hohenfels, All-Europe forward Anthony Marshall scored three goals and assisted on one as the defending European Division III champion Tigers took the lead in Division III-South with a 3-0 record. Hohenfels is scheduled to host Giessen on Friday before starting the spring break. Bamberg fell to 1-1 in league play.
Vilseck 4, Hanau 1: At Grafenwöhr, Jake Skells scored two goals, and Hanau transfer Juan Agosto added an assist and a solid defensive outing, according to Vilseck coach Billy Ratcliff, as the D-II Falcons turned back their D-III visitors and remained unbeaten. "He's been a godsend for us," Ratcliff said of Agosto. He also praised the defensive work of Justin Ingram.
London Central 6, Alconbury 0: At High Wycombe, England, Omar Yuksel scored three goals and All-Europe midfielder John Secules scored once and assisted on two goals as the Bobcats improved to 2-0 in III-North. London Central coach Jeffrey Black praised the defensive play of Samantha Beatty, the only female on his co-ed team.
Mannheim 6, Würzburg 2: At Mannheim, Jeff Hartke scored four goals and added an assist as the Bison won for the first time in two years, according to volunteer coach Martin Goering.
Goering said Mannheim (1-2 overall and in II-South) took 24 shots in the first half before turning it over to the reserves after intermission. Würzburg fell to 0-3.
Naples 6, Sigonella 0: At Naples, All-European Chris Campos scored three goals as the Wildcats upped their American Schools in Italy League record to 2-0 going into the break.
Incirlik 3-0, Ankara 2-3: At Incirlik, Turkey, Justin Nalley scored twice to lift the home team on Friday, but Ankara rebounded Saturday to even both teams' records at 1-1. They play again at Ankara on April 27-28.
Reporter Ben Murray in England contributed to this report.