Kubasaki wins New Year's Classic over Seoul American
---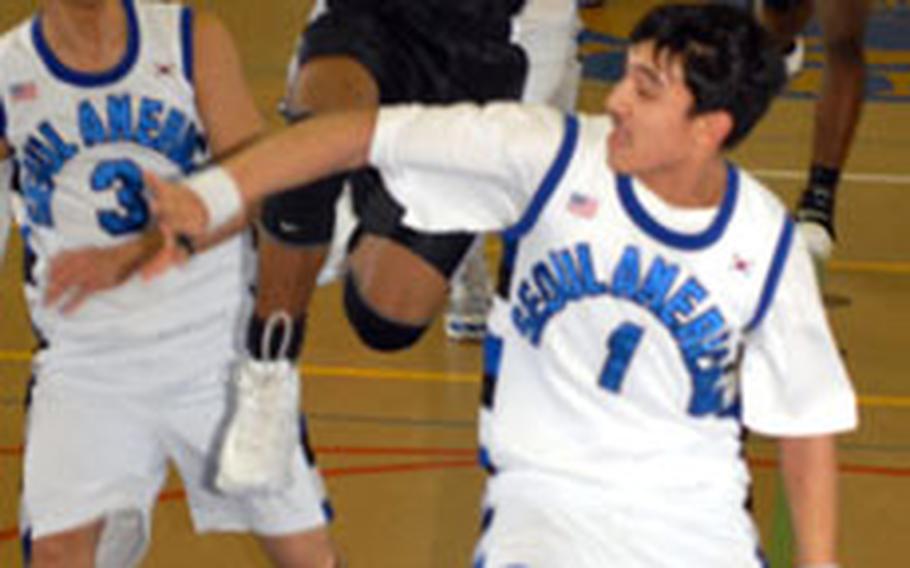 YOKOTA AIR BASE, Japan — Lightning, in the form of senior guard Chris Cooke, struck for the second straight day for the Kubasaki Dragons.
Cooke made a bank shot with 54 seconds left Saturday, completing a rally from a 15-point third-quarter deficit and lifting the Dragons to a 73-72 victory over Seoul American in the title game of the 2nd New Year's Classic Boys Basketball Tournament.
"I'm so happy and proud of these kids, the way they came back," Kubasaki coach Jon Fick said.
The Dragons rallied from 25 points behind Kinnick on Friday for a 63-62 pool-play victory.
Kubasaki won the title in its third game of the day on Saturday. Seoul American played two, having earned the top seed and a first-round playoff bye. Kubasaki was the No. 3 seed.
"These kids are exhausted," Fick said. "It's a different monster, tournaments. It's unbelievable. We got our money's worth."
The tournament was also decided by one point last year; Kadena of Okinawa edged host Yokota 56-55 last Jan. 6.
Kubasaki (14-7) won its last five games in this tournament after losing two of its first three. Seoul American (23-3) went 6-1 in the tournament.
"We didn't stick to fundamentals. And we didn't execute, just like the Zama game," Seoul American senior captain Daniel Burns said. "You have to play all 32 minutes of every game."
The early stages of Saturday's final portended a see-saw battle until the Falcons pulled away behind junior Joe McLean's 16 points in the middle two quarters. His shot in the lane put the Falcons ahead 47-32 with 6:20 left in the third.
"Joe's my boy," Burns said. "He kept us in it."
As in Friday's game against Kinnick, Kubasaki turned the tide thanks to its press and the shooting of James Smiley (22 points), Jacorian Callier (23) and Cooke (16). Kubasaki trailed 57-50 after three quarters.
"I told the guys at halftime, 'Are we going to get the lead or are we going to lay down and bleed?'" Fick said. "Our goal was to cut the lead by seven after three quarters and we did."
Callier's three-point play tied the game 66-66 with 3:19 left, and it remained nip and tuck the rest of the way.
"With two minutes left, it was even keel," Fick said. "Any one of those shots, any one of those calls, it could have gone either way from that point on."
Cooke's shot with 54 seconds left were the game's final points. During a scramble off a missed Kubasaki shot, Dragons guard Kardai Porter got a handle on and passed it to Cooke.
"He was more open than I was," Porter said, "so I just dished it to him."
"Just make it. Do not miss this shot," Cooke said of his thoughts during the critical moment.
Seoul American had two shots to go ahead but missed, then regained possession with 4.9 seconds left on a Kubasaki backcourt violation. But guard Willie Brown was called for an offensive foul with 1 second left and Kubasaki ran out the clock.
Cooke said this may not be the last time the two rivals meet this season.
"We'll see them again in the Far East championship" on Feb. 23 at Seoul American, Cooke said.
High school boys basketball2nd New Year's ClassicAt Capps Gym, Yokota High SchoolYokota Air Base, JapanPlayoffs
Saturday's gamesGame 1-Kadena, Okinawa, 45, Kinnick, Japan, 34Game 2-Kubasaki, Okinawa, 47, St. Mary's, Japan, 31Game 3-Seoul American 78, Kadena 62Game 4-Kubasaki 54, Yokota, Japan, 37Game 5-Kinnick 49, St. Mary's 31, fifth placeGame 6-Kadena 49, Yokota 38, third placeGame 7-Kubasaki 73, Seoul American 72, championship
AwardsAll-Tournament team-Jacorian Callier, Chris Cooke, Tommy Fair, Kubasaki; Daniel Burns, Chris Churchwell, Seoul American; Greg Rogers, Jamil Barney, Kadena; Riki Byrnes, Yokota; Sam Green Jr., Kinnick; Osamu Matsuda, St. Mary's.
Saturday's summariesKadena 45, Kinnick 34Kinnick 2 9 14 9—34Kadena 10 8 18 9—45Scorers-Kadena, Jamil Barney 16, Josh Greggs 12; Kinnick, Keith Ross 18.Kubasaki 47, St. Mary's 31 St. Mary's 13 2 1 15—31Kubasaki 15 9 11 12—47Scorers-Kubasaki, Kelvin Hughes 10; St. Mary's, Woo Sob Kim 12, Woo Jun Kim 11.Seoul Am. 78, Kadena 62 Seoul Am. 15 18 22 23—78Kadena 10 15 25 12—62Scorers-Seoul American, Raidion Fails 26, Chris Churchwell 13, Joe McLean 12, Chris DeFrancisco 12, Daniel Burns 11; Kadena, Josh Greggs 29, Jamil Barney 17.Kubasaki 54, Yokota 37Kubasaki 12 15 18 9—54Yokota 8 12 8 9—37Scorers-Kubasaki, Jacorian Callier 16, Chris Cooke 12; Yokota, Seth Parmer 11.Kinnick 49, St. Mary's 31 St. Mary's 6 7 12 6—31Kinnick 13 12 14 10—49Scorers-Kinnick, Sam Green Jr. 16; St. Mary's, Osamu Matsuda 9.Kadena 49, Yokota 38Kadena 10 11 10 18—49Yokota 11 10 1 34—38Scorers-Kadena, Jamil Barney 18; Yokota, Riki Byrnes 14.Kubasaki 73, Seoul Am. 72 Seoul Am. 22 23 13 14—72Kubasaki 15 16 19 23—73Scorers-Kubasaki, Jacorian Callier 23, James Smiley 22, Chris Cooke 16; Seoul American, Joe McLean 23, Daniel Burns 17.
---
---
---
---