Kubasaki tops island rival in overtime
by
Dave Ornauer
November 9, 2013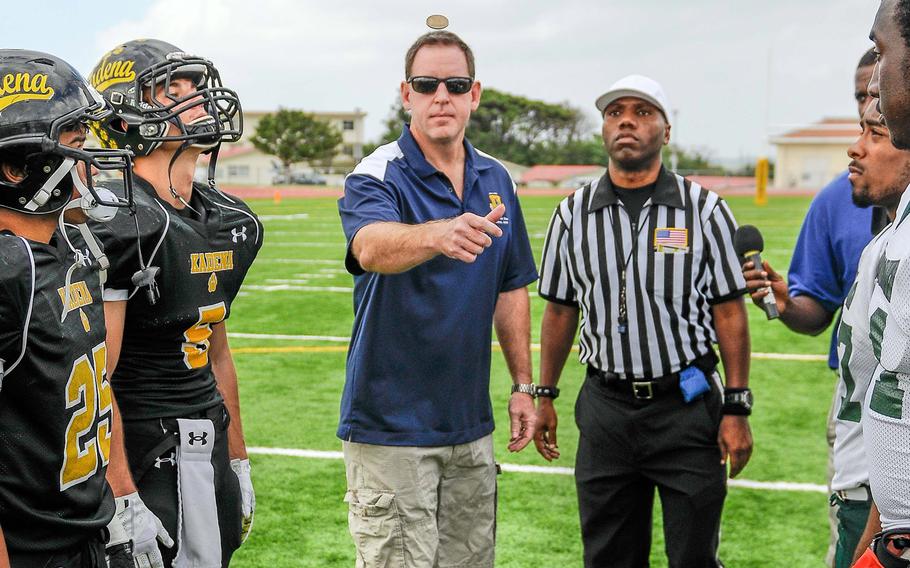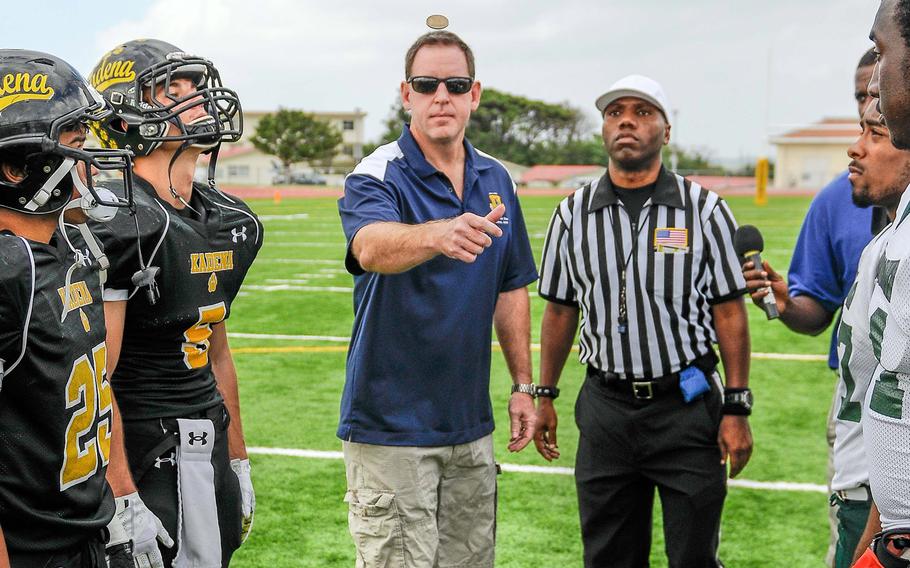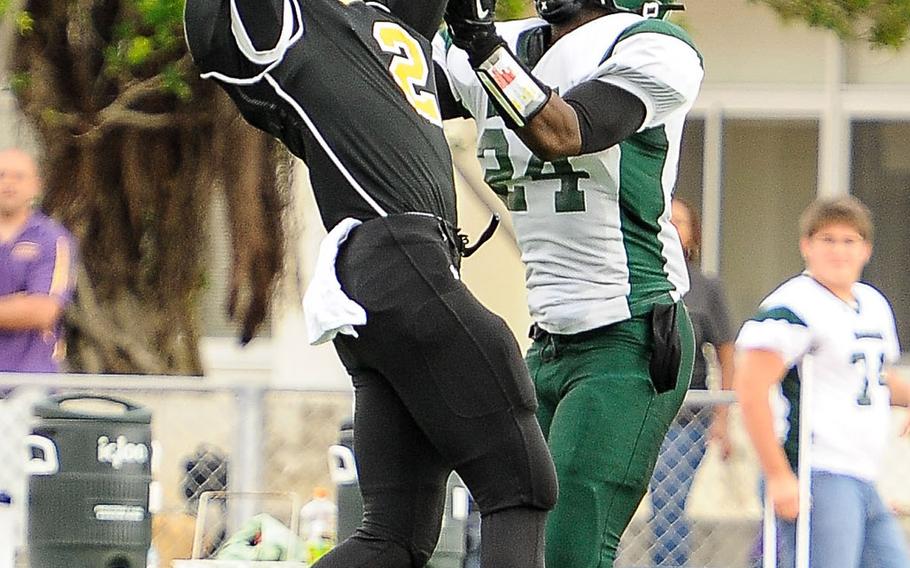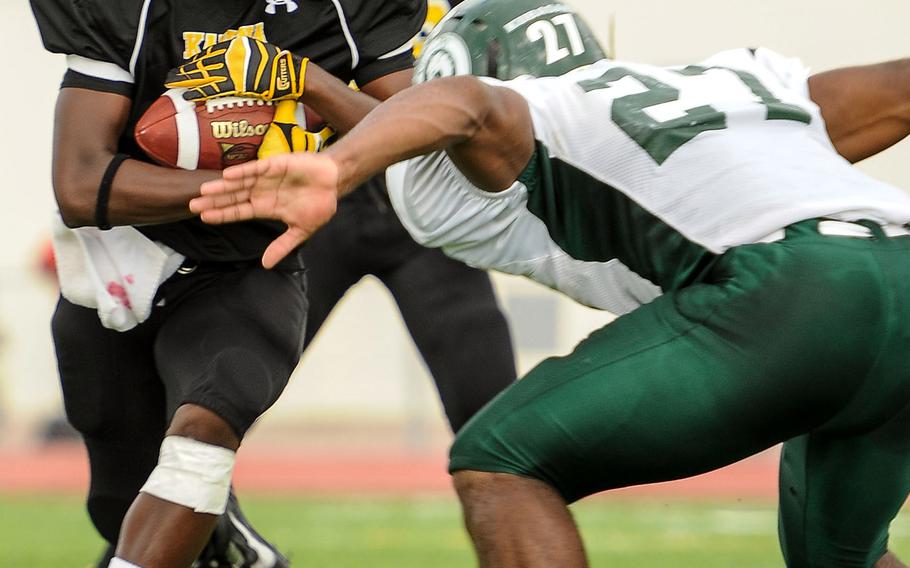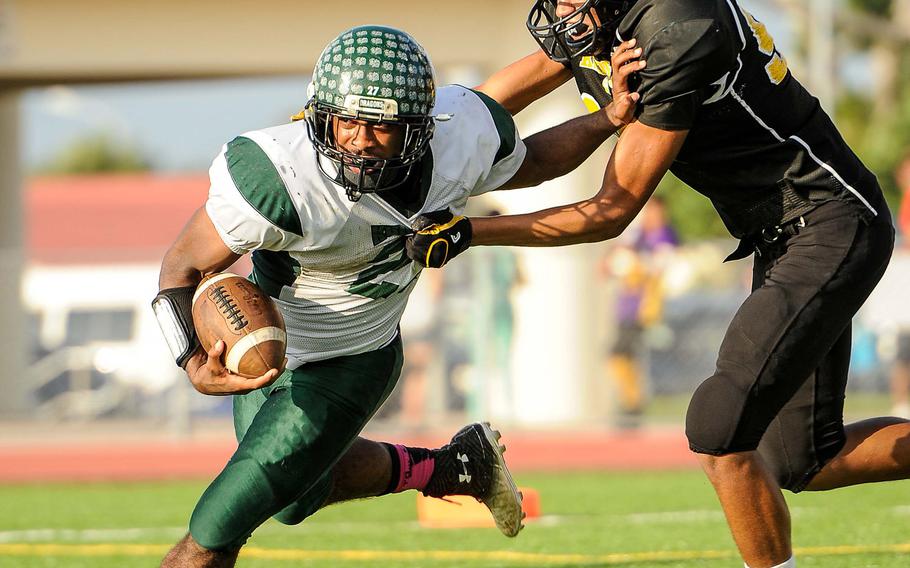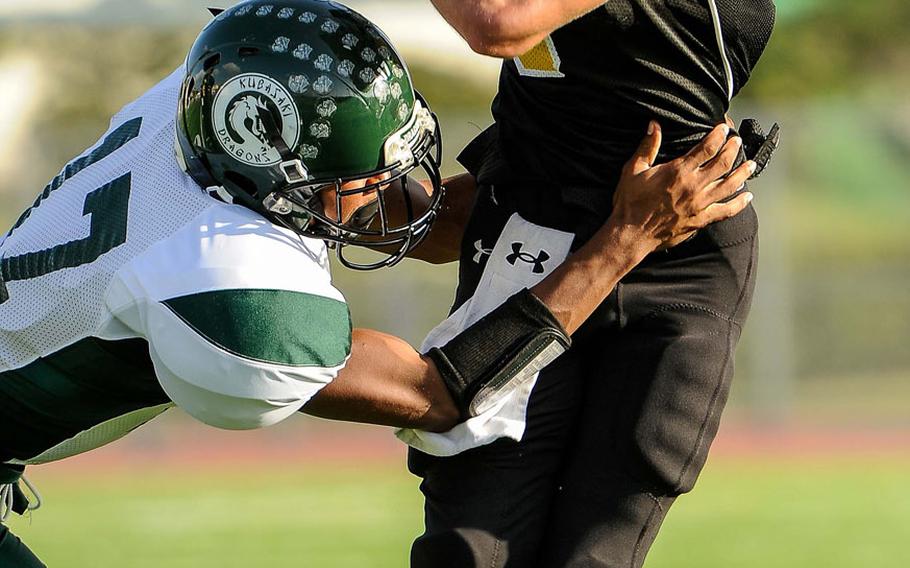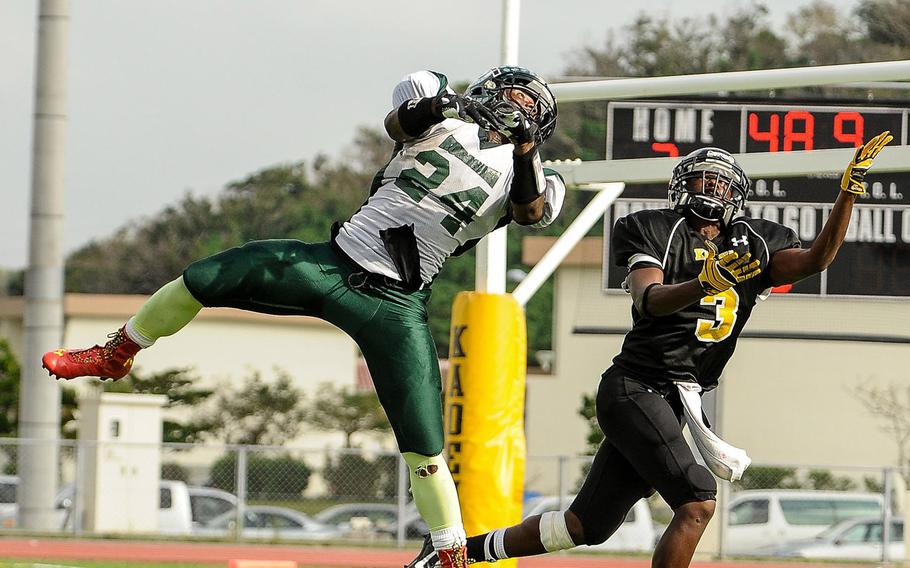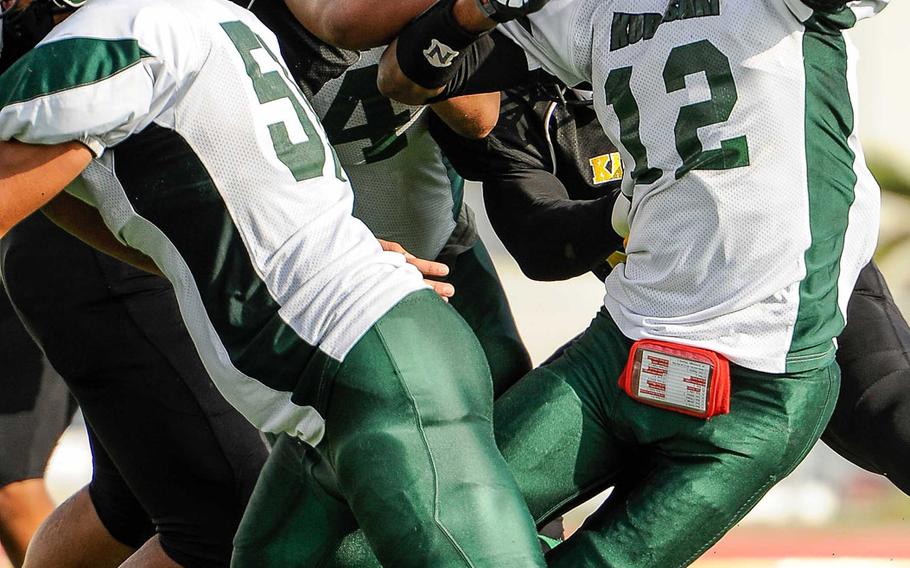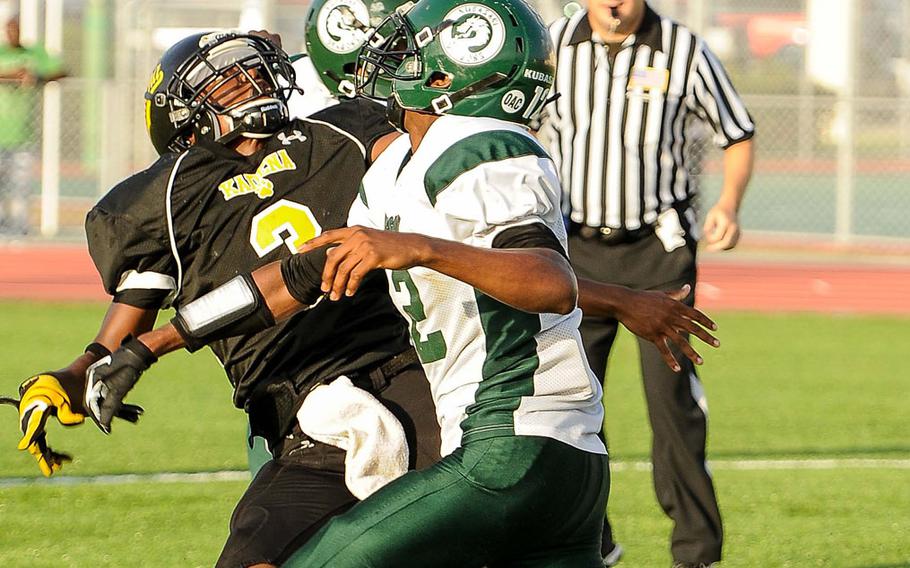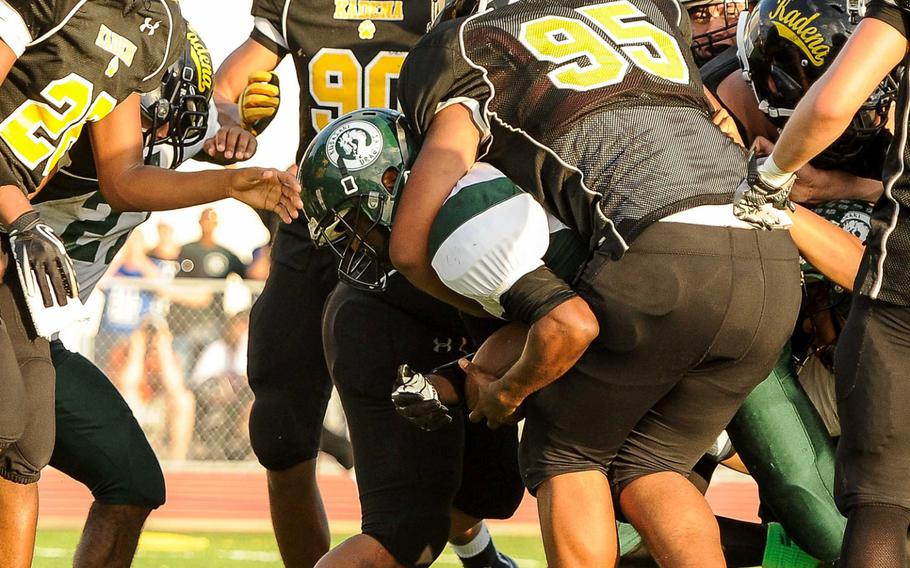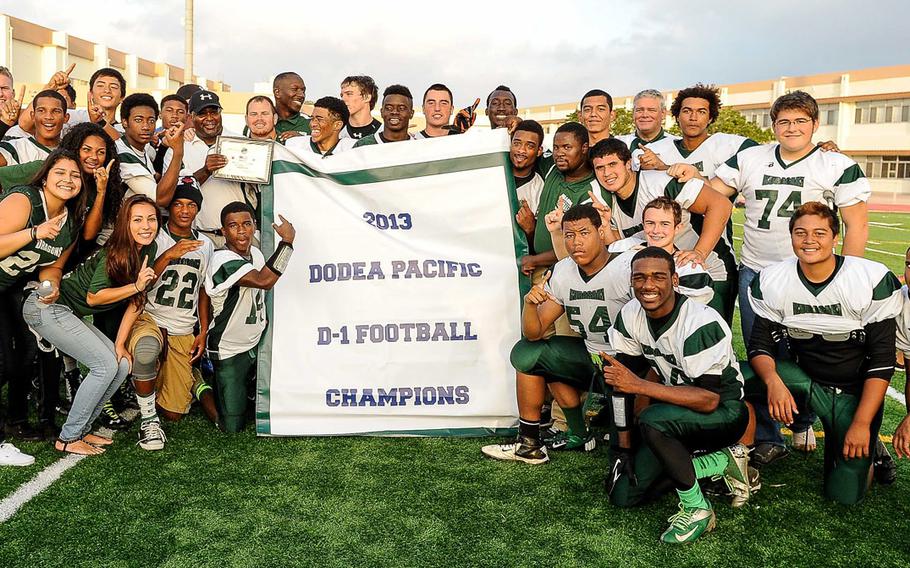 KADENA AIR BASE, Okinawa – Tyshon Butler felt like things were slipping away. Though the score was tied, Kubasaki teammate Jarrett Mitchell was sidelined after a helmet-to-helmet hit following an interception, but momentum still seemed to be on Kadena's side.
Time to take the torch, Butler told himself and his teammates. And the senior, considered Kubasaki's third rushing option, single-handedly turned the tide of Saturday's Far East Division I football title game, pacing the Dragons to a 34-31 overtime win over the Panthers.
In less than two quarters, Butler rushed 11 times for 146 yards, including a 55-yard game-changing scoring run, emblematic of a classic confrontation that featured momentum swing after momentum swing.
"Time for us to step up. It's our turn. Maximum potential," Butler said he told his teammates after a woozy Mitchell left the contest. "They (teammates) put me on their backs. They trusted me to get it done."
That, plus a 2-yard DeQuan Alderman scoring run in the extra session, gave Kubasaki a long-sought D-I championship, its first since the inception of the Far East playoffs in 2005. The Dragons lost the last two years in the title game at Yokota 34-6 and 55-8.
"He's been here before. He didn't want to make that strike three," said Kubasaki defensive coordinator Gerald Sharber, thrust into acting head coach duty in the fourth quarter when Fred Bales was ejected for arguing with the officials.
"Time to step up when it all mattered and he came to play," Sharber said. "They put in all the hard work and it paid off. I'm so proud of them, so proud of this entire team. The entire team played well."
When Mitchell went down, "Tyshon stepped up," Sharber said. "Same thing, next man up and be ready to play. Time to step up when it all mattered and he came to play."
Kubasaki won despite Bales' ejection, being flagged 16 times for 181 yards, throwing three first-half interceptions, all picked off by Jamario Harris, and making a key special-teams mistake.
A bad punt snap set up Kadena's game-tying touchdown, a Harris 1-yard sneak with 2:03 left in regulation.
"In the end, we just weren't on the right side of things," said coach Sergio Mendoza of Kadena, playing in its record sixth D-I title game and seeking its first championship since winning its third in 2010. It was the first time Kadena and Kubasaki played for the D-I crown.
The Panthers, too, made some key errors in the late going. First came a botched 45-yard field-goal try that ended up as an intercepted pass by Kubasaki's DeCurtis Davis with 2.5 seconds left in regulation. In overtime, an offside penalty put Kubasaki at the Kadena 5-yard line; three plays later, Alderman scored the game-winner.
"We made some mistakes at the very end that cost us," Mendoza said. "But that's the way it goes. Kubasaki played an excellent game."
Overtime began with the score tied 28-28. Jakob Weicht gave the Panthers a brief lead with a 23-yard field goal, setting up Alderman's heroics.
Butler's lengthy touchdown run capped a third quarter in which the Dragons outscored Panthers 22-7.
Mitchell tied it 14-14 with a 33-yard touchdown run, then after Justin Sego broke the tie with a 64-yard touchdown run, Alderman ran 22 yards for a score, then put Kubasaki ahead on a two-point conversion run in which he eluded three tacklers, somehow stayed inbounds and broke the plane.
Kadena seized the early lead on Sego's 81-yard touchdown run on which he went untouched around left end, just 1:09 into the game.
Kubasaki got within one point when Mitchell answered on a 9-yard scoring run midway through the period. Barry Mitchell put the Panthers ahead 14-6 on a 24-yard pass from Harris just before halftime.
Mitchell finished with 128 yards on eight carries, extending his Okinawa season record to 1,840 yards on 149 carries, with 21 touchdowns. He exits as Kubasaki's leading career rusher, with 3,990 yards on 357 carries.
Alderman added 59 yards on 16 carries.
"He's made great strides" in three weeks since taking over at quarterback for injured Joe Cervantes, Sharber said.
Winston Maxwell had 62 yards on three returns. Kane Wilton and Steven Hunt each recorded sacks.
For Kadena, Sego ran 33 times for 243 yards; he closed the year with 1,410 yards and 20 touchdowns on 177 attempts. Barry Mitchell caught two passes for 45 yards and Preston Harris and Siu Fuimaono had sacks.
"These guys are my heroes," Mendoza said. "It's been a privilege to coach them this season."
NOTES – Kubasaki won the first D-I title game played in 2005, 38-8 over Seoul American on its home field. … Kadena is now 3-3 in D-I title games, losing twice at Seoul American 12-6 in 2006 and 22-21 in 2008; the Panthers beat Yokota 39-13 in 2007 and 50-23 in 2010 and Seoul American 44-0 in 2009. … Saturday was the fourth time Kadena and Kubasaki played this season. The Dragons beat the Panthers 12-6 in the Aug. 26 season opener, also at Habu Field; Kadena topped the Dragons 49-26 on Sept. 13 at Kubasaki and 11-0 on Oct. 25 again at Habu.