Kubasaki's Foote, Pusan's Carroll join ranks of 100-goal scorers
---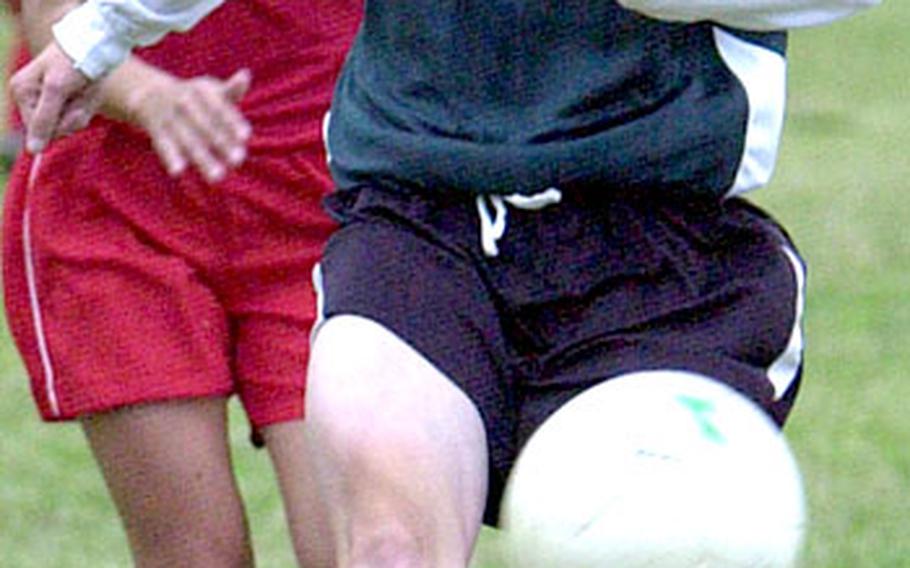 YOMITAN, Okinawa — In less than two weeks, two girls reached a coveted milestone in Pacific high school soccer — 100 goals.
Erin Foote, a senior for Okinawa's Kubasaki Dragons, became the latest to get to the plateau after scoring twice in Wednesday's 12-0 rout of Okinawa Christian International.
Foote said she "never would have guessed" she'd someday score 100 goals.
"When I first started playing as a freshman, I never imagined it," she said.
After her sophomore year, when she had 52 goals, "I knew it was possible," she said. "It was never a goal of mine. But it's definitely a crowner. There's no greater feat than scoring 100 goals."
Foote has 11 goals this season.
Brieanna Carroll, who has scored 102 goals for Pusan American, called the feat "pretty enormous."
"It was a pretty big deal," said Carroll, a senior forward who achieved the milestone April 7. "To reach 100 is special. And the 100th goal was assisted by my sister, so that made it even more special."
Foote and Carroll have never set foot on the same field, but they admit they pay attention to each other's scoring total.
"I've been watching her," Carroll said. "I want to be the one who scores the most."
The two have other goals.
Foote, a three-time All-Far East selection, helped Kubasaki win Class AA titles as a freshman and sophomore. Last April her Dragons lost to Kadena in the championship match.
"I still have time to make it a more complete package," Foote said.
Carroll, also a three-time All-Far East pick, is seeking her first Far East crown in Class A.
"She's (Foote) won championships," Carroll said. "I've not won any. But you can't win if you don't score goals, so the two are tied together."
---
---
---
---