Home Team
Kubasaki distance runners eyeing records
---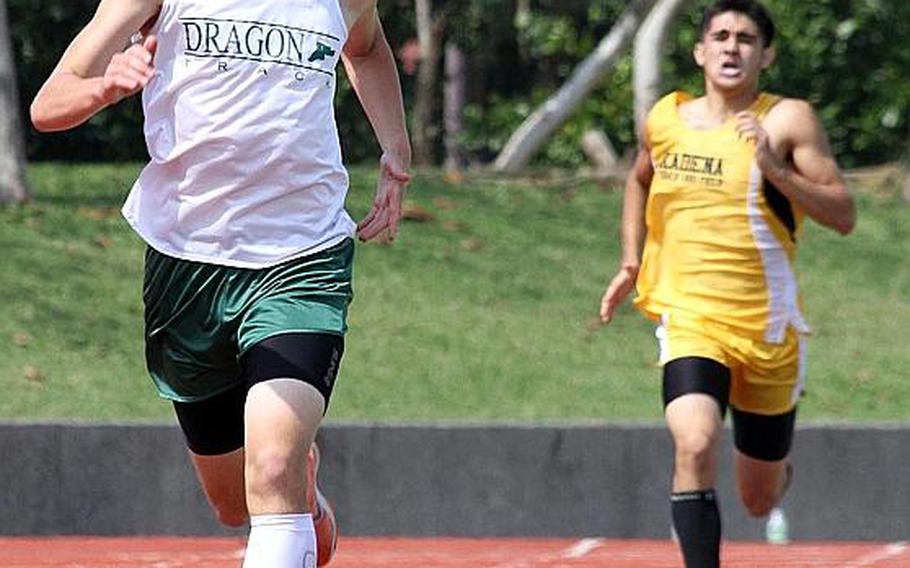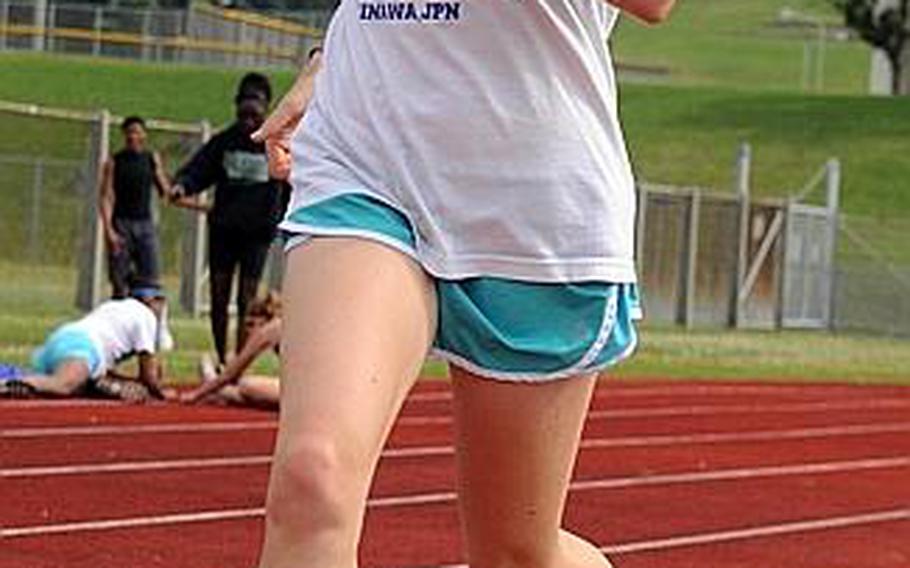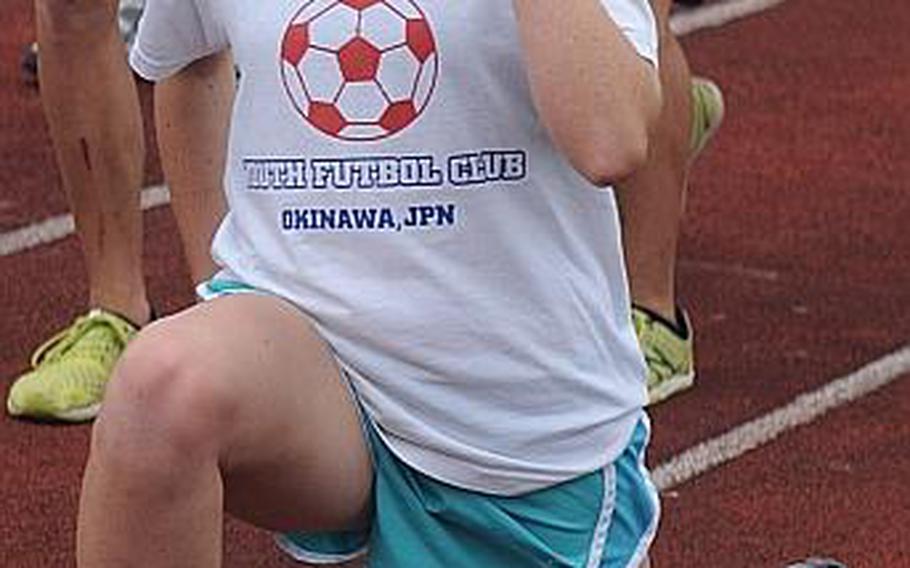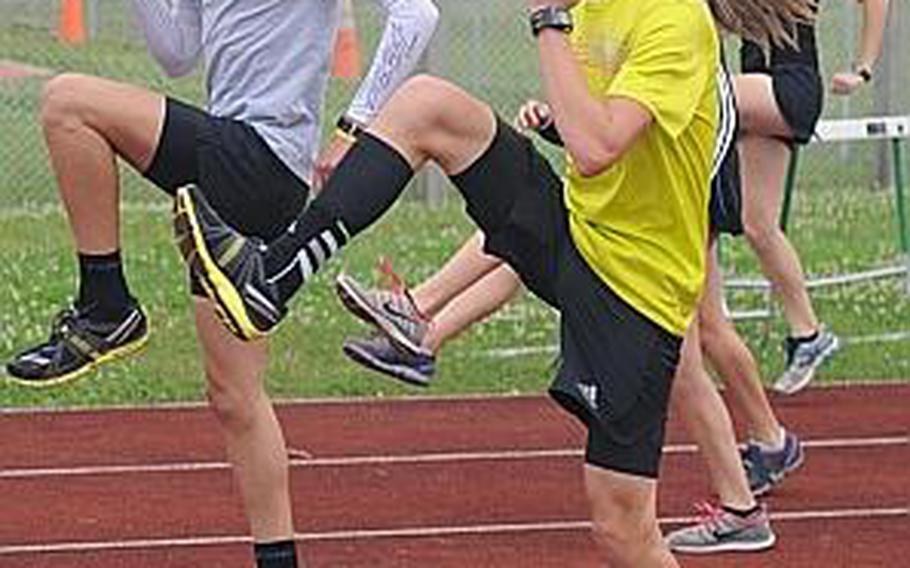 CAMP FOSTER, Okinawa - Ryan Bugler has earned more points for Kubasaki than any other athlete this season. But the senior distance specialist can be forgiven if he has one eye on the track and another on records two of his Dragons sophomore teammates are approaching in the 1,600-meter run.
At last Saturday's Okinawa Activities Council meet, Jessica Ircink was timed in 5 minutes, 29.87 seconds, 1.60 ahead of senior teammate Allie Reichenberg … and within striking distance of the Pacific record 5:24.28. Erik Armes ran the event in 4:31.93, also close to the region mark of 4:28.3.
"The sky's the limit (for Ircink); I think she'll destroy it," said Bugler, the reigning Far East Division II cross-country champion who transferred from Okinawa Christian International and joined a Kubasaki team loaded with distance talent among both genders.
As for Armes, Bugler said: "Without a doubt, he'll be in the low 4:20s. He'd break 4:20 if that was his only event, if he wasn't so good in the two-mile."
It's distance runners, and plenty of them, for which this team is becoming known. Kubasaki is unbeaten so far this season and the results in the 3,200, 1,600 and 800 have been primarily responsible.
"It's not just those two," Kubasaki distance coach Paul Campbell said, citing freshman Jonathan Johnson and seniors Dalton Atkinson and John Armelino on the boys side, and seniors Reichenberg and Sarah O'Neill and junior Jessica Freedman on the girls.
"Having those teammates with them is making a huge difference. They're pushing each other. They're helping each other. Because of that, I don't see them plateauing."
Having speedy foes helps, Campbell said of a Kadena group featuring reigning Far East cross-country champions Ana Hernandez and Andrew Kilkenny. "They're very good friends with the people from Kadena, they're hanging out and chatting with each other between races and supporting each other," he said.
"They really push each other and it's become a social thing for them to push each other, and they're having a lot of fun doing it. And that's a good thing. They're laughing and talking while they're panting and sweating."
The Dragons go the extra mile, literally and figuratively, in practice. Even when weather conditions force the team to cancel practice, Campbell says the runners won't hesitate to keep working out on their own.
"A good distance runner is one who doesn't give up, who keeps going, who's really determined and focused," he said.
"A lot of my runners have that determined kind of mindset when I ask them to do something in a workout, and they say, 'Well, I'm going to do a little more.' Or somebody comes up to me and asks, 'What do I need to do to get to Far East?' OK. And they go right out and they do that."
All the Dragons "have obstacles" that differ from runner to runner that "we have to address. They overcome those obstacles because of how they discipline their bodies, get used to how their bodies work, muscle memory, you know what it's like to breathe this hard and get your joints to work like this, so that that's automatic."
Campbell cited Armes in the 2012 Far East cross-country meet, when he suffered an asthma attack but still finished fifth. "Erik's mind was starting to slip, but his body knew exactly what to do because he had trained and he was so determined through the training," Campbell said.
So just how low can Kubasaki runners go in terms of time? Bugler clocked 2:03.83 in the 800 and got within six seconds of the Pacific record. Reichenberg's 2:27.59? Just eight seconds off the region mark.
"They could take a second off at every meet, a little more, I don't know how low they can go, but I know they have very good teammates who support them to where it will be easier for them to keep going," Campbell said.
---
---
---
---