Prep roundup
Kubasaki cross country duo set season bests
---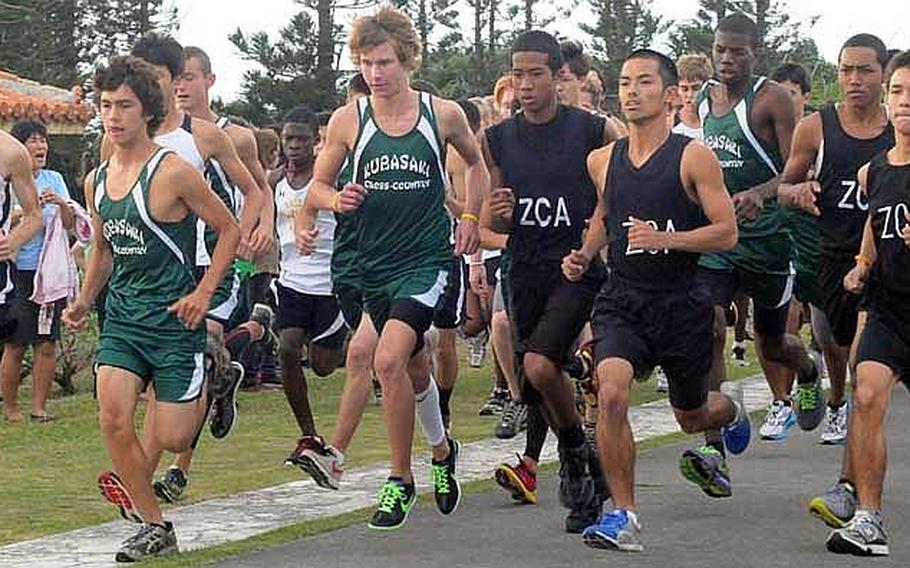 ZANPA MISAKI, Okinawa – Freshman Erik Armes wanted to run under 17 minutes. Sophomore Alle Robles took aim at sub-20.
They each accomplished their goals and made history for Kubasaki in Wednesday's Okinawa Activities Council district cross-country finals – and established themselves as contenders in next month's Far East meet in Tokyo.
Robles ran the Pacific's fastest time this season, 19 minutes, 52 seconds, four seconds faster than Seoul American's Amanda Henderson on Oct. 15, and led the Dragons to the girls team title and Kubasaki's first overall OAC finals meet title in 10 seasons.
"No way! Really? Wow! I don't know what to say," Robles said after she was told of her time, which was 20 seconds faster than teammate Allie Reichenberg. "I couldn't have done it without my team. These guys pushed me. It's not just me. It's the team."
Armes didn't post a Pacific best, but clocked a 16:47 over the 3.1-mile course at Cape Zanpa, also called Bolo Point, about six miles northwest of Torii Station. That exceeded Armes' personal best by nearly 40 seconds, and he beat runner-up Andrew Kilkenny of Kadena by 12 seconds.
"It's very nice, an honor to bring it back home to Kubasaki," Armes said. The team performed pretty well in general."
"It feels good. We worked hard this season," said Kubasaki's longtime coach Paul Campbell.
Zion Christian Academy's boys, led by third-place finisher Akira Shavers, took the boys team title 37-43 over Kubasaki. Kubasaki edged Kadena 28-33 for the girls crown.
Seoul American spikers capture KAIAC D-I girls titleIn just her first year as girls volleyball team coach, Seoul American's Lori Rogers now has a Korean-American Interscholastic Activities Conference Division I regular season title to go with the two she won as boys coach and the one she earned in 1990 while a Falcons player.
Tammy Garman had 27 spike kills and Hannah Swafford 15 to pace the Falcons past Taejon Christian International 25-21, 24-26, 25-9, 25-20 in Wednesday's regular-season finale at Falcon Gym.
It was the Falcons' ninth straight league victory, and it came three weeks after their trip to the Okinawa District Volleyball Festival, at which Rogers said the team found itself after a 3-2 start.
"We were out there playing games where nothing was on the line, and that was the turning point," Rogers said. "Since then, our team motto has been, 'Oki Mentality.'"
The Falcons defend their KAIAC D-I Tournament title Friday and Saturday and their first Far East D-I Tournament crown Nov. 7-12, also at Falcon Gym.
---
---
---
---