Kubasaki bigger, hoping to be better
by
Dave Ornauer
August 21, 2019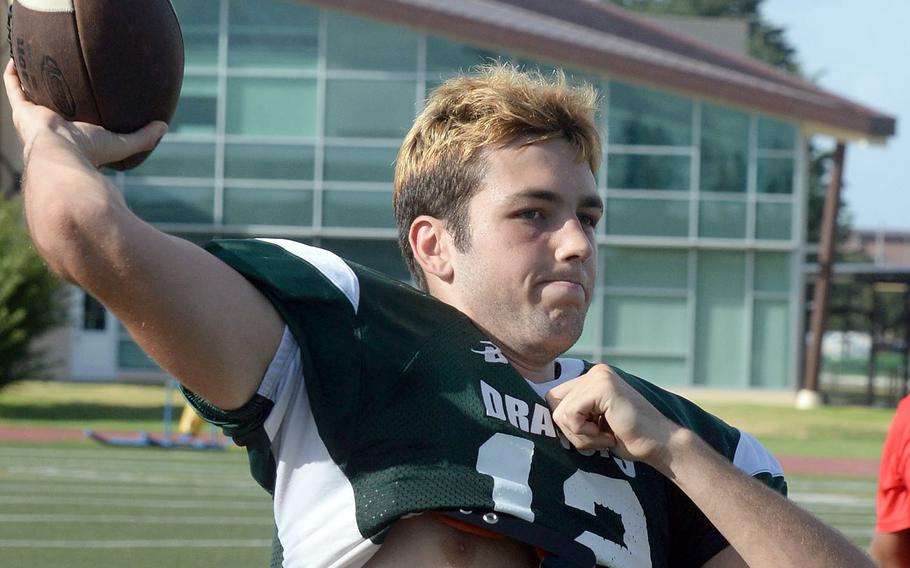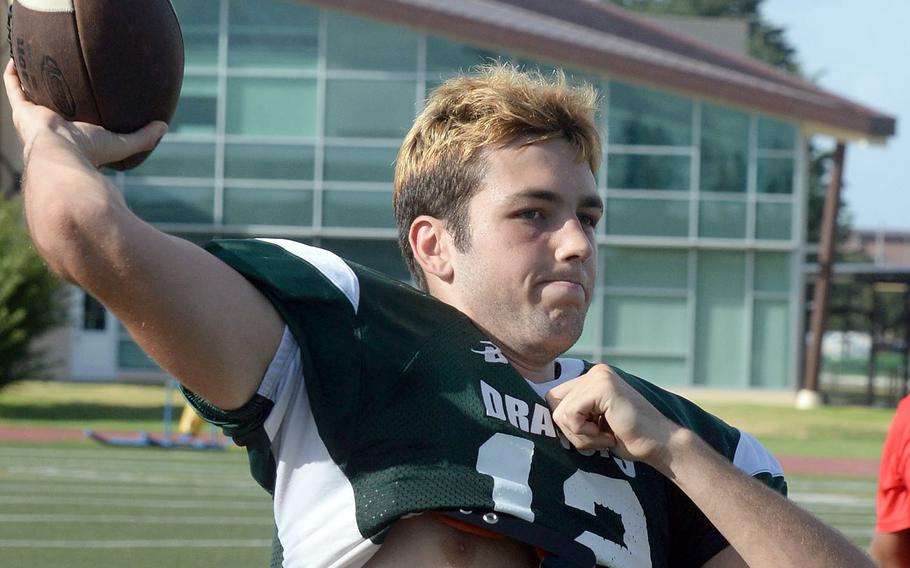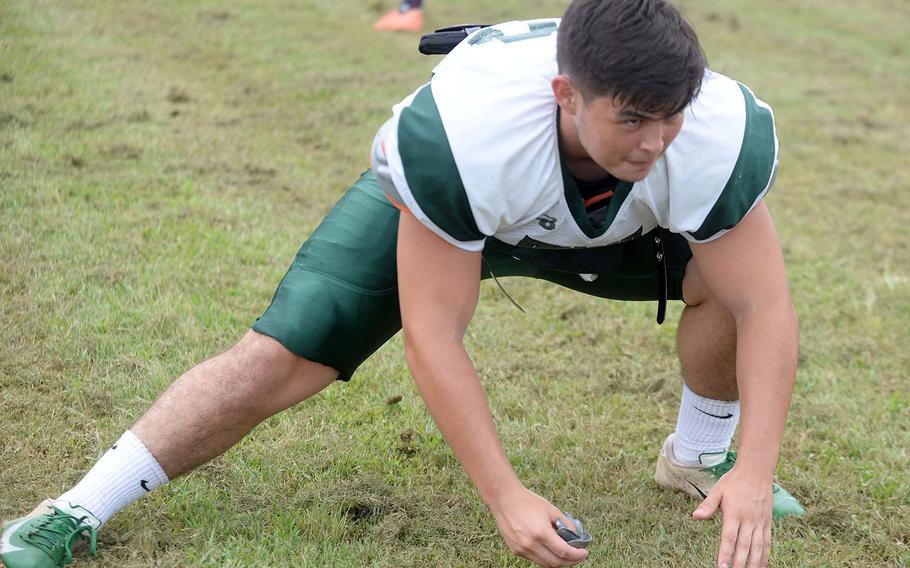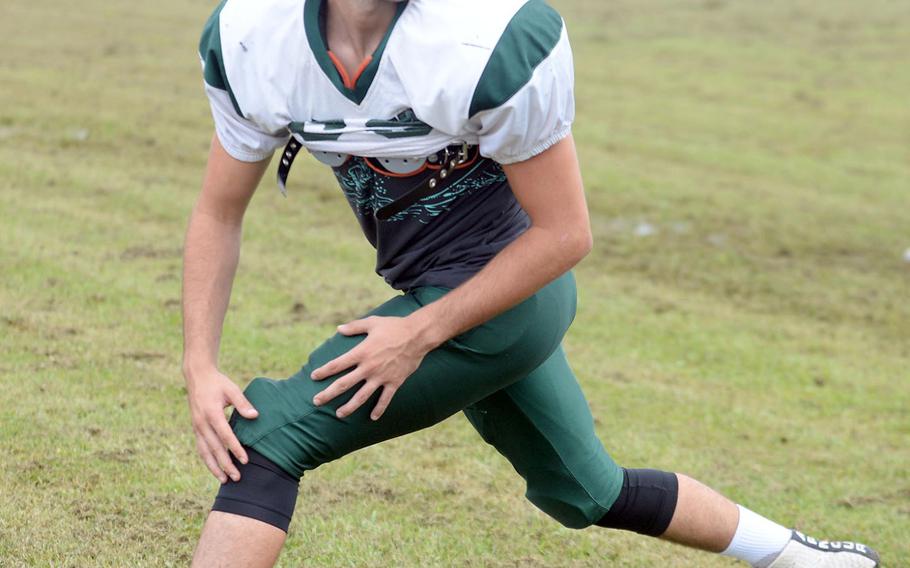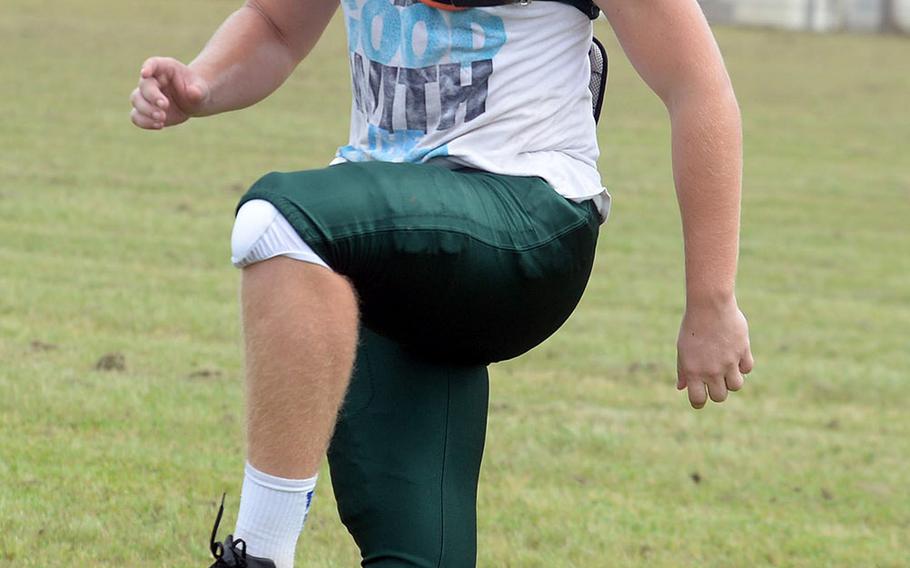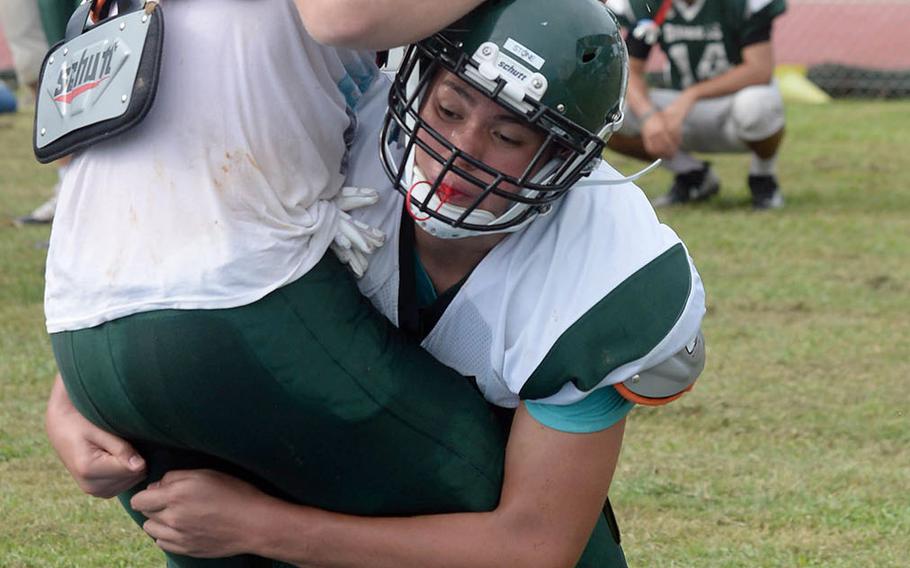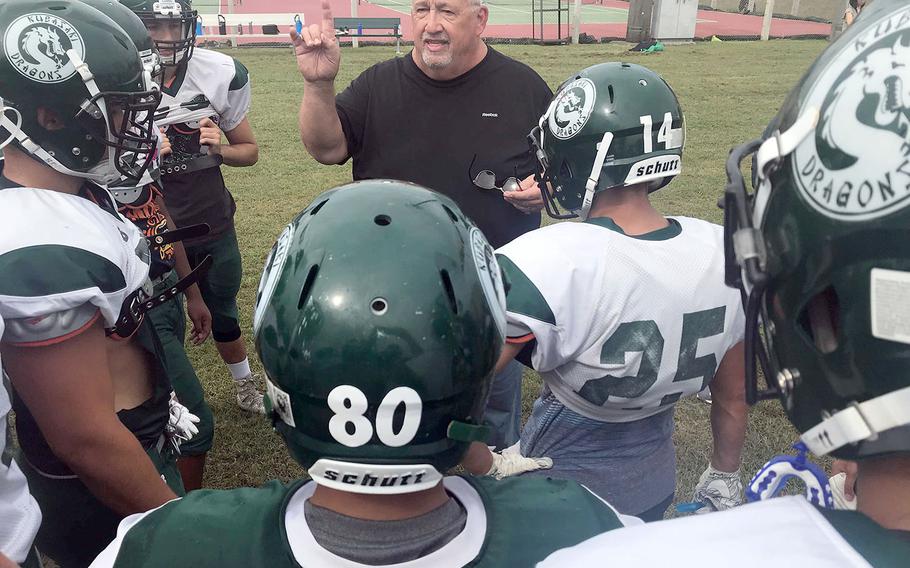 Second in a series of DODEA-Pacific high school football previews.
CAMP FOSTER, Okinawa – No need to worry about player size in Kubasaki football camp; coach Fred Bales and the Dragons have plenty of what he calls "bigs."
It's depth and experience, especially among what Bales calls his "ball position" players, that's in question.
Virtually every skills player from 2018 has either graduated or transferred from a Kubasaki team that lost its first three games, but went 2-2 in its last four, including a 61-12 home rout of Division II Yokota and a 19-11 road loss to eventual Far East Division I champion Nile C. Kinnick.
In any other year, Bales might put those beefy guys in the line. "But several of our more skilled guys are in the category of 'big,'" Bales said.
Indeed, only one player from last year's team, senior Haydn Peterson, will start at the position he played last season, inside linebacker.
He played in the line on both sides of the ball a season ago; now, he could play running back, and fellow senior Lucas Kappen, another interior veteran, could line up under center or in the shotgun in Bales' spread-option offense.
"The challenge is, we have to get everybody in the right place to maximize their potential so we can maximize the team's potential," Bales said.
Another of last year's linemen, senior Clint Reventlow, could move to tight end and linebacker. A couple of others with size and positions to be determined are senior Malik Brown and sophomore Sebastian Stone.
One skills player who fits those traditional dimensions is Elijah Ferrell, a sophomore receiver/defensive back who transferred from Guam.
"Loads of potential," his old Panthers coach Jacob Dowdell said. "Speed and athleticism. He's still in the infancy of his route running, but … I can see him getting a lot of touches on the ball."
Kubasaki began practices on Aug. 4. Rather than dwelling on their 5-16 ledger the last three seasons, Bales said the focus is on what's ahead, starting with the season opener Sept. 6 at home against the Panthers.
"It's a new year. The summer is done. We have to work toward a common goal, to be the best we can be," Bales said. "It's a daily walk and that's the way it is every season."
He begins his 15th season at the Dragons' helm. It's a program that began the decade strongly, playing in five straight Far East Division I finals and winning one title in 2013.
That pendulum has swung in recent years, with the Dragons' arch-rival Kadena playing in the last five D-I finals, with titles in 2014, '15 and '17.
"They're always the standard you have to live up to," Bales said of the Panthers. "Kadena has a great program, great continuity. We're just trying to get a good routine, getting better every day. We'll see how we look" when the Dragons scrimmage the Panthers on Aug. 30 at Kadena.
That might also be the start of the last season of Bales' coaching career. He's talked of retiring after the new school year, after 42 years of coaching, 32 as a head coach and 15 at Kubasaki.
"It's been a joyful journey, but at some point, you have to turn it over to the younger folk," he said.
ornauer.dave@stripes.com Twitter: @daveornauer