Krievs excels at Kinnick after transfer on eve of football season
by
Dave Ornauer
September 23, 2004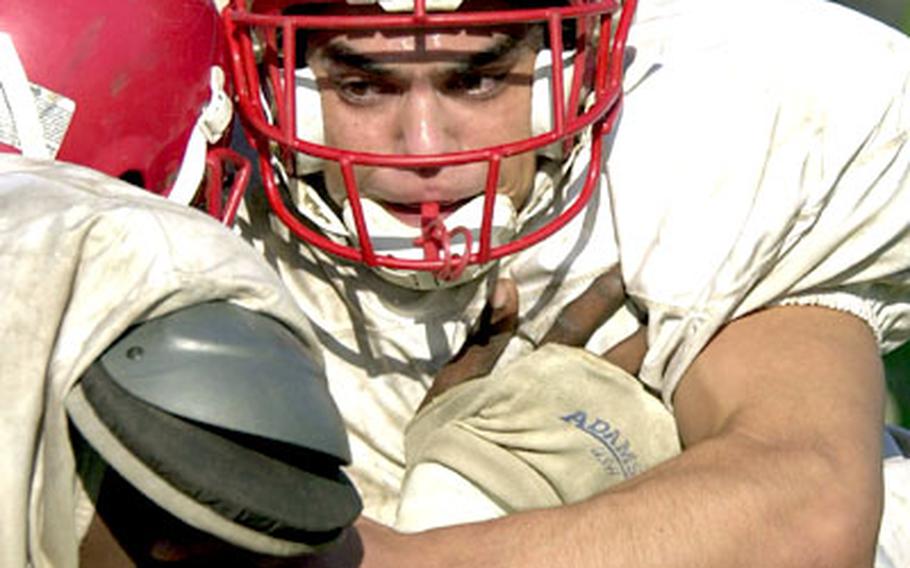 Adam Krievs knew for months Matthew C. Perry High School might not field a football team this season.
Still, when Perry Principal Alice Berard announced a day after school opened to fold the team for safety reasons, it felt like a hammer blow.
"We were there trying to pull things together, have enough players out and try to have a successful season," said the senior linebacker/fullback.
But in the end, the players numbered 14 — not enough, said Berard and coach Kevin Crone, to compete safely.
Krievs said it left him "thinking I have to play football for somebody. It's my senior year. If I have the opportunity, if it's my last chance to play football, I'm going to take it."
Opportunity knocked, in the form of Krievs' uncle, retired Marine Tony Camacho, who works at Yokosuka Naval Base — home of Nile C. Kinnick High, which has a football program.
Arrangements were made quickly; Krievs enrolled at Kinnick and now plays for the Red Devils.
In two games, he's racked up 23 tackles, 14 in his first game against Zama American, plus 97 yards and a touchdown on 19 carries. And his new teammates "welcomed me with open arms," Krievs said.
He knew several from playing in the past two Japan Football League All-Star Games. Still, he said, "I wasn't sure what to expect. But most of them … introduced me around, welcomed me into the program."
Said offensive coordinator Jimmy Davis, who coached him in the All-Star games: "The kids definitely respect his play."
"We're very happy to have him," said coach Robert Stovall. "Not because he's a great player, which is always a plus, but he's a great kid."
Krievs will remain at Kinnick until football season ends in November, then transfer back to Perry, where he's to graduate in the spring.
Changing schools is more common for Department of Defense Dependents Schools students than for those stateside, DODDS-Pacific officials said, simply because of the military's transient nature.
In Krievs's case, "We couldn't meet his needs" athletically, Berard said.
"He loves football, more than anything else in the world. It would have been a shame if he couldn't have played."
Still, Krievs said, leaving his family at Iwakuni Marine Corps Air Station was hard.
"I'd been with those guys for two years, we'd grown and gotten to know each other as teammates. It was hard leaving my loved ones, my family. There were a lot of things missing after I left."
But Krievs made his presence at Yokosuka felt literally from the opening kickoff against Zama, planting a hard tackle on Trojans kick returner Donovan Nance.
"I wanted to show not just the community and the team but show the coaches I can come in and play for them," he said.
"That was evident from the first hit he made," Davis said. "I knew he was a good player. I knew what I was getting. But it's a little different when he's playing for you."
During Kinnick's 44-0 victory Friday over American School In Japan, Krievs even had some former classmates supporting him. After Perry's tennis team finished its match nearby, it went to the Berkey Field stands.
"It really showed how well liked Adam Krievs is, at his former school and here," said David Tran, Kinnick's assistant principal, who held the same post at Perry.
At 2-0 this season, the Red Devils next take aim at five-time defending JFL champion Yokota. Krievs said he believes Kinnick has a shot at taking down the Panthers.
"We have a really strong defense that's going to be tough to go against," he said, adding that the Red Devils' speed and quickness might make up for their lack of size. "We're physically and mentally prepared to go against Yokota and take them on. I don't think size matters much over here."
And, he said, he believes he was right to move.
"My total thing was, I wanted to play my senior year of football," he said. "Whether I contribute to a team, or sit on the bench, if I had the opportunity be with a team and play football, that's what I was going to do."