Korea teams march off with basketball titles
by
Dave Ornauer
March 9, 2010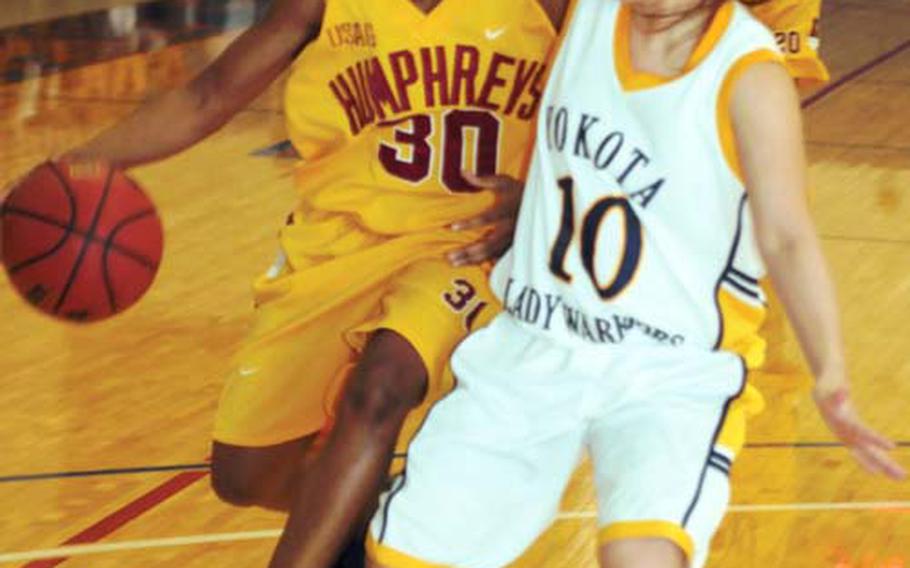 ANDERSEN AIR FORCE BASE, Guam — Sunday's finals yielded the ideal result for Korea post-level teams: a March Madness sweep.
MVP Taneisha Cook scored 16 second-half points as two-time Koreawide post-level women's tournament champion Camp Humphreys pulled away from Yokota Air Base, Japan, for a 74-39 romp in Sunday's final.
Meanwhile, Anthony Showers' late third-quarter eruption (14 points, five steals in 3½ minutes) boosted Osan Air Base to its first March Madness Pacific Regional Basketball Tournament title in eight years, as the Defenders pulled away from Joint Region Marianas A 81-59.
After a 69-66 loss to Yokota in pool play, Lady Dawgs coach Donny Elvoid gave his troops specific instructions should the teams meet again: Get physical and neutralize guards Nayu Takahashi and Carly Ledeboer.
"Coach told us the key is to lock down those two, switch defenders and keep fresh legs on them and wear them down," forward Candace Whitaker said. "We had more subs than they did. So he told us to wear their legs out, which is why we stayed in man" defense.
The result was that Takahashi and Ledeboer were each held to less than 10 points, Ledeboer to just four after scoring 26 earlier in the day as Yokota eliminated host Andersen Air Force Base. Humphreys forced 30 turnovers and grabbed 28 offensive rebounds against Yokota.
"That pretty much did us in," Yokota coach Ken Stith said.
Precious Knight hit back-to-back three-pointers off the bench to snap a 13-13 tie 5:12 before halftime. Humphreys didn't trail again, building as much as a 38-point lead down the stretch.
In the men's championship game, Showers' performance was the difference.
"Awesome. That was a one-man show," Osan coach Tony Jones said of Showers' play late in the third quarter.
JRM-A led 35-29 at the half and 44-41 with 3:30 left in the period before Showers and Osan's defense turned the game around. Showers' steal and layup at the buzzer made it 55-44 Osan, and Showers' dunk with 1:26 left provided the exclamation point at 77-59.
"When all else fails, defense prevails," Jones said after his team recorded 24 steals.
Showers is actually assigned to Yokota, but offered his services to Osan, where he played for Jones for a year during two tours. Yokota did not enter a team in March Madness.
"It was easy for him to come in and pick up the system, and the guys accepted him well," Jones said.
JRM-A was only pieced together by coach Gerry Barnes three weeks earlier, cobbling together seven Air Force and seven Navy players.
"I'm proud of our effort," Barnes said.
---
---
---