Korea runners find it hard just to get out of the blocks
by
Dave Ornauer
April 19, 2007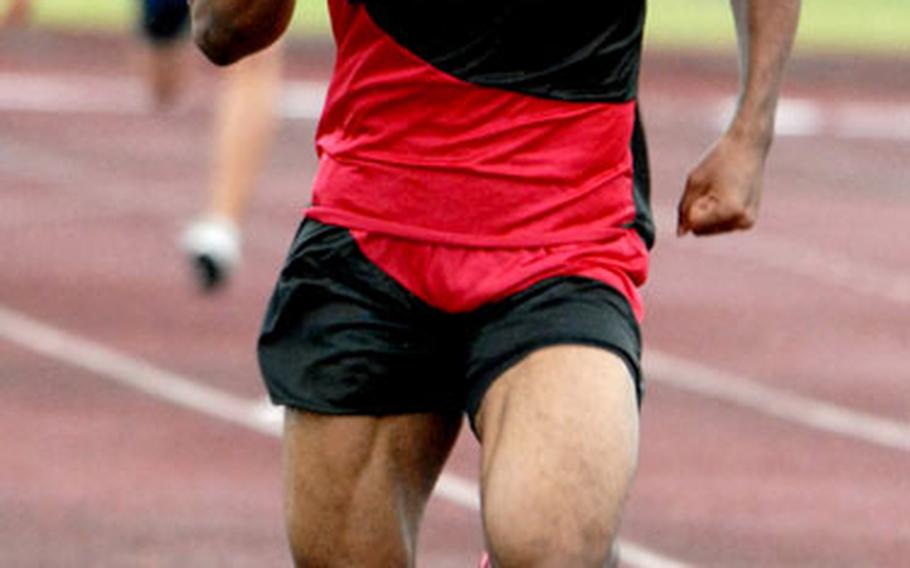 South Korea remains the only part of the Pacific without a DODDS-sponsored high school track and field program. An Army colonel based at Yongsan Garrison is trying to do something about that.
Two years ago, Kevin Madden formed the Seoul Track Club for high school athletes, in the hope that someday it might become a fully sponsored high school sport in Korea. This, despite swimming against a proverbial raging tide — lack of facilities, lack of money, lack of athletes — in a virtual cardboard rowboat with two matchsticks for oars.
"I love the sport," Madden said during the Petty track meet on Okinawa earlier this month.
A Level-2 International Amateur Athletic Federation coach, Madden has mentored high school and college programs in the States since he attended Northern Illinois University in the early 1980s.
"We're trying to take the long-range approach, to put track and field on the map here," Madden said.
When not working for the Joint U.S. Military Assistance Group-Korea, Madden has devoted time and money — for things such as starting blocks and the club's red and black-trimmed uniforms — trying to convince DODDS higher-ups the importance of the sport.
From a handful of athletes in 2005, the Seoul Track Club has grown to as many as 37 athletes — 25 are signed up at this writing — including at least two, junior distance runner John Lohr and senior sprinter David Smalls, who ran for high schools in the States before coming to Korea.
"They've run somewhere in the States and they have that stripped away from them" when they transfer to Korea, Madden said. "This is not about 'look at Madden's track team;' this is about giving these kids an opportunity. It makes these kids mentally and physically stronger. We owe them this."
Providing that opportunity at the high school level, however, may be far easier said than done, DODDS-Korea district officials said.
"We don't see the initialization of a track and field program for our Korea district high schools in the near future," assistant district superintendent Peter Grenier said.
For one, no regulation 400-meter track exists at any of the bases that house DODDS-Korea high schools. In fact, only one base in Korea has one, Camp Casey's Schoonover Bowl.
For another, with the enrollment at Osan and Taegu at around 150 each, there simply aren't enough students to field full teams at the same time as soccer, baseball and softball.
And then there's the financial limitations, as the entire DODDS system has suffered borad budget cuts in the past several months, according to DODDS-Pacific officials.
"Funds, logistics, lack of facilities and an already eventful athletic schedule are the main reasons" that Grenier cited standing in the way of DODDS-Korea adding track.
It's the sort of talk that Madden says he views as a challenge that he's meeting head-on.
"I'm not easily deterred," Madden said.
To find athletes and build a program, Madden says he's spent many hours watching Seoul American athletes in other sports, recruiting them face-to-face, as well as canvassing Osan and Taegu seeking interested parties.
A handful have responded, enough that Madden says he wants to bring them to Seoul or travel to Osan and Taegu for workouts.
"We're making progress," he said.
Working to overcome the lack of facilities issue has taken some creative thinking. Madden's assistant coach Ronnie Gray, an Army specialist assigned to Yongsan and a veteran of USA Track and Field competition in Arizona, has taken to lining training routes on Yongsan's South Post.
A few times a month, Madden will take some club members to one of many dirt and cinder tracks along the Han riverside bisecting Seoul. Or they'll make the 45-minute drive to the Chamssil sports complex, which hosted the 1988 Summer Olympic Games, where the warmup track is open to the public.
Lohr, who ran for the Loveless Academic Magnet Program in Montgomery, Ala., before transferring to Yongsan, says he and his teammates at times will rise at 4:30 a.m. to condition, or practice long after the dismissal bell.
"We gave up our lives for this sport," Lohr said.
"We're wanting to get ready for the next level," said Smalls, who ran for Norwich Free Academy in Connecticut before arriving in Seoul three years ago.
Madden brought four boys and four girls to the Petty Meet. The boys finished sixth as a team with 46 points, while the girls took ninth with 15 points out of 12 total teams.
"We may not have facilities, but we can run anywhere," Madden said of Jillian Busby finishing third and Lohr second in the Petty 3,200-meter runs. "We proved that. Look where they finished, with no facilities."
"We've put the wheels in motion," said Lohr, who placed second in the 3,200 in the Petty meet and hopes to compete in the Kanto Plain invitational next month in the Tokyo area.
DODDS-Korea's current position doesn't mean the door is closed permanently to adding track and field.
"If we were able to overcome the obstacles ... DODDS Korea may be able to look at this more closely," Grenier said.
That would be welcome news, Madden said.
"Commanders say they're worried about the conduct of high school kids," he said. "You want kids to get into trouble? Give them nothing to do. Imagine if David [Smalls] were training here the last two years. He'd be getting money to go to college. We owe it to these kids to get the opportunity."