KMC teams to see how much of a challenge BFA could be
by
Gregory Broome
January 30, 2020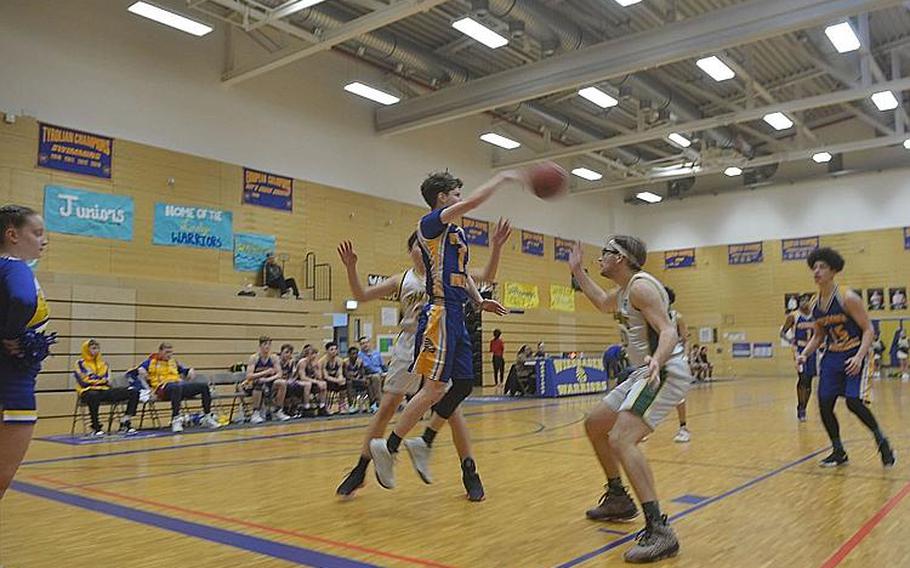 A set of high-stakes boys basketball matchups in the Kaiserslautern Military Community highlight a consequential slate of DODEA-Europe basketball this weekend.
At Ramstein, the reigning Division I champions get their first looks at the newest challenger to the throne on Friday and Saturday. The Black Forest Falcons, long a dominant presence in Division II, have successfully made the leap to the upper division and expect to rank among the Royals' fiercest competitors in the upcoming European tournament. A strong showing by the visiting Falcons this weekend would serve as an interesting prequel to their expected postseason showdown.
Nearby Kaiserslautern on Friday plays host to Wiesbaden as the two perennial contenders continue to battle for preferred playoff seeding. Wiesbaden owns just one loss on the season entering a tough finishing stretch that includes games against both Ramstein and Black Forest, while Kaiserslautern's three overall losses include two decided by a single point. The teams will play an immediate rematch Saturday as Wiesbaden hosts its half of the home-and-home series.
Defending Division III champion Baumholder, meanwhile, returns to its small-school schedule after spending last weekend battling Division I powers Kaiserslautern and Ramstein. Returning runner-up Ansbach and contenders Alconbury and Hohenfels are in town for the four-school, two-day event.
While the DODEA-Europe basketball regular season heats up, the wrestling regular season draws to an anticlimactic close this weekend. Reigning champion Stuttgart and archrival Ramstein retire to separate corners of Germany on Saturday; Stuttgart joins a seven-school meet at Vilseck, while Ramstein takes part in a six-team event at Spangdahlem. A typical four-school Italian meet in Vicenza rounds out the schedule.
The final three meets allow teams the chance to make final preparations for the Feb. 8 sectionals, set for Brussels, Stuttgart and Aviano, which will determine the bulk of the field for the Feb. 14-15 European championship meet.
broome.gregory@stripes.com Twitter: @broomestripes