Klitschko retains belts
by
Steve Mraz
December 15, 2008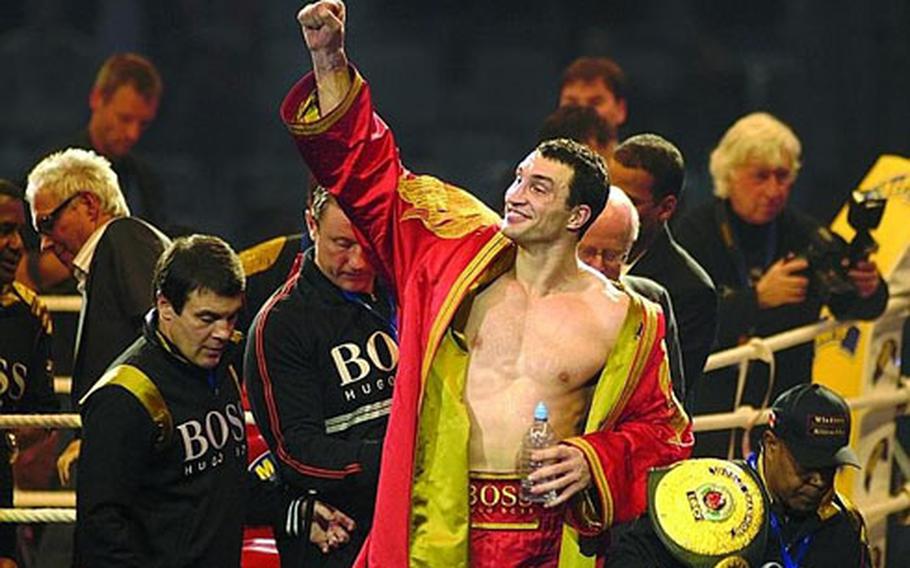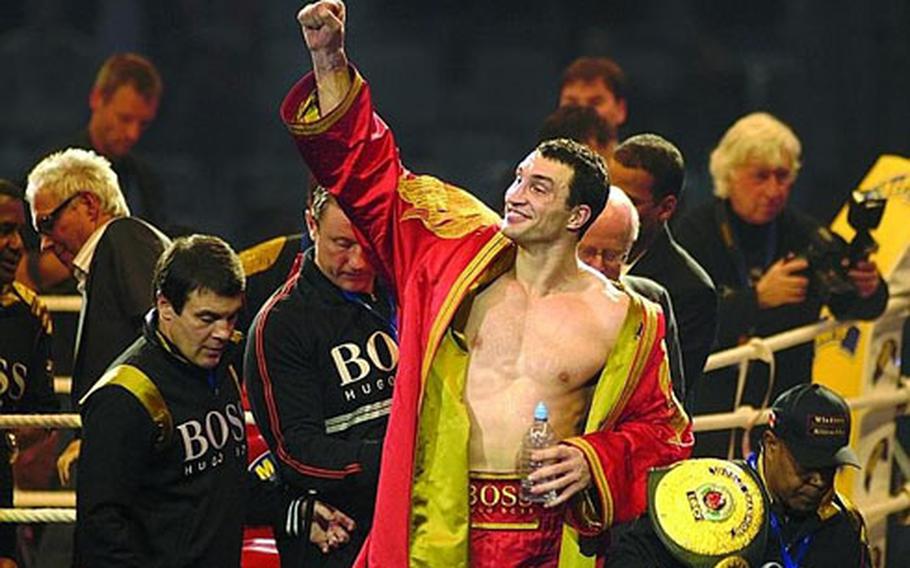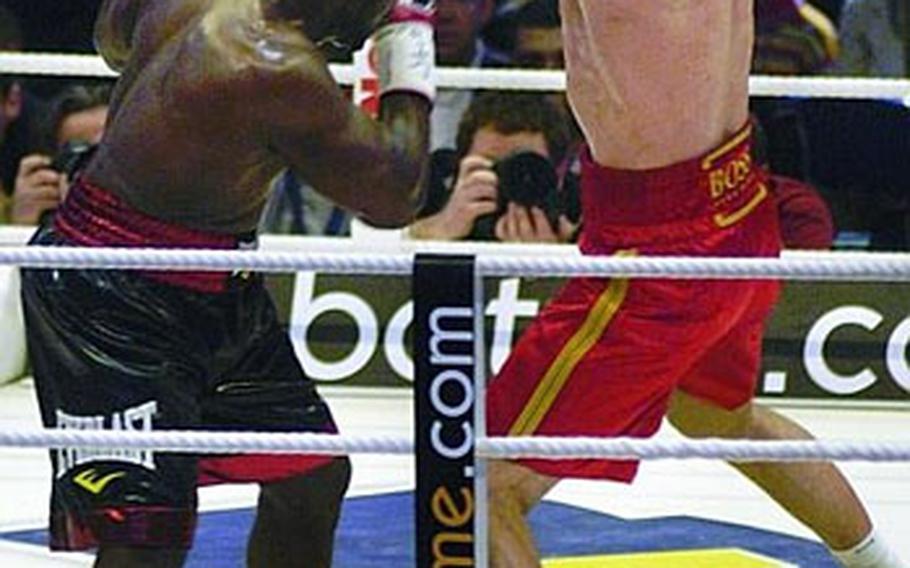 MANNHEIM, Germany — World heavyweight champion Wladimir Klitschko retained his title belts Saturday night, scoring a technical knockout against Hasim Rahman in the seventh round.
Klitschko controlled the fight from the first bell and until referee Tony Weeks stepped in to call off the beating early in the seventh round.
A punishing left to Rahman's face from the holder of the International Boxing Federation, World Boxing Organization and International Boxing Organization heavyweight belts began the combination that decided the fight. With Rahman's back on the ropes — yet again — and visibly dazed, the fight was called.
The stoppage was not unexpected considering that Klitschko (52-3) controlled the entire bout. Early in the sixth round, the champ sent Rahman to the canvas with a bevy of left hooks. It was the only knockdown of the fight.
Even though the underdog Rahman lasted until the seventh, his woes began much earlier. From the first round, Klitschko established his left jab and showcased it throughout the match. He progressed to a two-punch, left-right combination that was thrown with frequency.
By the second round, the boxers were grabbing each other, with the referee having to separate the men continually. The heavily partisan Klitschko crowd inside the SAP Arena began whistling — the European equivalent of the American "boo" — at Rahman.
The third round began with more grabbing, but "Dr. Steelhammer" got Rahman on the ropes. Rahman leaned on the ropes for much of the third round, drawing more of the crowd's disfavor for barely fighting back.
When Rahman went to the ropes, he attempted the Muhammad Ali "rope-a-dope," trying to get Klitschko to wear himself out by throwing punches, said Emanuel Steward, Klitschko's trainer. But Klitschko showed patience and didn't fall for the trap.
"He fought a very smart, intelligent fight, and I'm very satisfied," Steward said. "He used his height and his powerful left jab to systematically break down Hasim Rahman."
At 6-foot-6, Klitschko is nearly four inches taller than Rahman.
Even with his opponent heavily relying on the ropes, Klitschko failed to finish off Rahman. Klitschko landed an overhand right at the very end of the fifth round. Recovering in his corner moments later, Rahman looked severely winded and in trouble. At that point in the fight, Rahman didn't look like he could make it two more rounds.
After the fight, Klitschko played the role of gracious champion by moving around the ring, waving to the crowd.
Heavyweight boxer David Haye, 28, attended Saturday's post-fight press conference and told reporters he's willing to fight either Wladimir or his brother, World Boxing Council heavyweight champ Vitali Klitschko. Wladimir looked "scared" and fought a "very boring," "safety-conscious" fight, the Londoner said.
"I'd rather fight Vitali," Haye said. "It'd be better for the crowd."