Kinnick, Zama looking for tourney titles
---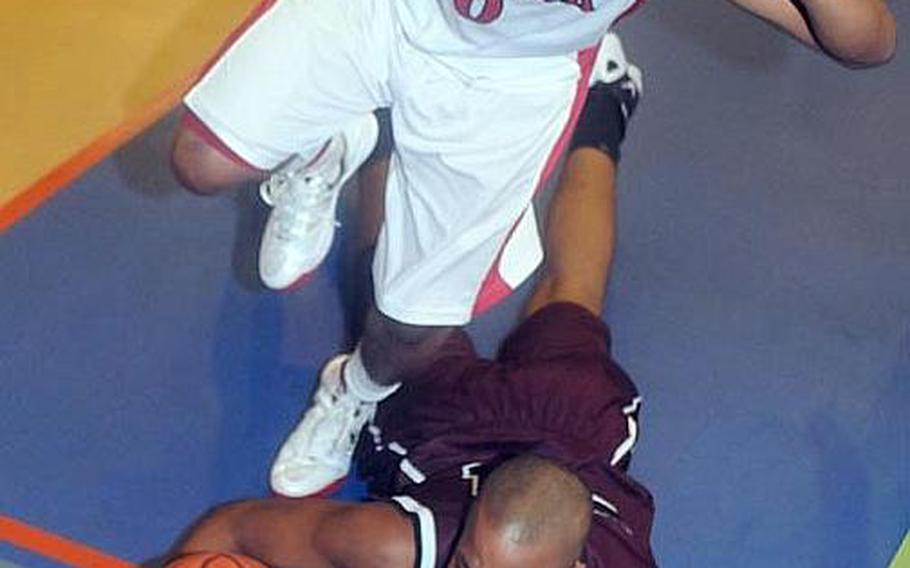 MISAWA AIR BASE, Japan – Appearing at or near the top of the Kanto Plain Association of Secondary Schools wrestling heap is old hat for Nile C. Kinnick. But for Zama American, being perched atop the DODDS Japan basketball mountain is something that hasn't happened in five years.
The Red Devils enter Saturday's Kanto Plain finals at Yokota favored to make a clean sweep of all 10 regular-season dual meets and the tournament title. Zama's boys head to the DODDS Japan tournament at Robert D. Edgren, aiming for their first league title since winning back-to-back in 2007-08.
Coach Gary Wilson isn't just focusing on the Kanto finals; he also has one eye on the Far East tournament, which the Red Devils host Feb. 19-21.
"This week is like the start of a giant, long tournament," said Wilson, who swept the Far East tournament freestyle and dual-meet titles the last time he coached the team three years ago, giving Kinnick seven total. "We're still improving, but so is everybody else. We have to rise up to that level."
That level is Okinawa's powerhouse Kubasaki and Kadena teams, with 27 Far East titles between them and 1-2 finishers at the "Beast of the Far East" tournament last month at Kinnick. The two put 11 total wrestlers in the "Beast" finals on Jan. 12.
"As many as they had in the finals, it makes you nervous," Wilson said. "Usually, one or the other is ahead of or with us. This year, it's both. From here on out, it has to be tournament intensity for us."
Saturday's tournament starts at 9 a.m. at Yokota High School's Capps Gym.
Parish Jones, coach of the Trojans boys team for the second season, found his path to Misawa Air Base, along with all the other DODDS Japan teams in the Kanto Plain, delayed because of day-long snow in the Tokyo area.
"The weather's nasty out there, and the further north we go, the nastier it will get," he said.
The Kanto teams were set to depart their bases at 8 a.m. Thursday. Tournament play is scheduled to begin Friday, with the format switched from pool-play and single-elimination to a strictly double-elimination format, with teams seeded based on their DODDS Japan and overall win-loss records.
Host Edgren was scheduled to play abbreviated non-tournament games on Thursday afternoon, one each against Matthew C. Perry and E.J. King, which left their home bases on Wednesday afternoon by air.
It's been awhile since the Wilberto Badillo-Carlos Walter Zama teams dominated both Kanto and DODDS Japan, winning the latter title twice back-to-back and reaching the Far East Division I Tournament Final Four before finally losing back-to-back games to close the 2006-07 season.
"A little unusual," said Jones about the current team, which sports a 12-game winning streak. "I'm proud of the kids. They handle it (the pressure) well. They don't look at it as wearing a bull's-eye; they come out and play every day and enjoy themselves."
Kinnick's girls, unbeaten in DODDS Japan play and whose only two losses are to 15-0 American School In Japan, are a prohibitive favorite, sporting a backcourt of De'Asia Brown and Alyshia Allison said to be the school's best in two decades, and rebounding force Mashiya McKinney.
The championship games are scheduled for 4 p.m. for the girls and 5:30 p.m. for the boys on Saturday at Edgren's high school gym. Games will also be played in the middle school gym.
---
---
---
---