Far East track - Day 2
Kinnick, Zama defend titles as more records fall
by
Dave Ornauer
May 23, 2017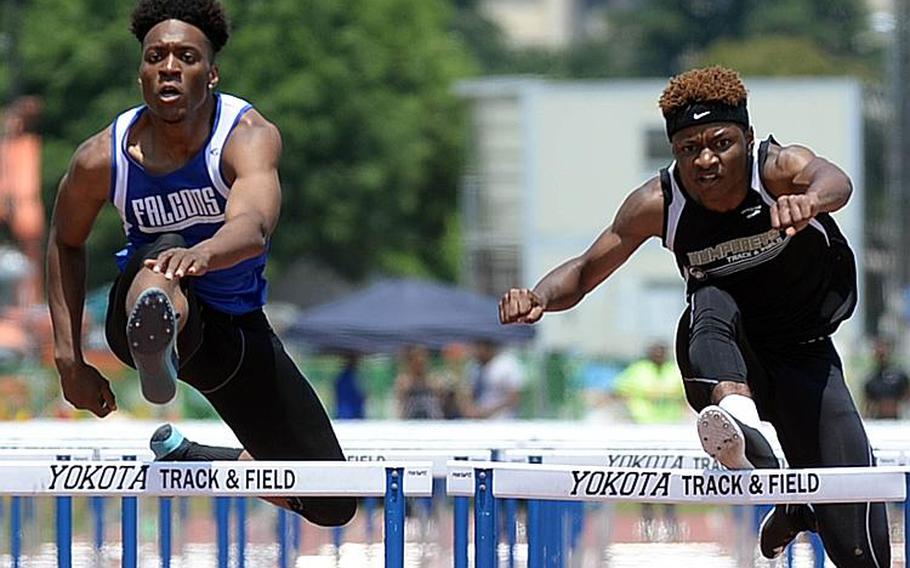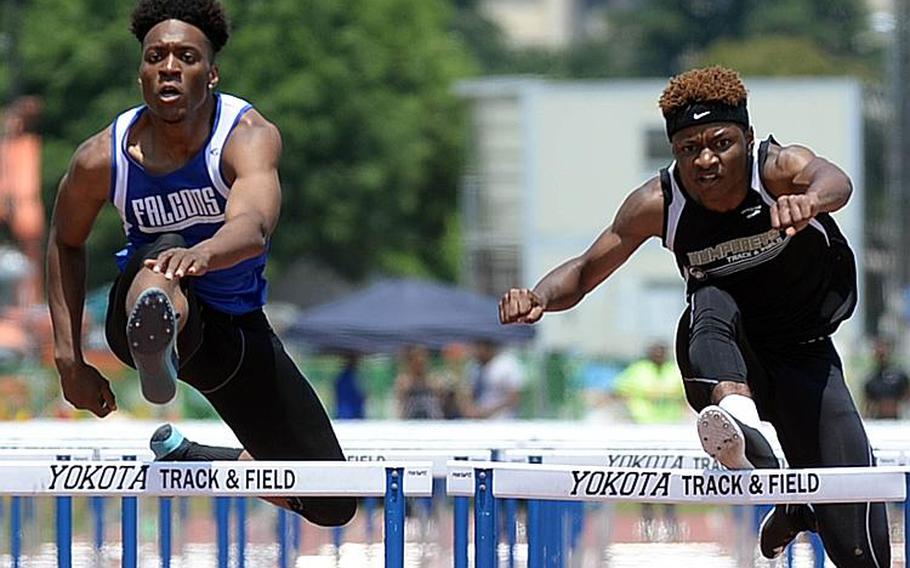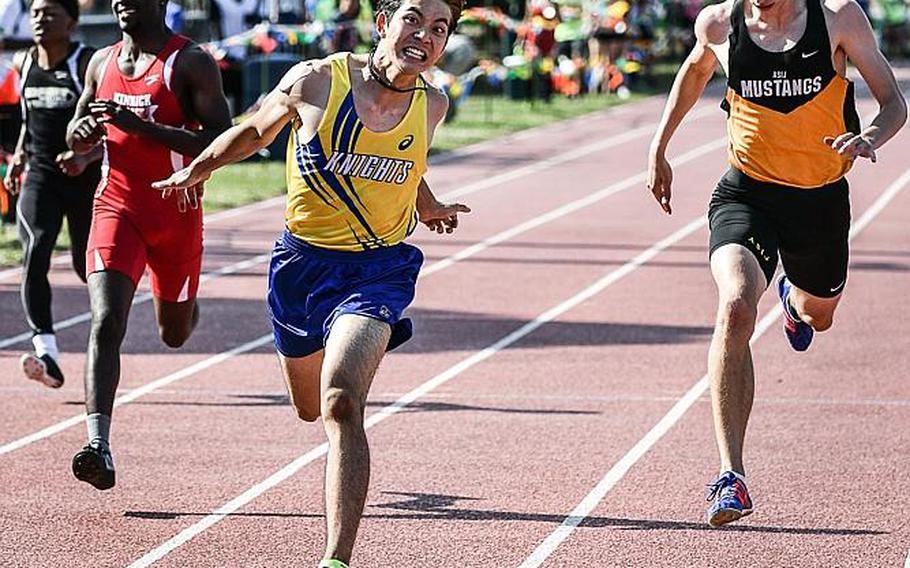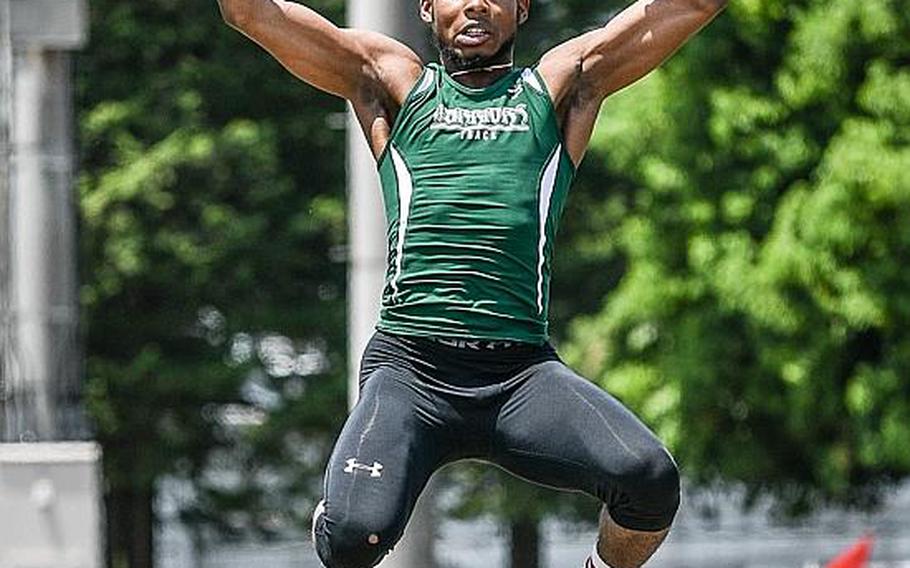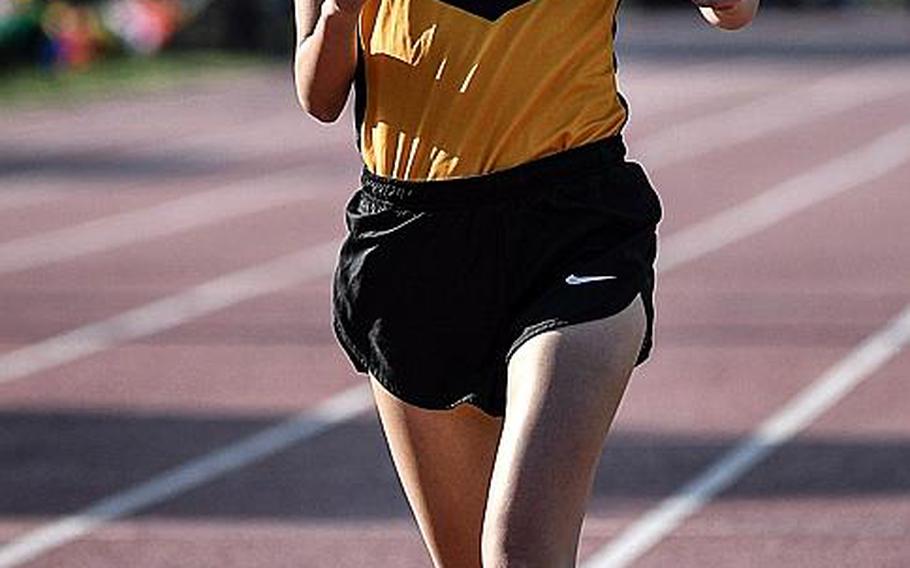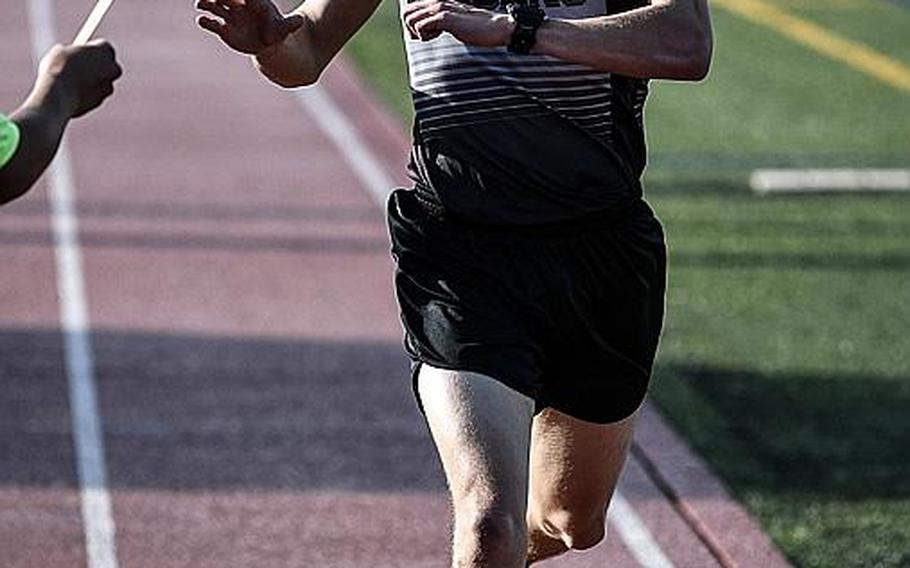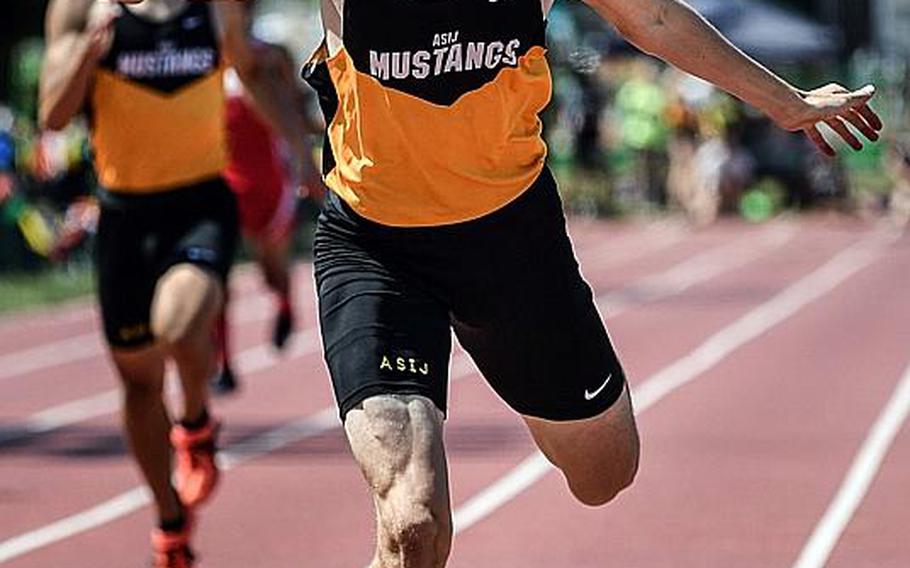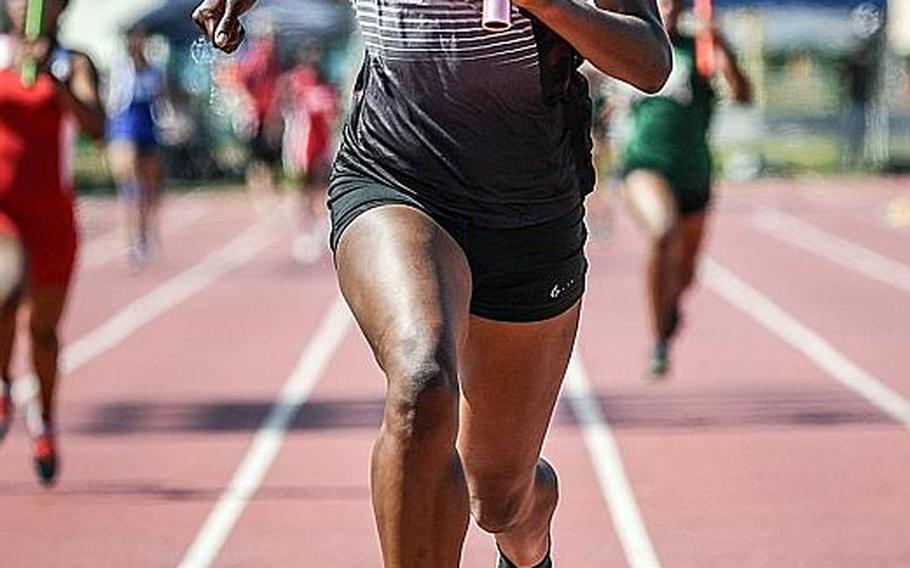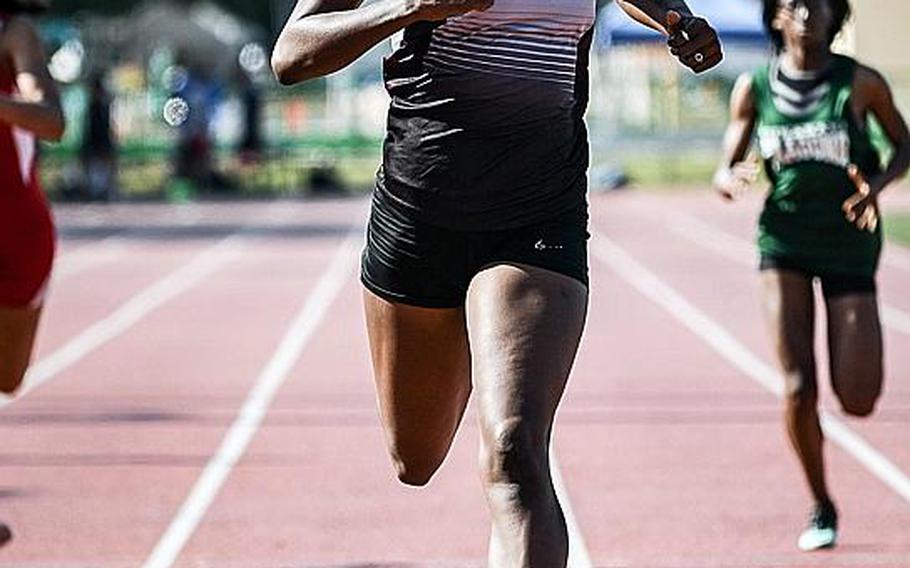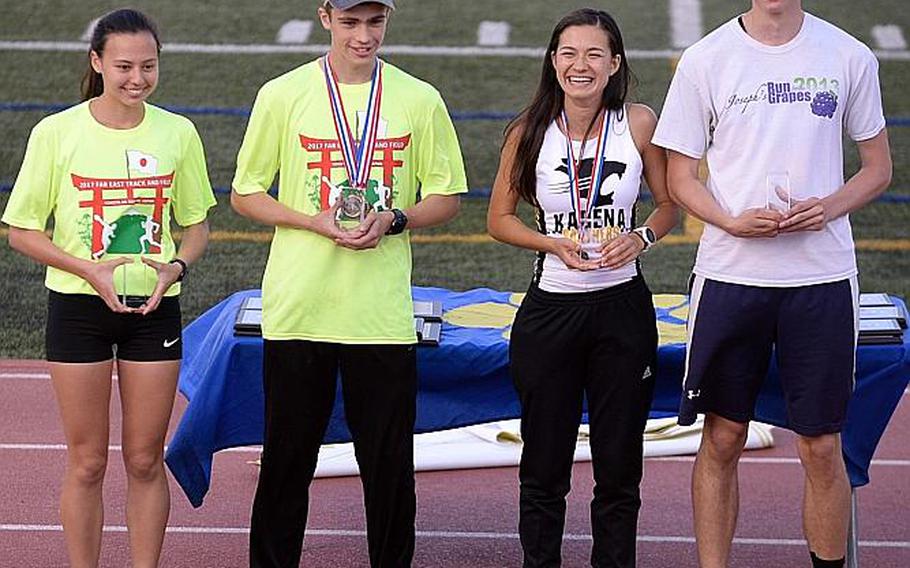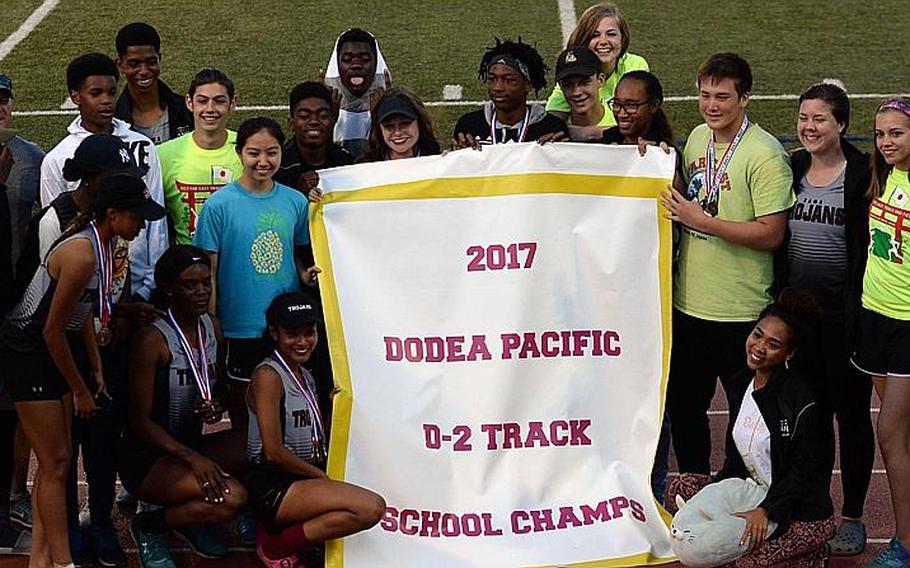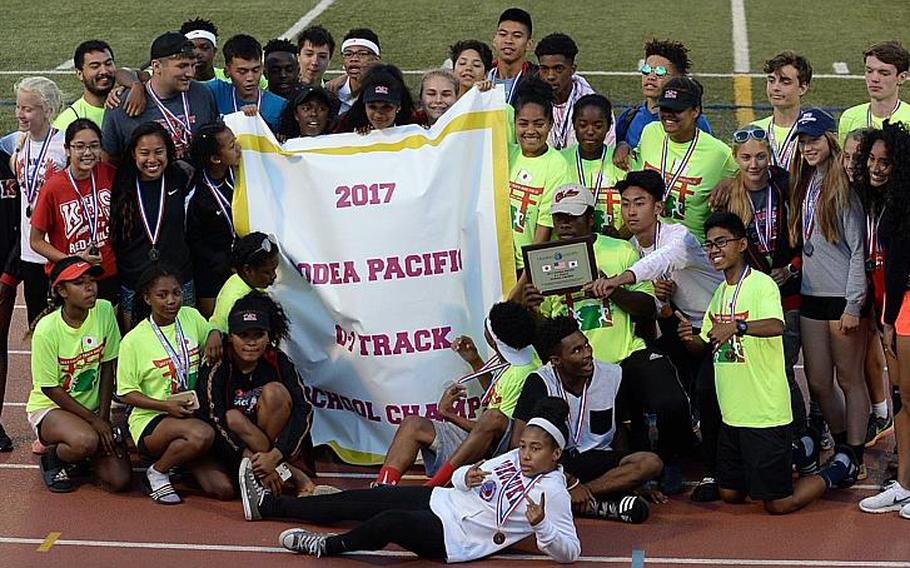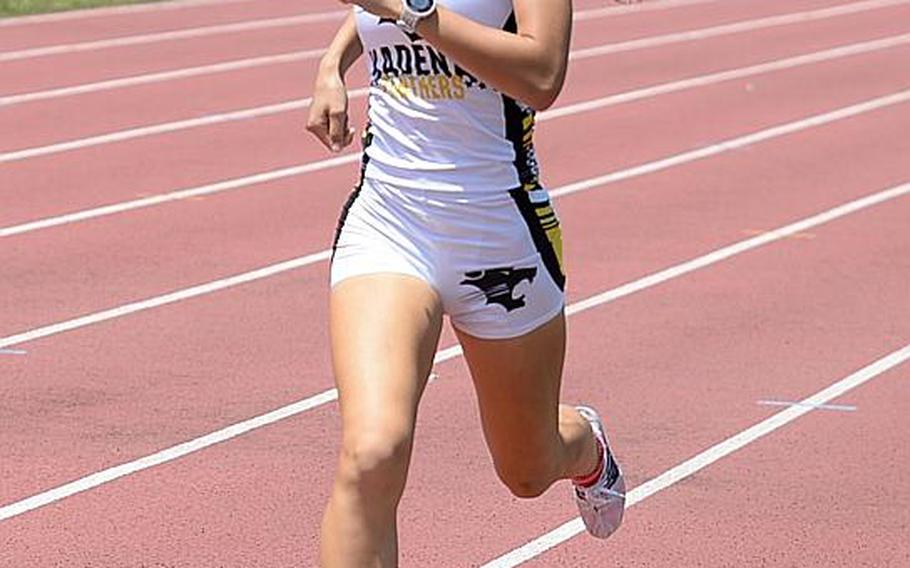 YOKOTA AIR BASE, Japan – Ti'Ara Carroll said she couldn't think of a better end to her four-year career as a Zama sprinter.
Another meet record for the senior captain and her relay teammates. A fourth straight Far East Division II girls team title and overall school banner.
"It's a great way to end my senior year," Carroll said after she, fellow senior Tasia Nelson, junior Faith Bryant and freshman Gwen Andersen broke their own meet record in the 400 relay. "That's the way to go out, with a bang."
The Trojans foursome on Tuesday shaved .02 seconds off the relay record they set in preliminaries Monday, clocking 48.72 seconds in the final. That came on top of the Pacific region record of 48.54 they set a week earlier in the Kanto Plain finals.
To top it off, the four also won the 1,600 relay, the last event of the two-day Far East meet, though not in record time.
"I'm sad that we couldn't break our (Pacific) record" in the 400 relay, Bryant said. "But we got the (meet) record and I got to run with these guys one more time."
For Andersen, the joyful moment also brought some sadness, as Carroll and Nelson graduate next month. "I'm getting a little emotional," she said. "It's the last time I'll run with these guys. I'm kind of sad."
While the Trojans brought home a fourth straight Division II title, Nile C. Kinnick made it three straight Division I overall school banners, and also captured its third straight girls team championship.
For Red Devils coach Luke Voth, every one of the three titles "has something unique about them that makes them special. Our kids have high expectations. I attribute that to their hard work."
Nelson bid her individual farewell to the Far East meet between the relay runs, topping the meet record in the 200, clocking 25.56 seconds, beating the mark of 25.73 set two years ago by Kubasaki's Kaelyn Francis.
"I didn't know what (the record) was," Nelson said, adding that she was eyeing the manual timer at the finish line as she approached. "This was all out for me. The 200 is my main event. It's the one I train for."
The two records broken by Zama girls runners headlined the final day of the Far East meet as six meet records fell, bringing the two-day total to 10, including the Pacific girls shot-put record.
As a bonus for the Trojans, distance specialists Hunter Lund and Jessica Hibler were named Division II Athletes of the Meet. American School In Japan senior Britt Sease and Kadena senior Wren Renquist were so named on the Division I side.
"I'm so glad," Kadena coach Maureen Taylor said of Renquist. "We were hoping she would get that. She's worked so hard for it."
Record breaking wasn't limited to Zama girls athletes. Lund shattered the meet record in the 3,200-meter run, clocking 9:43.44, topping the previous mark of 9:57.35 by Yokota's Daniel Galvin a year ago. His closest opponent was more than 17 seconds behind.
"He's a machine. Nobody came close to him," Trojans coach DeAngelo Galang said. "It's a good way for him to go out, for sure."
Despite running with a blister on his left foot, Sease cut .43 seconds off his meet-record 400-meter time of 48.59 set last May 20.
He said he could have gone faster had the blister not affected him in the first 100 meters. The blister developed during Monday's competition in which he ran preliminaries in the 200 and 400 meters.
"But he still went for it," coach Ryosuke Suzuki said of Sease. "He deserves it. Even with the blister, he ran every race perfectly. He ran this meet for the team."
Brianna Hunter closed her brief career with Robert D. Edgren by shattering the meet record in the girls discus. The senior transfer from Missouri threw 33.89 meters on her last try, then broke down and cried as she realized what she had done on her final high-school throw.
"I let it go," Hunter said. "I knew I was going to get something big. I was just going to leave it all out there, and I did."
Hunter's throw broke a 5-year-old record set by Zama's Christian Garner, 33.12.
Helping lead the Red Devils to that D-I title three-peat was jump specialist Exotica Hall. The junior leaped 1.6 meters in the high jump, breaking the 5-year-old record of 1.56 set by Arrianna Guerra of Zion Christian.
Hall came up short of her personal-best 1.65 set a week earlier in the Kanto finals, and said she didn't realize what the Far East meet mark was going into the event.
"I feel good about that now," Hall said, adding that she'll try to better her performance during her senior year. "For sure, on a good day, I know I can do it."
Twitter: @ornauer_stripes