Kinnick wrestlers keeping alive a winning tradition
by
Dave Ornauer
December 8, 2005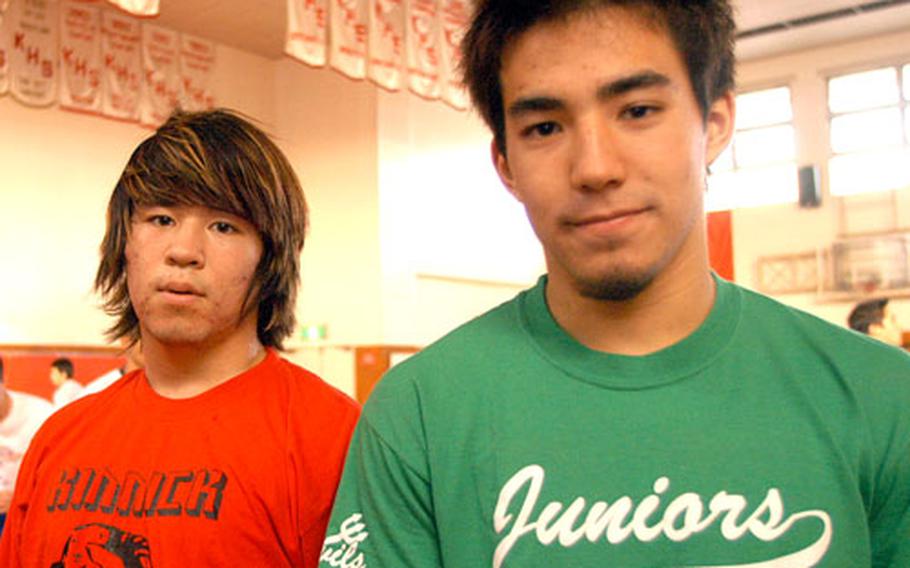 Scott Smith has been gone for three years, a bespectacled, diminutive man who masterminded a Nile C. Kinnick wrestling program that captured three Far East titles in his seven-year coaching reign — the most successful period in school history.
Yet signs of his legacy are everywhere, current wrestlers and two members of the Red Devils' coaching staff say.
"Ever since Coach Smith left, Yama [senior 158-pounder Yamato Cibulka] and I have tried hard to keep his legacy alive," said senior 148-pounder Kenji Doughty, who along with Cibulka are defending Far East champions. "It definitely shows."
"It's present today," added Go Yamada, a 2003 Far East gold medalist in Smith's final season who's returned from two years of college in Washington to assist new head coach Richard Huffer.
"Everybody shows up and gives 100 percent in practice. It shows when we travel to tournaments. We see the commitment from everybody. Even though he's not here, it's still there. They demonstrate and represent all the things that Coach Smith taught us."
Yamada, Cibulka and Doughty are the connection to a coach who led the Red Devils to Far East dual-meet titles in 2001 and '02 and a individual freestyle team crown in 2001. Smith also coached 10 Far East individual gold medalists, including Yamada, and had Cibulka and Doughty as freshmen in his final season.
Two seasons under Robby Rhinehart, Smith's successor, brought Kinnick two Far East dual-meet runner-up finishes. But something, particularly team unity, was missing, said Cibulka and Doughty, who approached Huffer before the season and "said we wanted to go back to the way it was under Coach Smith," Huffer said.
Now, Yamada schools up-and-coming Kinnick wrestlers in technique, fellow assistant Duke Alexander is in charge of conditioning, while Cibulka and Doughty behave as coaches on the mat, supplementing Yamada's teaching with stressing the importance of heart.
"You can't coach heart, but you can bring it out," Yamada said. "Coach Smith brought out the heart in us. And that's what we're teaching these guys."
Beyond Smith's mat success was the life lessons he taught his charges, said Huffer, who coached Yokosuka Middle School wrestlers before taking the head coaching job and is attempting to impart those same lessons on his squad.
"You want them to be successful on the mat, but that's not always the important thing," Huffer said. "Small things. Being on time. Winning and losing with dignity. "
To Yamada, Cibulka and Doughty wrestling was a "culture" under Smith, right down to the pancake breakfasts the coach hosted on Sundays following tournaments or dual meets.
"It's not just the rewards of gold medals. There's more to it than that," Yamada said. "It was almost like family. You're disciplined and committed, not just to yourself, but to the team. You're being better than you possibly can, being the best you can be."
"We wrestle for and trust each other," said Doughty, whose older brothers Billy and Jonny won gold medals under Smith. "It's like, 'We have to do this for the team.' It's a big deal."
In Kinnick's first event under Huffer's reign, the Red Devils secured the team title and had four wrestlers win gold medals in Saturday's Department of Defense Dependents Schools-Japan Invitational at Misawa Air Base's Robert D. Edgren High School.
While there, Huffer said he sensed that the family atmosphere and team unity had resoundingly returned. He saw it in the way the team circled up before the tournament and loosened up by cracking jokes, sitting together in the stands, then cramming all 25 wrestlers and coaches in a hotel room that night and went around the room asking and answering "what-if" questions.
"We laughed about that for hours," Huffer said. "When Coach Duke and I went back to our room, we said what a teambuilding experience that was. We grew closer, and it didn't have anything to do with wrestling per se."
In no way does he feel slighted, Huffer said, by the devotion his charges show the Smith way. "I have so much respect for Coach Smith," said Huffer, who coached middle school wrestling in Kokomo, Ind., before coming to Yokosuka four years ago. "He was a great coach. I wish I could have had more time under him. We did some great things here. I have such big shoes to fill. I hope I can be half the coach he was."
Having succeeded in the first tournament of this season, Huffer feels only good things lie ahead for his team.
"I can't wait to get to practice every day," said Huffer, adding that he and his team were "exhausted" from their trip to Misawa, "but I couldn't wait to get to practice (on Monday). The team is jelling. The coaches are jelling. A lot of good things are happening right now."
The future looks just as bright, in Yamada's eyes. "It can last if everybody on the team next year, the new guys and people who are juniors today and will be seniors next year … keep that tradition going. As long as Coach Huffer is still here, it will last," Yamada said.