Kinnick will need help from new contributors to repeat
by
Dave Ornauer
August 28, 2019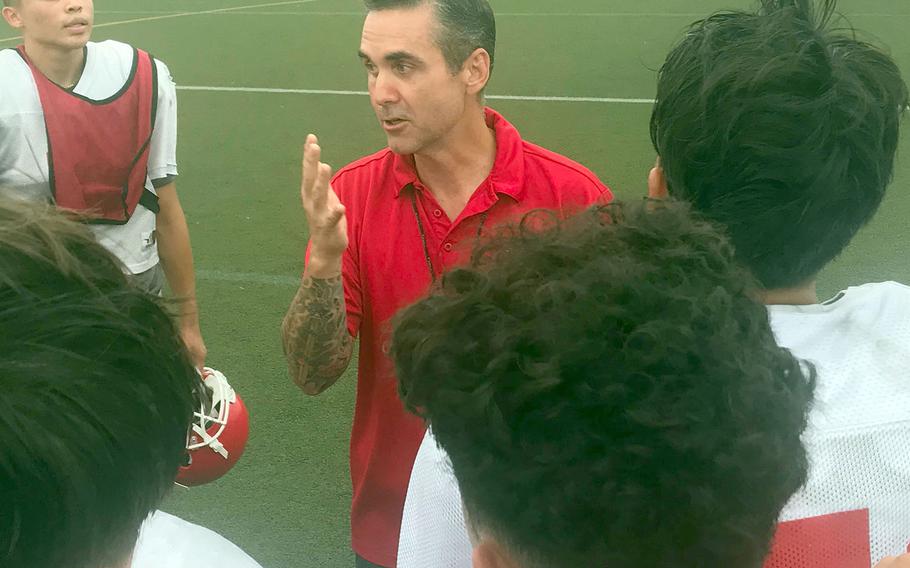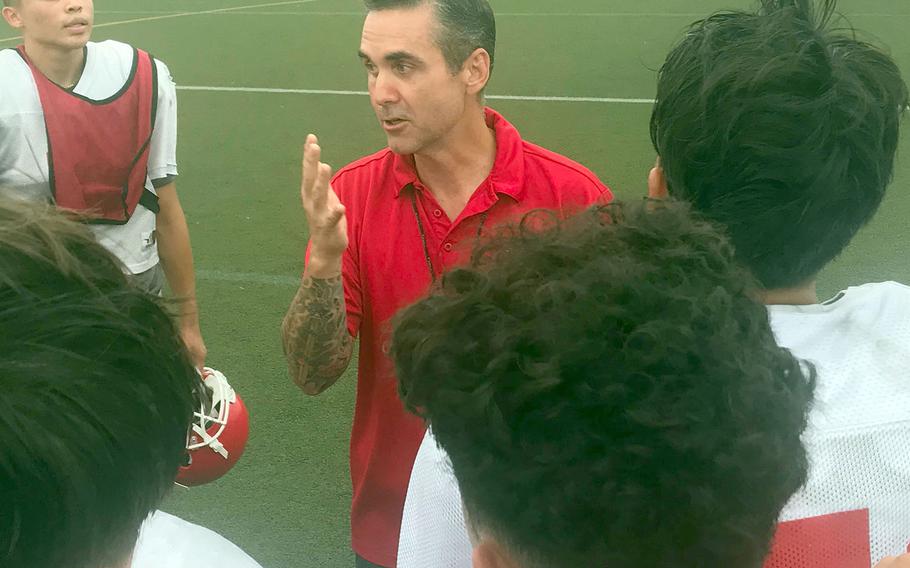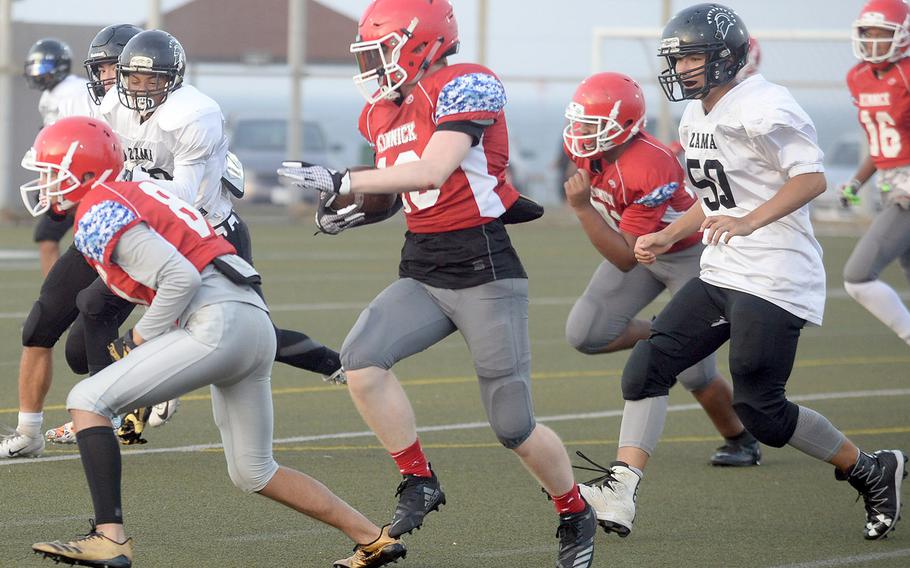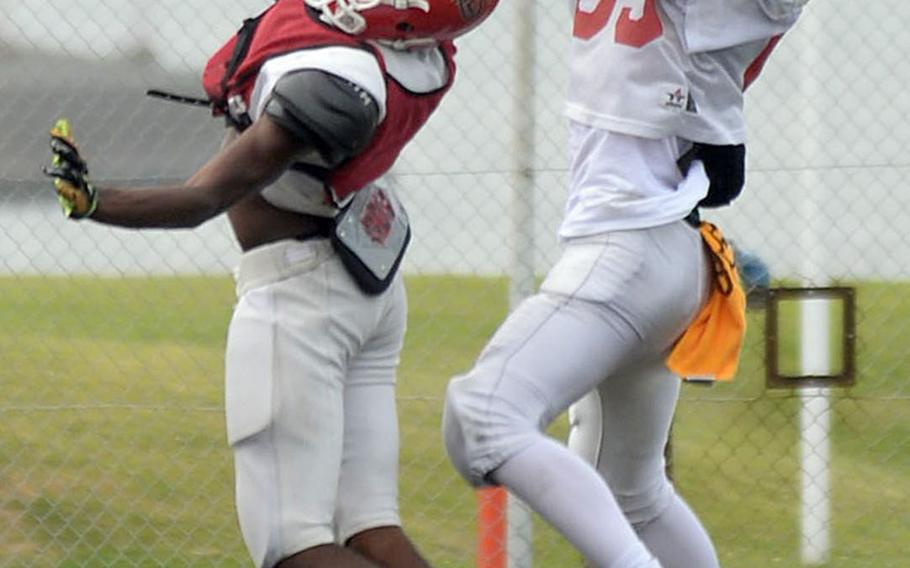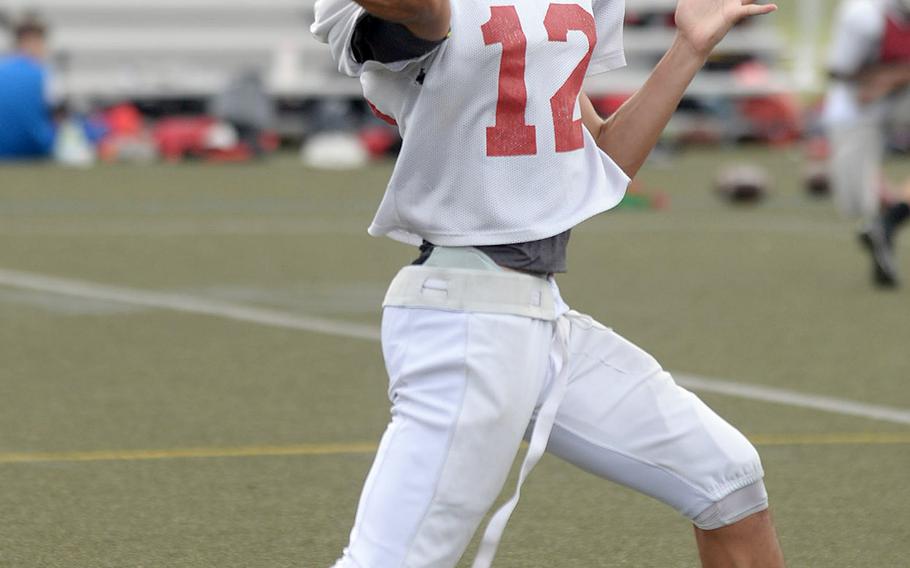 Sixth in a series of DODEA-Pacific high school football previews.
YOKOSUKA NAVAL BASE, Japan – One might think that with the entire offensive line, backfield and receiving corps either graduated or transferred, things might prove difficult for Patrick Kelly and Nile C. Kinnick in its bid to repeat as Far East Division I champions.
So what do the Red Devils do? Find players to be Kelly's next band of heroes.
Don't for one second believe that Kelly, the Red Devils' senior quarterback, is moping about who's gone, 10th-year Kinnick coach Dan Joley says. Nor are he or his quarterback concerned that the Red Devils are now the team carrying the bull's-eye on front and back of their jerseys.
"He's not hanging his head about anything," Joley said of Kelly, who went 75-for-140 for 1,294 yards and 17 touchdowns for a Red Devils team that went unbeaten for the first time in 22 years and won their first Far East D-I title in school history.
There's little reason for worry, quarterback and coach say. There's plenty left in the cupboard from a season ago and the PCS plane also helped the Red Devils, as they look to pick up where they left off.
"I'm confident, definitely," Kelly said.
Stepping in to the shoes of the departed are skilled linemen such as Marcellus Harris, a holdover from last year, along with newcomers Jayse Melo and Brandon Kidd, who transferred from Hawaii's Radford High School. They'll fill in for a senior line that graduated last spring, as will Kaleb Leon Guerrero, a sophomore wrestler who will play guard.
Kelly's prime targets from 2018 also left, but Jamari Jackson, Ryo Nishiyama and Kou Nishiyama, all sophomores, will try to step in along with placekicker Daniel Burke, who will give receiving a try for the first time.
"He's trying to add to his resume as the best kicker in the Pacific, trying to be the best receiver in the Pacific," Joley said of Burke. "He's tall and athletic and he's got some leaps."
Jackson and the Nishiyama twins each saw action in the D-I final, which the Red Devils won 38-20 at home against Kadena last Nov. 10. "They're very seasoned receivers," Joley said.
Then there's Gabriel Stravers, the second of assistant coach Jason Stravers' three sons. The junior is being looked at as a linebacker and at several skills positions, Joley said. "He'll be dynamic for us in many different roles."
And there's Kelly, the offensive triggerman whom Joley says he views as a coach on the field. Long touchdown passes in two comeback wins, 34-33 at Kadena and 32-29 at American School In Japan, "set the tone for the season," Joley said.
"The way he practices and prepares, he embraces the (bull's-eye) target," Joley said of Kelly. "He worked very hard all summer and came to the first day of camp in shape. You could see a difference in his footwork, arm strength and accuracy."
In addition to his passing, Joley and his assistants are working on making Kelly a triple threat, adding more running plays.
"He's going to have a lot of yards on the ground this season," said Kinnick assistant coach LaRynzo Abernathy.
The schedule creates a challenge in that Kinnick plays six D-I foes, instead of four last year.
"There are no easy games," Joley said.
"We have to work way harder," Kelly said. "A lot of us are new to the varsity level. We have to put in the time and the (repetition) to be as good as we were last year."
ornauer.dave@stripes.com Twitter: @daveornauer