D-I boys
Kinnick upends ASIJ for first boys hoops championship
by
Dave Ornauer
January 30, 2018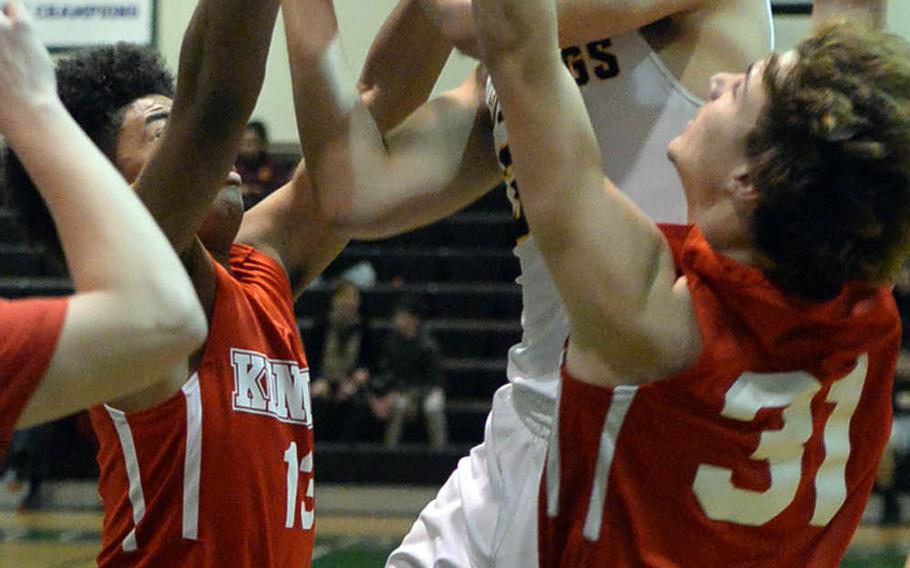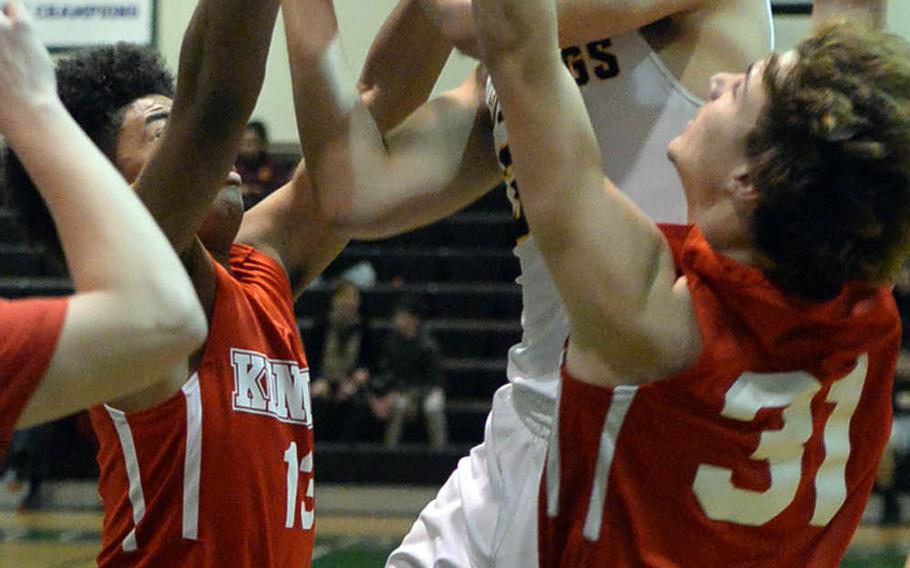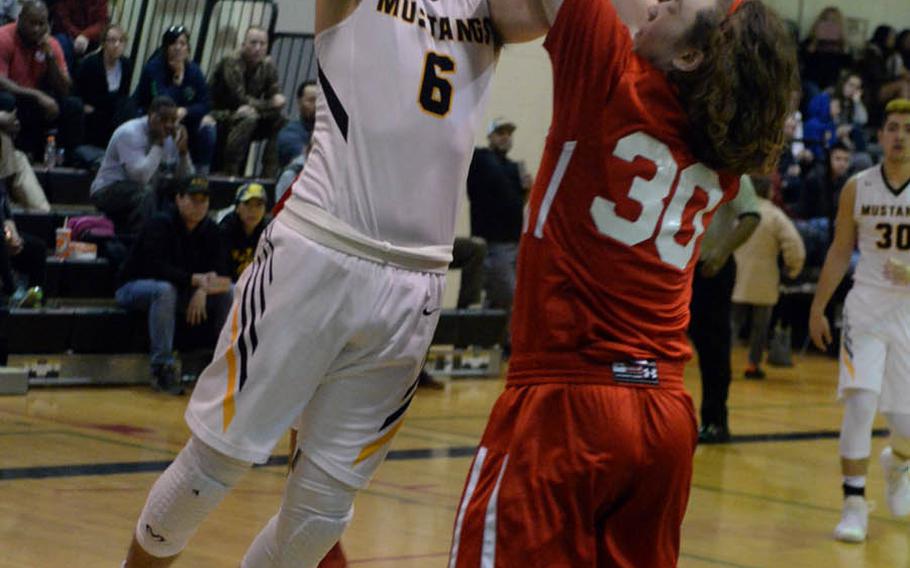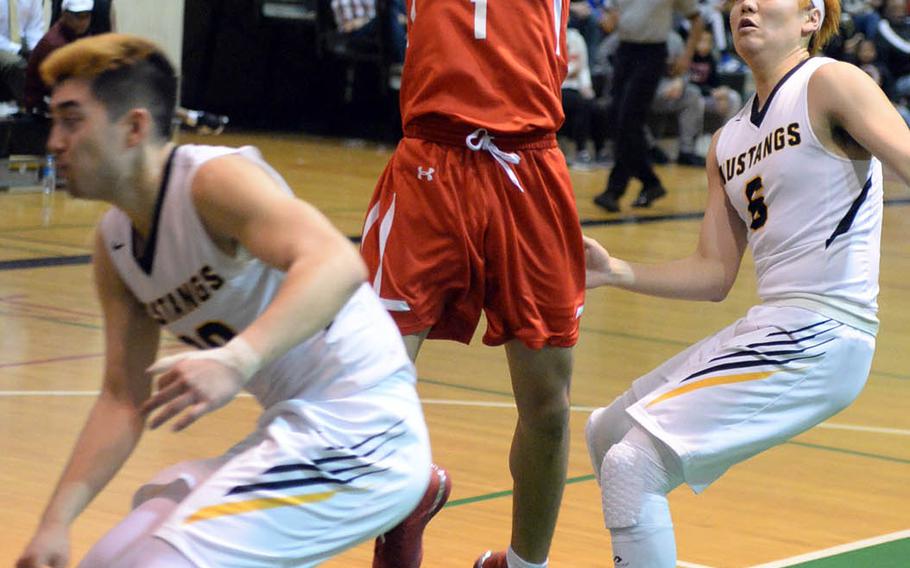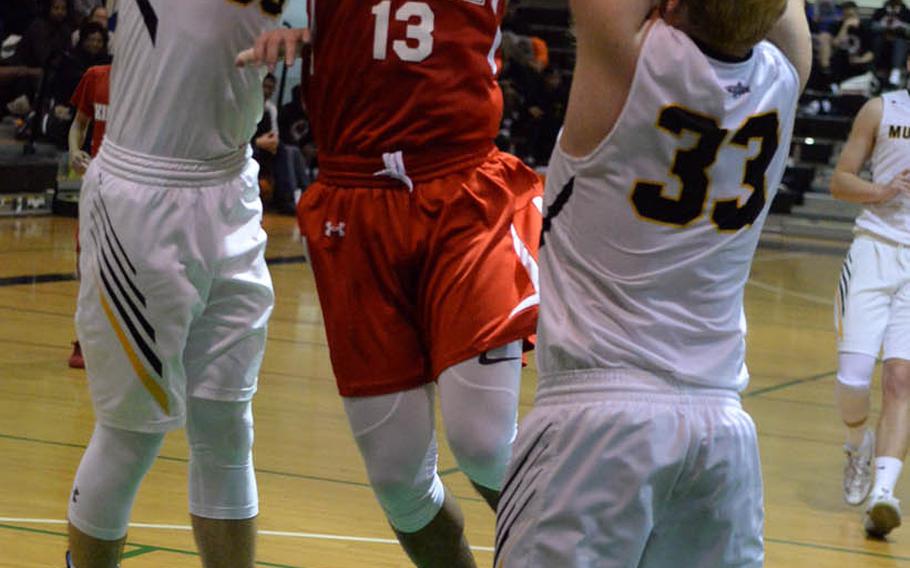 CAMP FOSTER, Okinawa – One knock on Nile C. Kinnick boys basketball this season was the Red Devils couldn't play defense.
That was one reason they lost to American School In Japan twice - by an average margin of 12 points.
On Tuesday, Davion Roberts and Kedrick Stockman Jr. answered the nay-sayers, combining for 43 points and nine three-point goals and holding the previously unbeaten Mustangs to just 50 points in a 75-50 Far East Division I Tournament finals triumph.
"We flipped the script," said Roberts, who led the Red Devils with 24 points. "Everything went as planned, rebounding, scoring, defense, holding a great team like ASIJ to just 50 points."
"We always talk about holding teams under 50 points," coach Robert Stovall said. "But if you look at the scoreboard, it's kind of indicative. We played defense tonight."
ASIJ had previously beaten the Red Devils 80-70 on Jan. 16 at Mustang Valley, and again 57-43 on Jan. 20 in a consolation game in ASIJ's own Kanto Classic.
With Monday's win, Kinnick captured its first Far East D-I boys basketball title in school history. ASIJ last won the title in 2013.
It was also Stovall's first Far East triumph in any sport since arriving at Yokosuka Naval Base in 1993. It was the Red Devils' first trip back to the D-I final since 2002, and it was the first All-Kanto Plain final since February 2009, when St. Mary's beat Yokota 35-33.
"It's an honor to be on the same trophy," Stovall said of his name going on the Fred Sava Memorial Trophy, named for the late St. Mary's coach, who led the Titans to that 2009 triumph in Sava's last game as Titans coach. He died in January 2010.
After a see-saw early start, the Red Devils pulled away for keeps midway through the first quarter, scoring nine straight points, helped by two three-point goals and three Mustangs turnovers. The Red Devils led by as many as 27 in the final quarter and were never threatened.
Stockman had 19 points, 14 coming in the second quarter with 12 coming on three-point goals. Gage Henderson added 12 for the Red Devils. Tyler Evert led ASIJ with 16 points and Koki Wiley added 14.
There are still two more days to the tournament as all Division I and II schools are pooled together in the first combined Far East tournament since 1982.
Twitter: @ornauer_stripes