D-I soccer finals
Kinnick rules in big-school turf rankings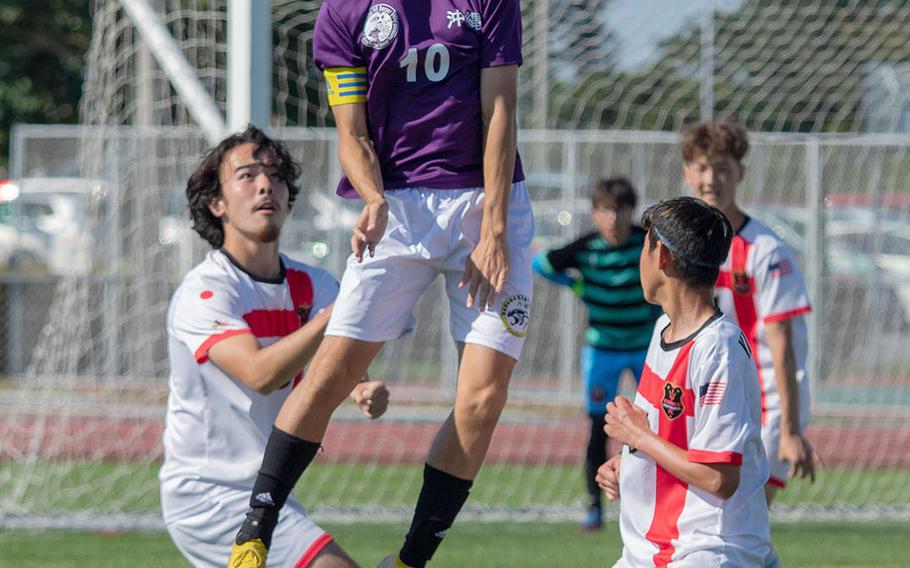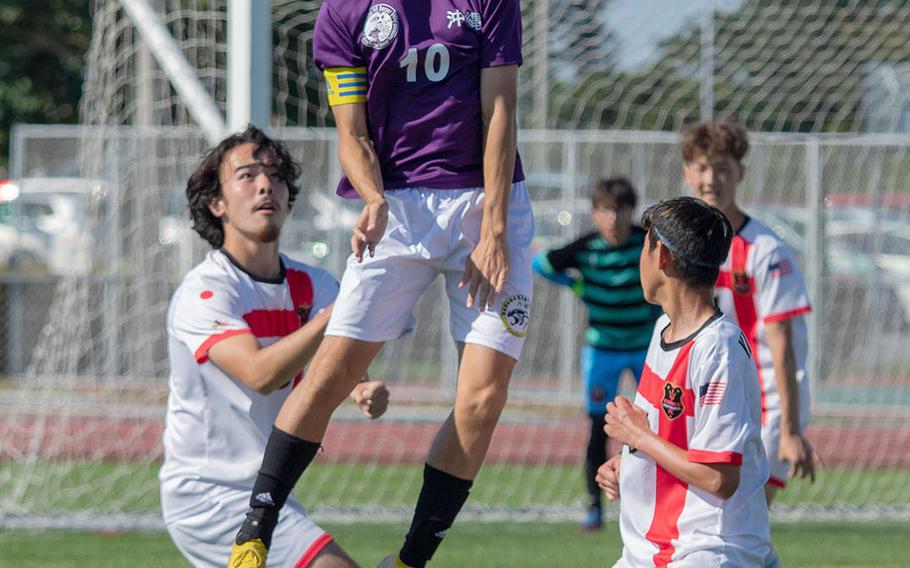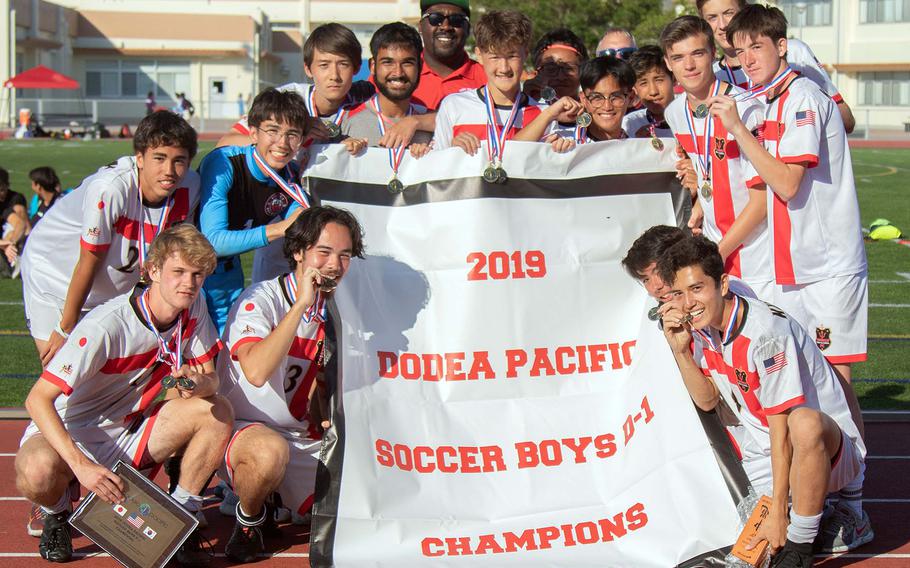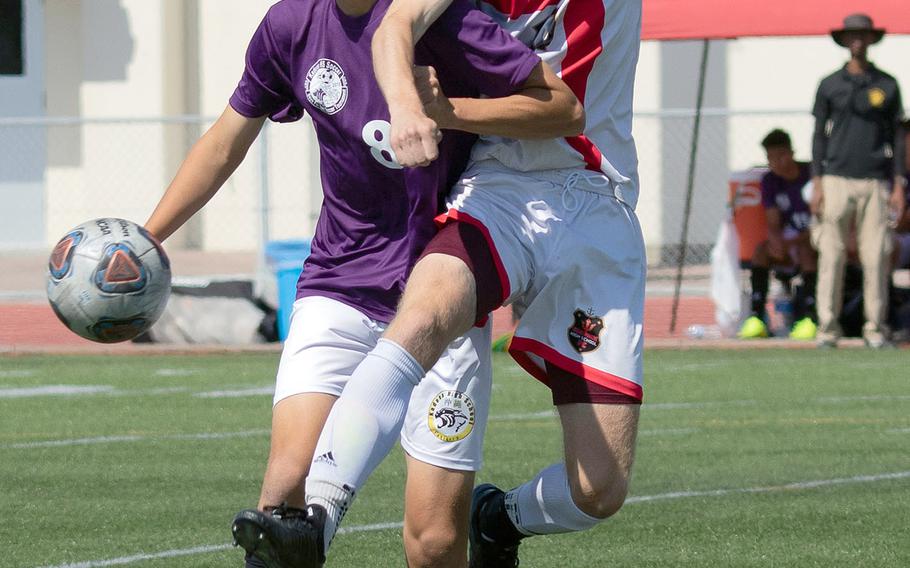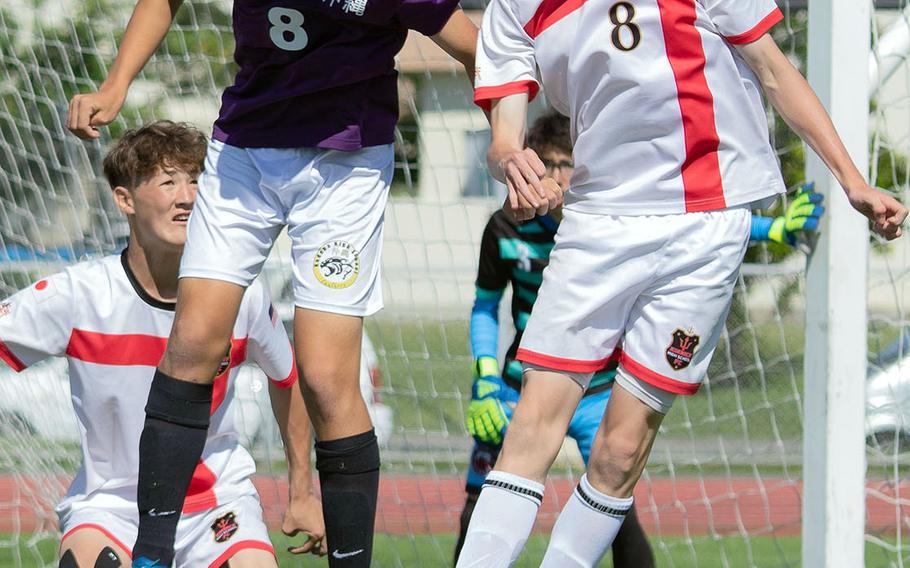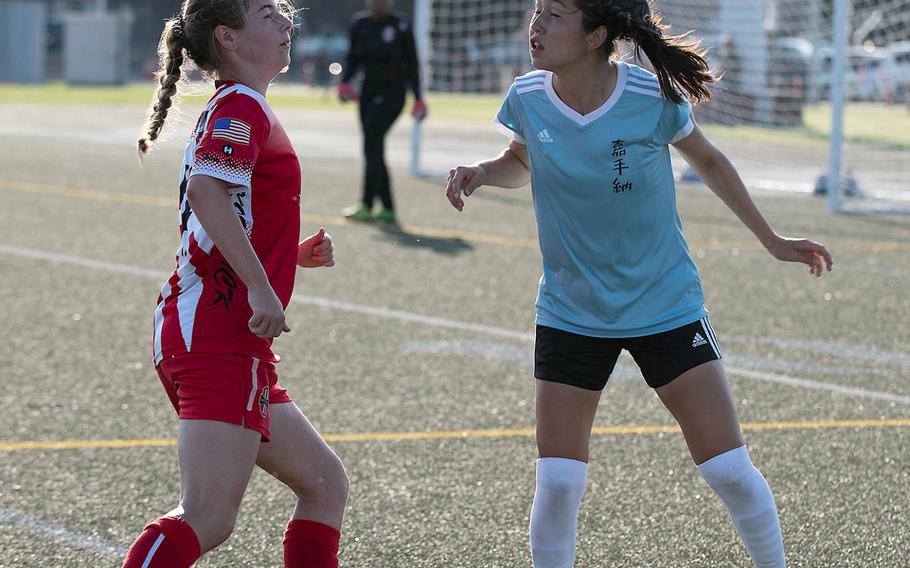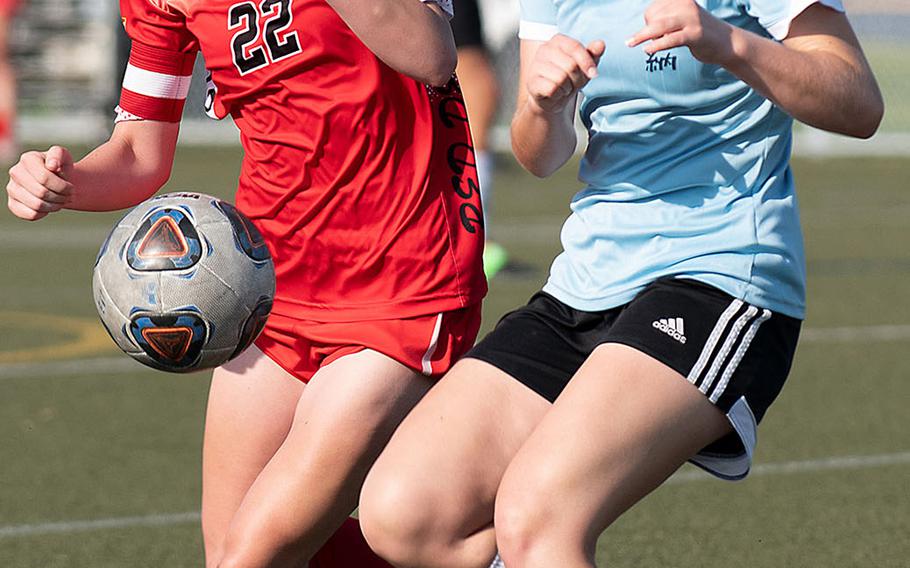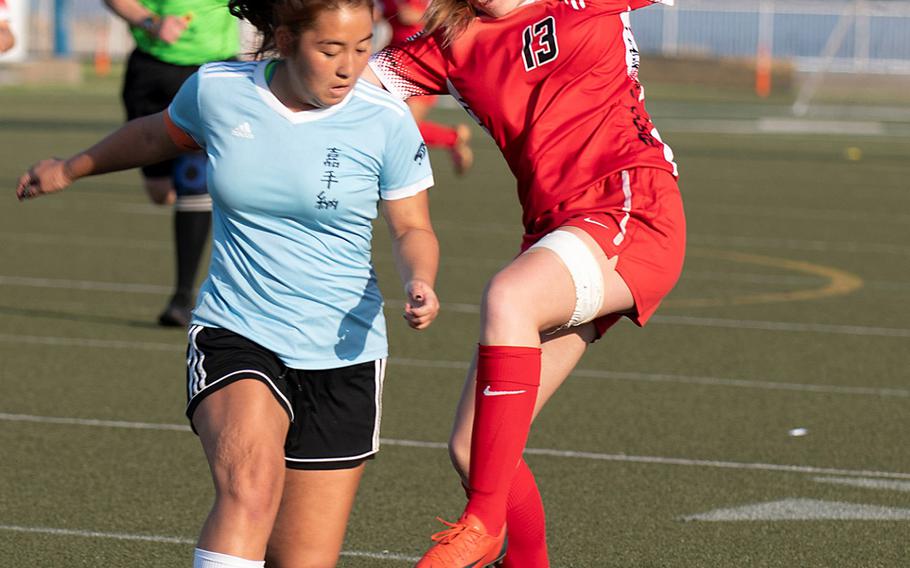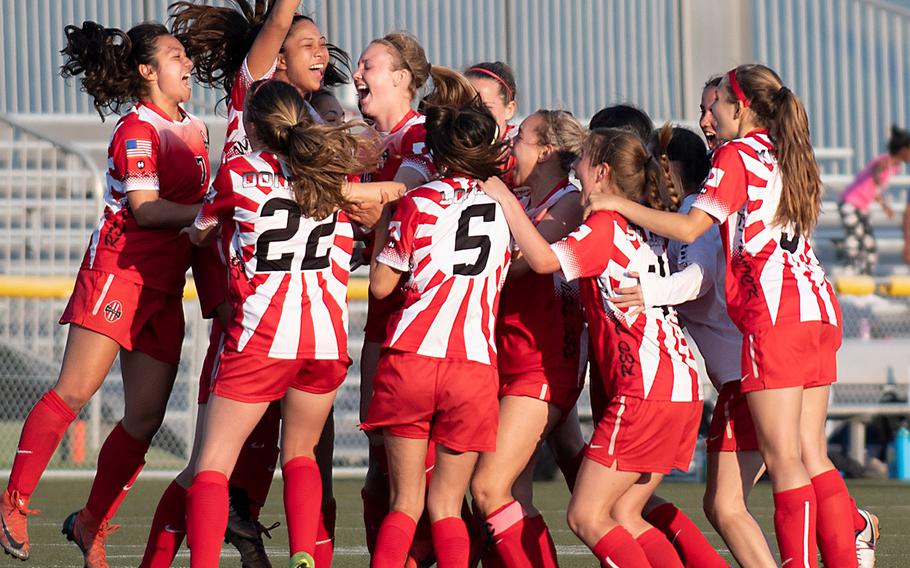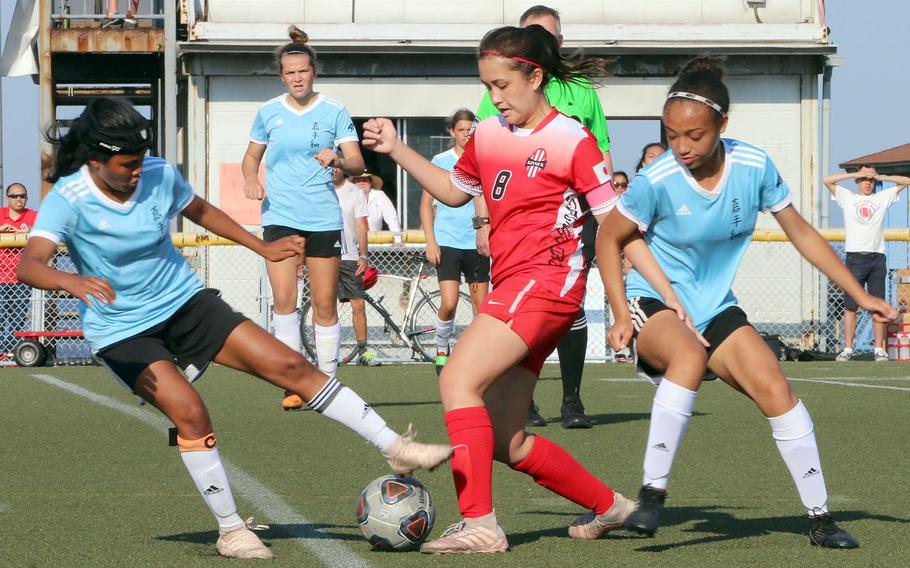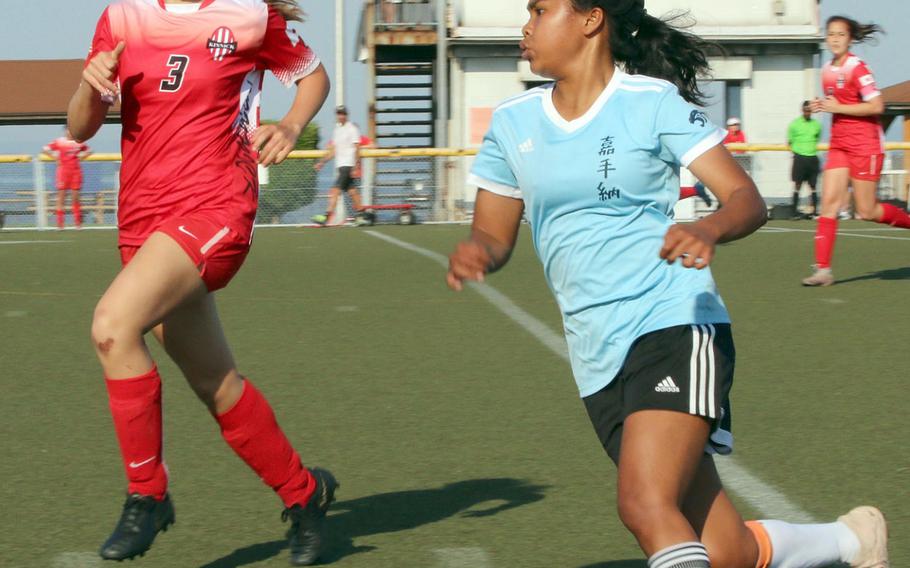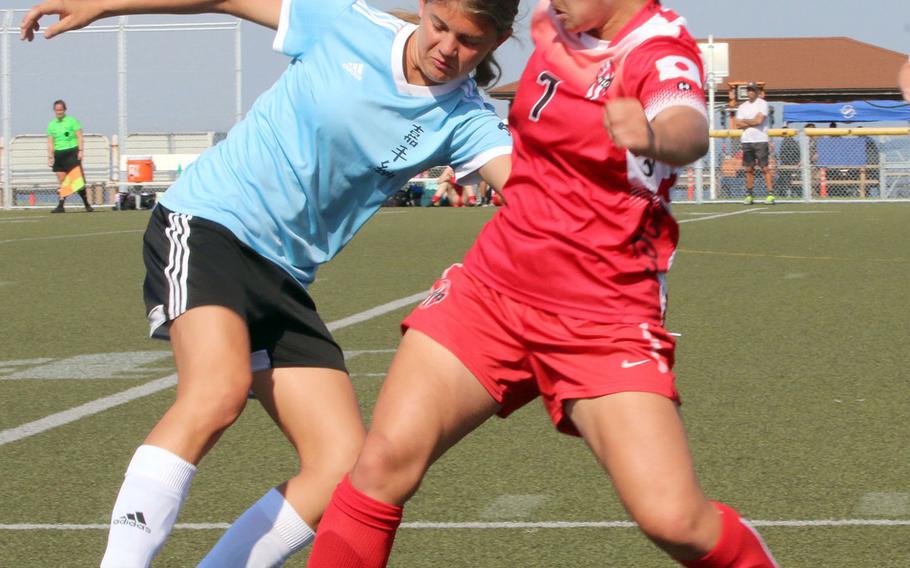 Nile C. Kinnick's boys and girls soccer team made school history some 1,000 miles apart on Friday afternoon at Yokosuka Naval Base and Kadena Air Base - with two wildly different outcomes in their respective Far East Division I soccer tournament finals.
Maggie Donnelly, Jenna Lynch and Jillian Mock each scored in the shootout at Yokosuka as the Red Devils outlasted Kadena 3-2 in penalty kicks to win their second D-I Tournament title in three years. Kinnick's girls have played in the Far East finals the last five years.
In the boys final on Okinawa, where such drama was hardly a bother, Kinnick's defense held Kadena's potent offense scoreless, and Jack Boran and Ryo Nishiyama each got their ninth goals of the season as the Red Devils blanked the Panthers 2-0 for their school-first D-I title.
GirlsKinnick 2, Kadena 1, SO (3-2): It was the second straight match the Red Devils won in penalties; the day before Kinnick dethroned defending champion American School In Japan 3-1.
"It's incredible," Kinnick coach Nico Hindie said. "I thought that the girls would be drained, mentally and physically (after the ASIJ match), but they came out and even though Kadena scored first, they fought back, they didn't let down. Kudos to Kadena. They're a fantastic team."
After a scoreless first half, Makayla Watts put the Panthers (21-3-2) ahead 1-0 in the 45th minute, but Donnelly got the equalizer 12 minutes later on a penalty kick for the Red Devils (20-1-2).
It stayed 1-1 through full time and two 10-minute extra-time periods, sending the match to penalties.
Kinnick missed its first two kicks, while Reina Callahan and Korina Radel converted for Kadena. But Donnelly, Lynch and Mock converted the next three for the Red Devils, while Radel, Brie Barnett and Megan Kirby failed to convert for the Panthers.
After losing the 2018 final 5-3 to ASIJ, the Red Devils "came back really motivated and wanting to put in the extra work" to earn redemption, Hindie said. "Outstanding. This is such a special group of players."
BoysKinnick 2, Kadena 0: The Red Devils boys climbed the ladder in tournaments they played this season. Kinnick took third place in the Perry Cup tournament in March at Iwakuni, then finished second in the DODEA-Japan tournament at the same venue in April.
"I am beside myself," said Red Devils first-year coach Tim Rippeth, who transferred to Kinnick from Humphreys last summer. "They played their hearts out. I am so proud of my guys."
Despite being shut out for most the first half and not getting a goal from Pacific leading scorer Kai Sullivan (35 goals), who earned tournament MVP and Golden Boot honors, the Red Devils didn't fret, Rippeth said.
Kinnick went in front to stay on Boran's goal in the 35th minute. Nishiyama iced it with six minutes left and the title was Kinnick's.
The Red Devils played just two matches before Far East following the DODEA-Japan tournament "and we came back from that long layoff a little rusty," Rippeth said. "But we found our form again, got stronger as we played on and we peaked at the right time."
The Red Devils finished 18-3-1 and the Panthers 12-3-7 for the season.