Kinnick, Kadena run off with track titles
by
Dave Ornauer
May 27, 2010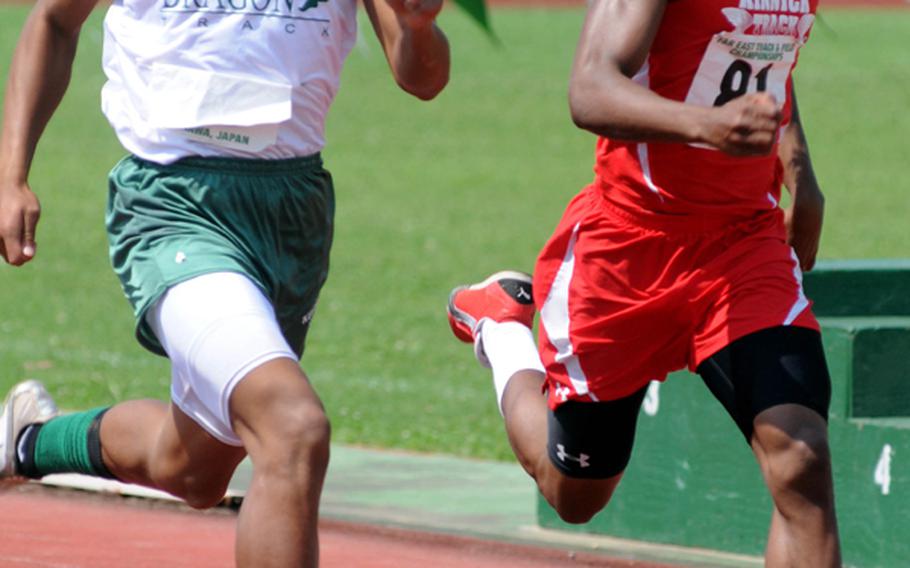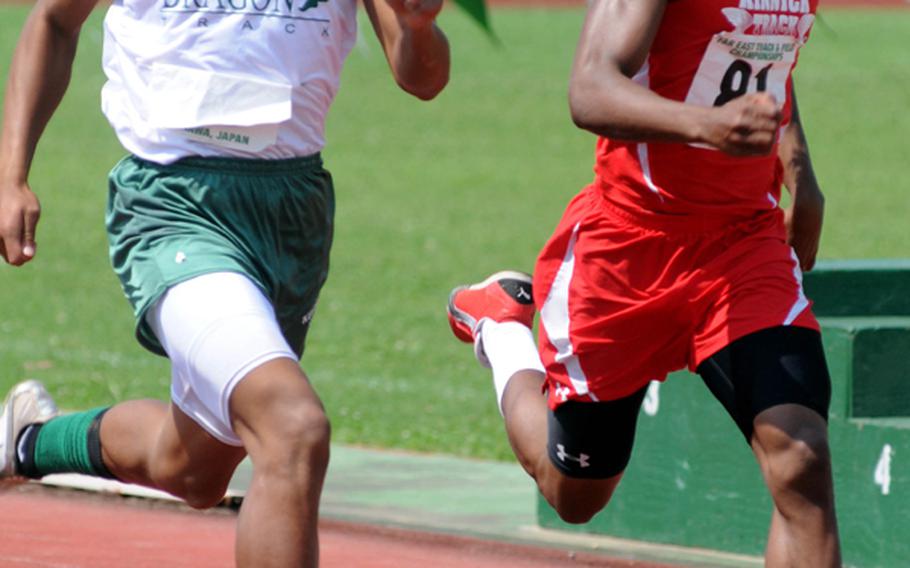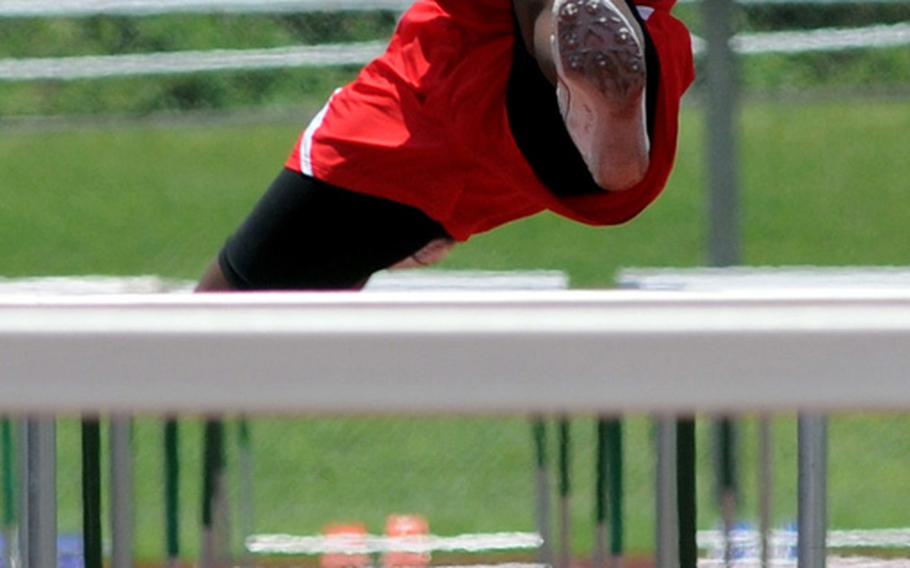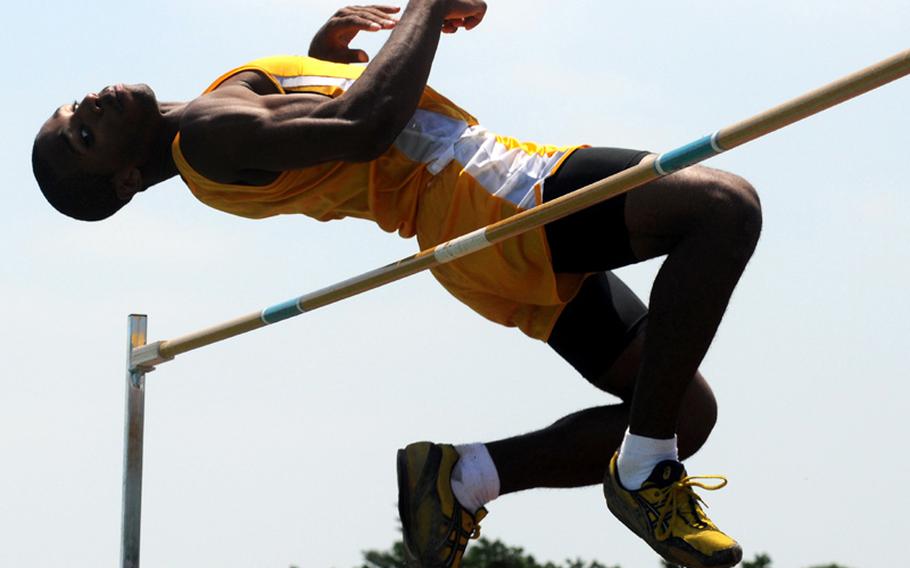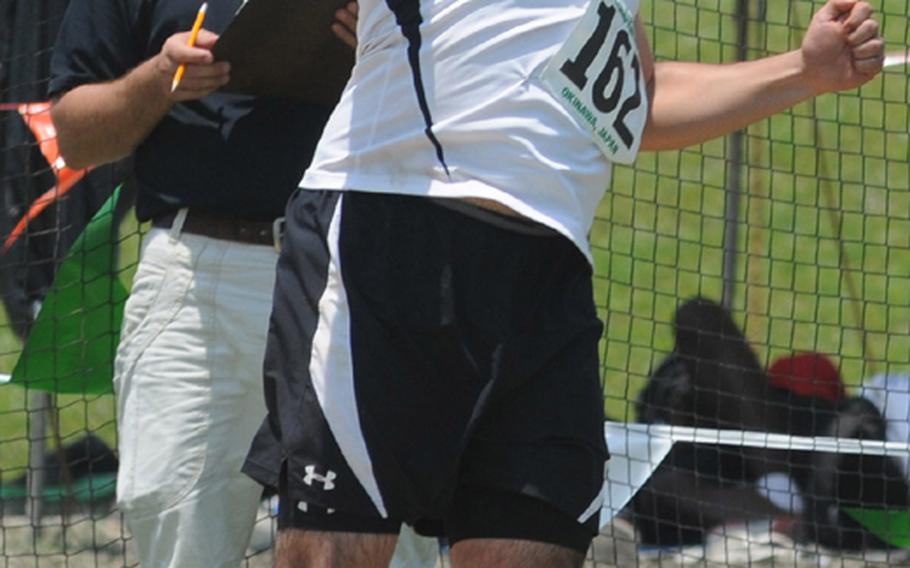 CAMP FOSTER, Okinawa — Chaun Lynn reached for the baton from his teammate Justin Smith. But he bobbled it, stumbled to the left, then crashed into the starting-block cart, losing his purchase and falling some 30 meters off the lead.
Ordinarily, that might spell disaster for a relay team. Not Lynn and Nile C. Kinnick's 1,600-relay unit on Tuesday at Mike Petty Stadium.
Lynn recovered and passed three runners to give the Red Devils the lead. They cruised to a nine-second victory over boys team champion Kadena, helping Kinnick finish second in the boys team standings and first in the combined.
"I kept telling myself, I refuse to lose," Lynn said. "When I dropped the baton and ran into that thing, I was thinking to myself: 'I am not losing.' So, I gave it as much as I possibly could."
"To have the intensity to go back and get the baton and pass three people. How often do you see that?" Kinnick coach Al Garrido said. "He hates to lose. It drives him. If it's within reach, he's going to do it. And he did it."
That relay capped the two-day Far East meet, with Kadena outdistancing Kinnick 157½-132 in the boys standings and Kinnick's girls edging out host Kubasaki 128-123. In the combined, Kinnick held a 260-241½ margin over Kadena.
Garrido recalled when he came to Kinnick from Guam four years ago how he was told that DODEA athletes and teams are at a disadvantage because of students' transient nature.
"These kids are just like anyone else," Garrido said. "If you tell them that they can do it, and they believe they can do it, they'll do it. And they did it."
Kadena coach Sergio Mendoza said he thought his boys team had "a lot of depth; we just had to keep our commitments, and I thought we'd be fine and have a good showing. We worked hard. I'm proud for them."
Bright, sunny skies greeted the second day of the meet, after Monday's dreary beginnings. "Chamber of Commerce weather," meet director Charles Burns said.
No Pacific records were broken in the two-day meet, though Kadena high-jumper Lotty Smith came close, matching his personal best of 6 feet 4 or 1.92 meters. He missed three tries at 1.95.
"He's poetry to watch," Mendoza said of Smith, a junior. "He has a lot more potential and ability. … He's going to hit 2 meters next year."
Kinnick's Cory Serfoss came within 0.7 seconds of the 110-meter high hurdle record and Garrido promised bigger things from him next year. "The sky's the limit for that guy," he said.
Some athletes seemed dissatisfied with their efforts. Despite capping mythical "Triple Crown" sweeps of the 100 and 200 in last month's Mike Petty Memorial Meet and the May 15 Kanto Invitational as well as Far East, Seoul American's Kristy Taylor and Kubasaki's A.J. Watson were left wanting.
"I know I can get 12.2," Taylor said after winning the 100 in 12.7. "I think it's the heat."
"It feels good, but I can't wait until next year to push it even harder," said Watson, a sophomore, after his 11.1 effort in the 100.
Seoul American's reigning Far East cross-country champions Thomas Kim and Siarria Ingram almost swept the meet's three distance events, the 3,000, 1,500 and 800. Only Kadena's Tomas Sanchez's 5½-second triumph over Kim in the 800 prevented a Falcons trifecta.
Sanchez said he'd told teammate Jacob Bishop "I didn't want him [Kim] to win all his events. Jacob told me to just push it and not let him get this. So, my goal was to beat him."
The meet also featured some redemption results. Vallyne Alleyne of Kubasaki finally toppled Kinnick's Shannon Jackson, outthrowing her 24.1-24.0 in the discus. And after fading in the 100 hurdles, Stefani Loisel gave Guam High its lone gold medal by winning the 300 hurdles.
"It feels amazing," Loisel said.
And at least one feted a birthday in a championship way. Roland Cote of Zama American edged Kinnick's David de los Santos and Adam Cason, winning the discus in 36.36.
"The whole season, I was struggling, trying to get to the top the whole time," Cote said. "I'm glad I did it in the most important meet of the season."
ornauerd@pstripes.osd.mil