Kinnick grapplers begin postseason run
---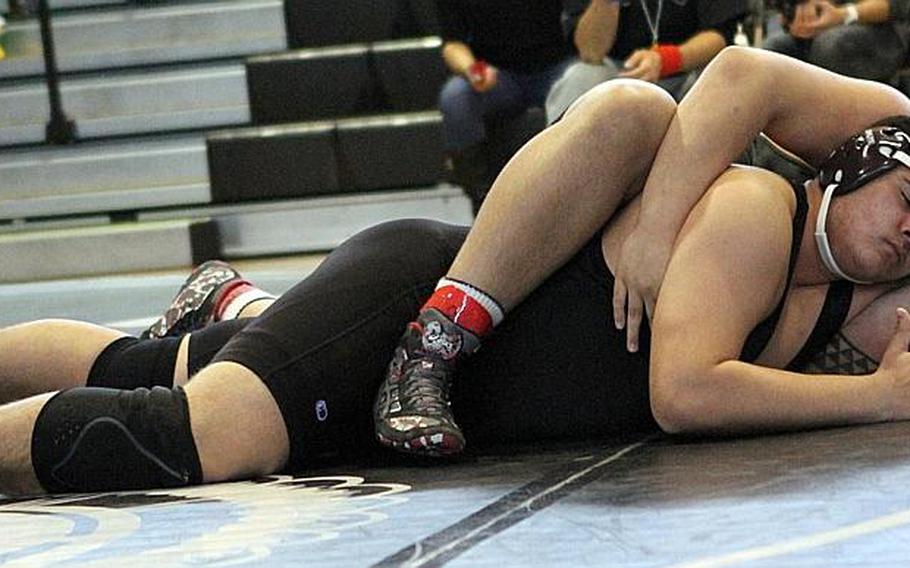 The regular season is but a memory for Nile C. Kinnick's wrestling team. Now, the postseason fun begins with Saturday's Kanto Plain Association of Secondary Schools finals.
"That's what we're all geared up for," Red Devils coach Gary Wilson said of tournament time. The Kanto finals are first on the docket, the final tune-up for the six Kanto wrestling schools before the Far East Tournament next Thursday-Saturday at Yokota.
It figures to be a two-team race, Wilson believes: His Red Devils against a host St. Mary's Titans team that, while not as powerful as the one that scored back-to-back Far East Division I team title sweeps in 2011-12, can still be a major threat.
St. Mary's is "solid at a lot of weight classes and good at the others," Wilson said of a team featuring reigning Far East champions Ryan Vasconcellos and Jeffrey Koo. "They're a formidable foe. With the varsity vs. varsity format, it's going to be tough."
Postseason activity is not limited to the Kanto mats. Seoul American's boys and Daegu's girls are entered as top seeds in the Korean-American Interscholastic Activities Conference Blue Division Basketball Tournaments at Taejon Christian International School.
It's theirs and Osan's and Humphreys' last tune-up before their own Far East tournaments, scheduled for Feb. 17-19 in Division II and Feb. 17-20 in D-I.
Though tournament time will begin this weekend, some regular-season games remain in Japan and Okinawa on the hardwood.
Kadena visits Kubasaki in boys and girls basketball, with the Panthers' girls and Dragons' boys looking to seal their regular-season series at 3-1 and their opposite numbers seeking 2-2 splits. Kadena has not lost the girls four-game season series in 10 years.
The last DODDS Japan long-haul basketball bus trips take place over the weekend when Kinnick travels to Matthew C. Perry.
Play in the Independent Interscholastic Athletic Association of Guam continues over the weekend and into Tuesday, when the league begins its annual two-week Far East tournament break. Guam visits St. John's on Friday and entertains Simon Sanchez on Saturday.
---
---
---
---