Cross country preview
Kinnick freshman could follow brother's feats, but not footsteps
by
Dave Ornauer
September 12, 2019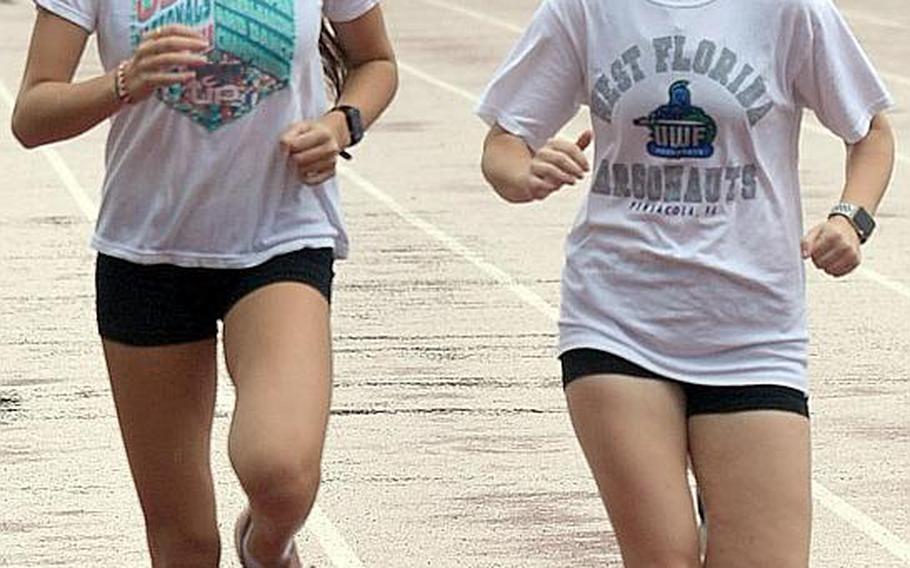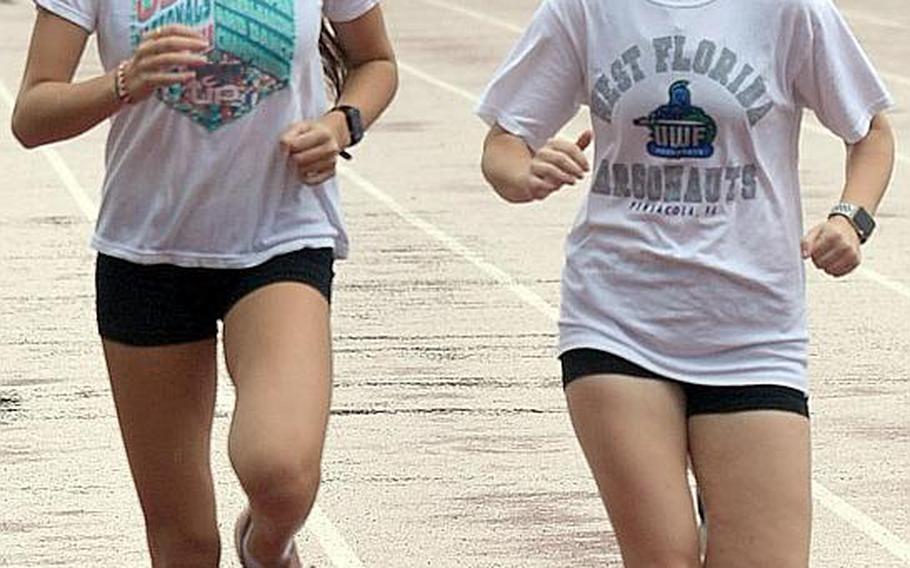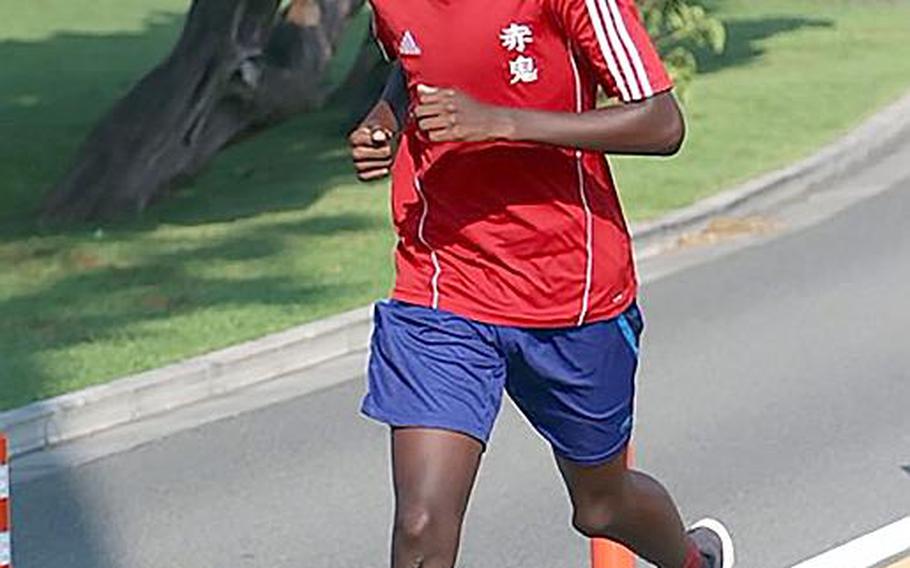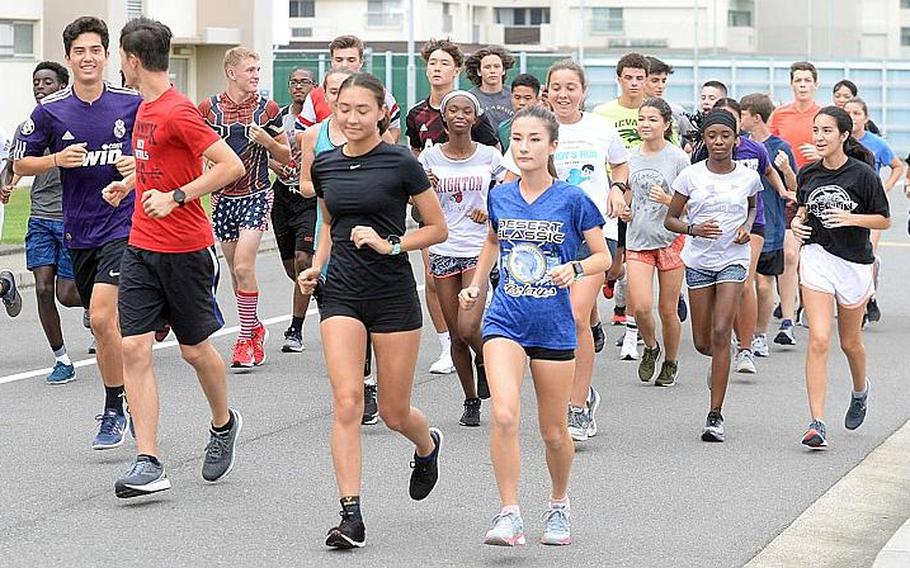 YOKOSUKA NAVAL BASE, Japan – Manzi Siibo's brother Aki swept the Kanto, DODEA-Japan and Far East cross country titles last year. Now, the freshman speedster is now being called "the next one" by observers and Nile C. Kinnick teammates.
Siibo wasted no time making a splash as the 2019 DODEA-Japan season began, taking first place with a time of 18 minutes, 12.2 seconds in last Saturday's opening meet at Iwakuni.
He prefers, though, to follow his own path.
"That's what I'm working to do," Siibo said on Wednesday, just before practice on a sultry, steamy afternoon two days after the base got ravaged by Typhoon Faxai.
The two used to compete with each other as siblings when they were growing up, Siibo said. "I was always competitive with him," he said. "But he won all the time. It just pushed me more to do better."
His older brother's best time in his years at Kinnick was 16:08.3 in last season's DODEA-Japan finals. "I want to get as low as possible, if not break it," Siibo said said.
His coach, Luke Voth, describes Siibo as "really young, really green, but with tons of potential." He predicts he will be in the top three in his boys lineup, alongside Hanokheliyahu Gailson, a senior transfer from Reno, Nev., and junior holdover Matthew Ringling.
"It's great to have the three of them in practice like that," Voth said.
With defending Far East Division I champion American School In Japan opting to run in the Punahou Invitational next month in Hawaii instead of Far East, the Division I school banner race "is now wide open," Voth said.
Humphreys boys, with seniors Tim Kilburn and Devyn Lewis back in the lineup, stand a good shot to compete for Korea district boys team honors and Far East. Senior Will Ray and juniors Matt Ray and Rockwell Tobler on the boys side and junior Isamar Vargas and sophomore Sara Corrado could make Kadena strong again on Okinawa.
Division II could see Yokota make a strong bid for a repeat. Seniors Mickey Galvin and David Carlson were top 10 in Far East a season ago, as were sophomore Aiko Galvin and senior Emily Swain on the girls side. The boys teams have won four straight D-II banners and the girls two straight.
"With a solid nucleus of returning runners … there's no reason to think both streaks can't continue," coach Dan Galvin said.
Zama could put up strong individual challenges with sophomore Aubrey Giles and senior Joseph Sanchez in the lineup.
In Korea, Osan had more athletes out this season, including junior Samantha Hendrickson, who transferred from Robert D. Edgren. "Hopefully, we'll have some qualifiers this season," assistant coach Patrick Helsel said.
Qualifying times for the Far East meet, scheduled this year for Nov. 4-5 at Misawa Air Base, Japan, are 18:30 for boys and 22:00 for girls individually, while boys teams must average 21:00 and girls teams 25:00. Teams must have four runners to qualify for team honors.
The major change for Far East is the team relay is back, after having been scrapped two of the last three years, in 2016 due to weather and in 2018 when the meet was shortened to one day.
Most coaches said they were happy the team relay, which has existed in one form or another since 1980, is returning, to make it a two-day meet instead of flying long distances for a 30-minute meet.
"But unless you qualify both a boys and a girls team, there's no point in (being in the) relay," Helsel said.
One other major change to the Pacific's season is the 16th Asia-Pacific Invitational, held on Guam its first 15 years, is this year is scheduled for Oct. 21-22 near Tokyo Disneyland resort's Disney Sea.
Meet organizer Nate Rudd of Christian Academy Japan said "it's a big deal" that the event is being held near Tokyo to give more DODEA teams a chance to enter if they wish. "This could be a driving force; they could help lead the pack," Rudd said.
ornauer.dave@stripes.com Twitter: @daveornauer