Kinnick claims Kanto Plain wrestling title
---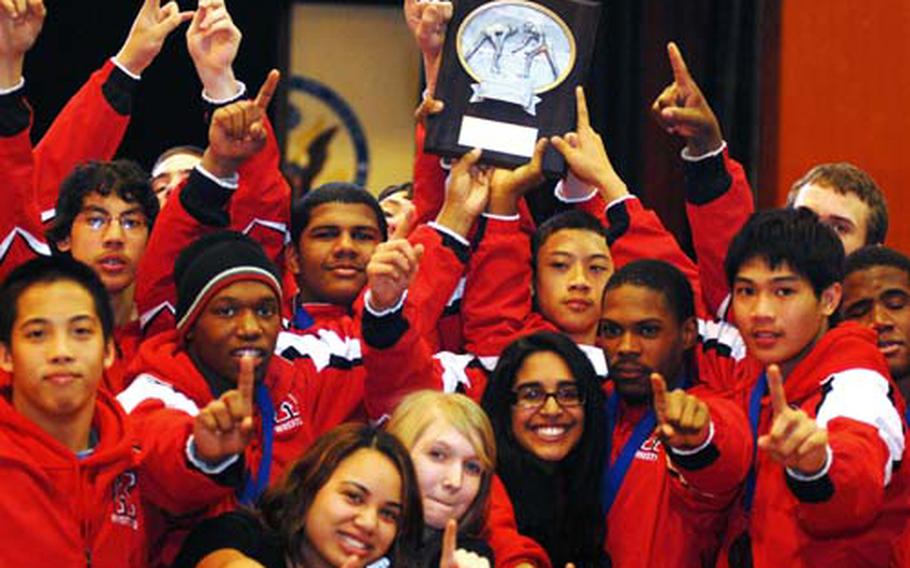 TOKYO — Nile C. Kinnick's wrestling program enjoyed a coming-out party under second-year coach Nico Hindie on Saturday when the Red Devils captured their first Kanto Plain Association of Secondary Schools Wrestling Tournament title in five years.
Heavyweight Mikkariece Curry and 135-pounder Cameron Butts won their divisions, and the Red Devils outpaced runner-up and host St. Mary's International 77-68; the Titans had four gold medalists. Yokota and Zama American, with three golds each, were third (61) and fourth (47).
"It feels wonderful," Hindie said. "Two years ago, we told them we had a two-year plan, it would mean a lot of hard work and they've labored. It's a testament to what they've done."
Butts, the reigning DODDS-Pacific Far East Tournament Outstanding Wrestler, punctuated his superior decision over American School In Japan's Ty Boynton with a rare overhead five-point throw.
"Amazing," Butts said, adding that as he lifted Boynton, he was thinking: "Am I really going to get this?"
Leading Yokota's charge was 122-pounder Nick Guzman, who survived what he termed his toughest test of the year, edging St. Mary's Patrick Martin 5-4, 8-4 in the final.
"He's really fast and technical. He's good all around. I don't know how I pulled through," Guzman said.
Zama brought only five wrestlers, but each placed, including gold medal-winners Elias "Crush" Labrador (148), Michael Spencer (158) and Jacob Iredale (180).
Labrador and Iredale said their victories gave them a boost heading into the Far East tournament starting Wednesday on Okinawa.
"All of us believe completely," said Iredale, adding that the Trojans Five have set as a goal winning five gold medals.
"It's there. I'm gunning for it," said Labrador.
Reminded that reigning Far East gold medalist Harry Bloom, whom Labrador beat in last month's Beast of the Far East Tournament, lies in wait, he said: "There's always somebody out there working harder than you. But because I know that, I'll be working harder than him."
How does Kinnick rate its chances? "We have to do our best," Hindie said. "Of course, we want to come home with a banner, but there are great teams out there. We'll see what happens."
McLean propels Falcons boys to KAIAC hoops tourney titleSEOUL — Defense, and Joe McLean's shooting, ruled the day as the Seoul American boys rebounded from a frustrating loss to claim their eighth straight Korean-American Interscholastic Activities Conference Division I Tournament title in a seesaw battle on Saturday.
McLean's 15-footer with one second left proved to be the winner as the Falcons (34-10) outlasted Seoul Foreign 46-45. The Crusaders had gone ahead 45-44 on Gal Tesler's three-pointer with seven seconds left.
"It was a matter of who had the ball last, and Joe hit the big shot," coach Steve Boyd said. "That was the biggest shot of his career."
The Crusaders beat Seoul American 80-67 in Wednesday's regular-season finale, but defense ensured such fireworks would be shelved in Saturday's rematch.
"Every possession was contested," Crusaders coach J.P. Rader said. "It was a battle."
Seoul Foreign had one last chance to tie, but Aaron Kearney missed the try from beyond half court as time expired.
Nail-biting was hardly a bother in the girls' championship, won by Seoul American 52-29 despite the Falcons losing forward Devanee Taylor to a knee injury. It was the 17th straight KAIAC tournament title for the Falcons (26-1).
Diamond Person came off the bench in Taylor's place to score 14 points and sophomore guard Liz Gleaves had 12 points and nine steals, playing what coach Billy Ratcliff called the "most unbelievable game I've seen her play. She was just nuts."
Long-suffering Perry boys earn landmark win vs. KinnickMARINE CORPS AIR STATION IWAKUNI, Japan — Aaron Gray hit two three-point goals in the last two minutes to preserve a milestone victory for Matthew C. Perry's boys basketball team. The Samurai beat Nile C. Kinnick 58-56, their first victory over the Red Devils in nine seasons.
"We got lucky and had a couple of bounces go our way," coach Chris Clark said.
John Ayers had 21 points and Chase Dariso 12 for Perry (7-13), which got its first victory in 10 DODDS-Japan games.
"They believe in each other, they trust each other, they don't care who takes the winning shot. They're all about winning," Clark said.
The Red Devils (9-3) split two games at Perry, while Yokota (11-1) swept two at Robert D. Edgren and won the DODDS-Japan title for the first time in four years.
On the girls' front, Zama American captured its first DODDS-Japan title in four years on Friday when the Trojans (10-2) beat E.J. King 47-2 and Yokota (9-3) fell 58-54 at Robert D. Edgren.
---
---
---
---