King a contender in Class A
by
Dave Ornauer
February 29, 2004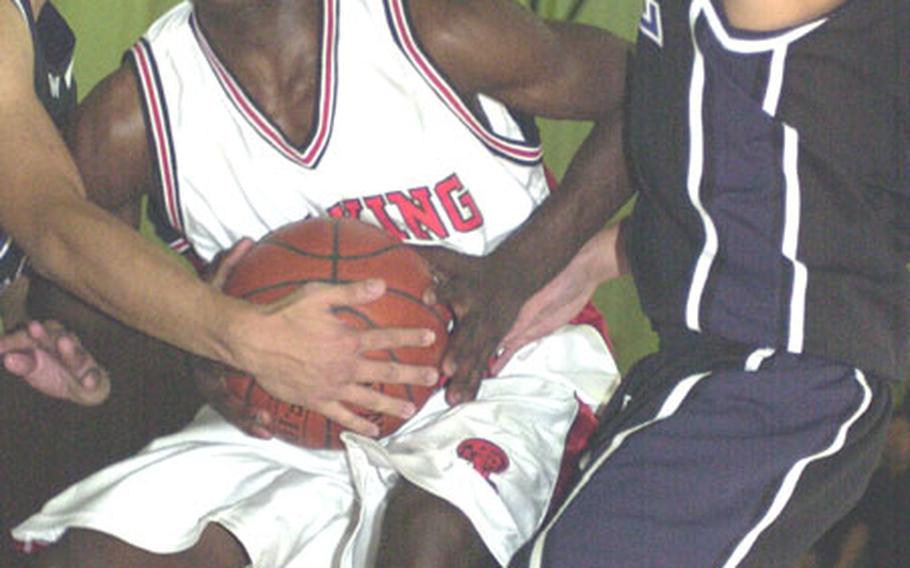 OSAN AIR BASE, South Korea — E.J. King went from afterthought to contender for its third Far East Boys Class A basketball title practically overnight.
"We didn't really show what we could do until today," senior center Carlos Solorzano said Friday after the Cobras shocked defending champion Osan American 50-45 and came close to upending the other No. 1 double-elimination playoff seed, St. Paul Christian of Guam, before losing 57-53.
The second outcome was a far cry from E.J. King's 77-52 loss Thursday to the Warriors, a defeat that had many observers leaving the Cobras for dead, despite a 3-1 round-robin record.
Such talk left the Cobras feeling like they were getting no respect from the rest of the field.
"We were thinking that we were the favorites coming into the tournament, even if nobody else did," junior All-Far East guard Draonne Johnson said.
What caught people's attention was the return to the lineup of Solorzano, hobbled by a sprained ankle suffered in warmups on the first day of the tournament, and a man-to-man defense that gave the Cougars and Warriors fits.
"We knew what we had to do," Johnson said. "If we play hard defense and not turn the ball over, we'd do the job."
E.J. King forced the Cougars into six turnovers and 0-for-10 shooting in the first quarter. Osan didn't get its first basket until 6:41 remained in the first half, and the Cobras led by 17 points early in the third quarter.
Osan cut it to 47-45 on Josh Cho's three-pointer with 24 seconds left, but that was as close as the Cougars got.
Johnson led the Cobras with 13 points and Andrew Stephens and Mark Bote each had 10. Solorzano grabbed 12 rebounds.
"I thought if we played well and didn't turn the ball over, we'd have a chance against anybody. They did come back, though. It's hard to keep a good team down," King coach Mark Rozic said.
"We came in underestimating them," Cougars assistant coach Dietrick Glover said. "Everybody steps up their game against us. If it's a B team, they play an A-plus game against us, it seems. Their big man (Solorzano) played an outstanding game."
On Thursday, St. Paul led 41-20 at halftime. On Friday, the lead changed hands 12 times and St. Paul led 29-28 at the half.
"It's what we didn't do the first time we played them," Johnson said. "We didn't rebound and we turned the ball over against the press, since they're so quick."
One third-quarter stretch, in which the Cobras turned it over five straight times during a 12-point St. Paul run, proved costly. The Warriors went up 43-36 and didn't trail again.
"Other than that, it was dead even," St. Paul coach Neo Pineda said. "They came to play. There was no 'give-up' on that team."
Andrew Borja, who led the Warriors with 17 points, acknowledged the presence of Solorzano, who grabbed 16 rebounds and "made a difference on both sides of the court."
"They had a lot of heart from the last time they played us," Borja said.
That heart and the sudden transformation of the Cobras made it a wide-open race to Saturday's finish line, with St. Paul needing one victory to seal its second Class A title. Osan and E.J. King were left to battle it out in the loser's bracket.
"If we can take care of the ball, we can play with anybody," Rozic said. "Today is obviously the best we've played and we had to. Osan's a good team and St. Paul's a good team."
"We'll rebound," Glover said. "The best team will win the tournament."
---
---
---
---