Kanto players shine in exhibition victory
by
Dave Ornauer
March 23, 2010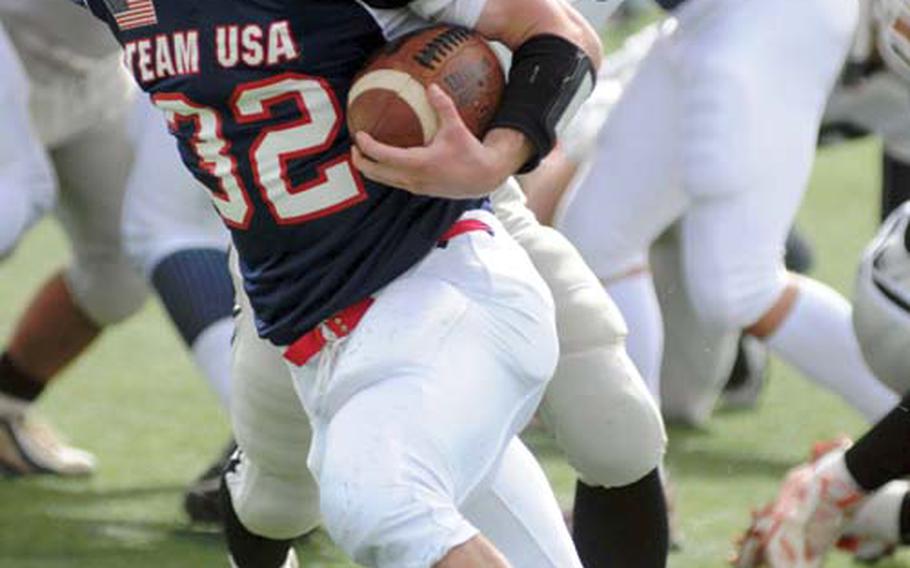 KAWASAKI, Japan — Some 33 Kanto Plain high school athletes put aside their spring sports and interschool rivalries Sunday to play against Japanese counterparts in an exhibition game dubbed the Camellia Bowl by its Japanese organizers.
Zama American's Michael Spencer ran 11 times for 175 yards and three touchdowns and the American defense forced five turnovers while the offense rang up 559 yards as Team USA routed Team Kanagawa 61-0.
The spirit of cooperation, getting Kanto football rivals working together as well as they did, pleased their American coaches.
"It's really neat to work with a group of players and coaches like this," said Spencer's coach, Steven Merrell. "It's been a great experience."
Before a crowd of more than 1,000 at old Kawasaki Stadium, including U.S. Ambassador to Japan John Roos and former Japanese prime minister Taro Aso, Japanese and American players battled during the game and enjoyed some goodwill moments afterward.
"It's cool," Zama quarterback Mike Jorgenson said. "We know what each other is capable of, we're putting all the players in the best possible positions. It's fun."
Players from Zama, Yokota, Nile C. Kinnick and American School In Japan, amid the spring baseball, track and soccer seasons, found time to practice seven times on four Saturdays in the run-up to Sunday's game.
Team USA was sponsored by the Yokota Striders running club, with no school district involvement; everything from the uniforms to transportation was paid for by the Striders, team organizers said.
Before Sunday, Team Kanagawa usually played a group of American players from 10 states, which last year was invited to billet, train and even dine at Yokota Air Base.
That Team USA trip didn't come off this year, prompting East Japan American Football Association officials to approach Yokota coach Tim Pujol about putting a Kanto team together, Pujol said.
Converting from baseball to football in very short order wasn't much of an issue, said Spencer, who earned game MVP honors.
"It should be natural for us," Spencer said. "We love the sport."